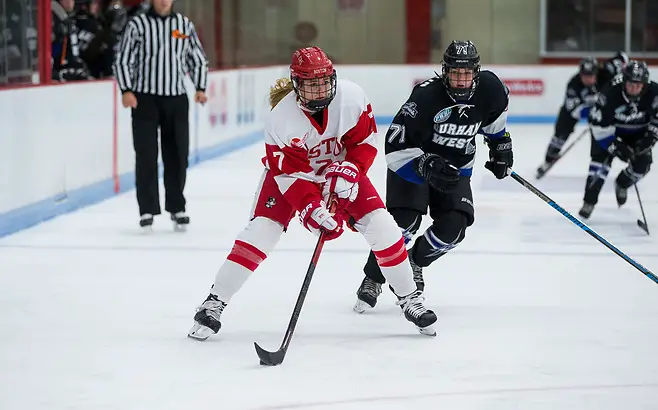 By Sunday evening, we will know the eight teams that will receive bids to the NCAA tournament. The Selection Show will be online at 9 p.m. EDT. All four conference tournaments will be finished at that point, and we'll know who the four autobids go to.
I'll preface everything I'm about to say with the caveat that it's all to the best of my knowledge and calculations. I'll apologize in advance if there are any errors.
Based on current PairWise rankings, the only CHA team that will make the tournament will be the tournament winner. Robert Morris won the regular season and will be looking to return to the NCAA tournament for the second time in program history after losing to Mercyhurst in the conference tournament final last season. Meanwhile, the Lakers are looking to start a new streak. They have been to 12 of the last 14 NCAA tournaments and want to regain their dominance in the CHA.
Beyond that, there's quite a bit of play that can still happen among the final seven bids.
Wisconsin will get the number one overall seed with a WCHA conference tournament win. In every other scenario, they end up at number two and Minnesota gets the top seed. Northeastern is locked in at the number three spot. No amount of upsets or crazy outcomes can change that.
Boston College and Cornell have a very high probability of making the NCAA tournament. BC receives a bid in every scenario except if they lose to BU and Princeton wins the ECAC tournament. Cornell receives a bid in every scenario except if BU wins the Hockey East tournament and both Cornell and Clarkson lose in the ECAC semifinals.
Both BC and Cornell have the most volatile situations, as they could end up anywhere from fourth to seventh position. Best case scenario has them hosting an NCAA quarterfinal, worst case has them heading to Madison or Minneapolis. Those are wildly different situations, and obviously they'd like to avoid that cross-country flight to visit the number two team in the country.
It looks like Clarkson can finish no better than fourth and no worse than sixth. They could host, or, depending on how the committee handles bus rides this year, they could be busing to the Boston area or over to meet up with Cornell once again.
From there, it certainly gets more complicated. The RPI numbers are simply too close, and three teams already have spots locked up. There is simply no wiggle room. There are three teams currently tied for sixth in the PairWise, and two of those teams — Princeton and Boston University — still have work to do in order to earn their spot in the NCAA tournament.
Best I can figure, Minnesota Duluth and Colgate can only get into the NCAA tournament by winning their tournament and the autobid. For every other team, obviously winning it all is the best option for each of them. Beyond that, there are a couple of teams that need very specific things to happen for it all to fall into place.
Providence's only path into the final eight requires Boston College to beat Boston University in the semifinals of the Hockey East tournament. They would also need Princeton to lose their semifinal game and Colgate not to win the whole thing.
Princeton can get in with a loss in the semifinal if Boston College wins the Hockey East tournament. Otherwise, they have to win their semifinal game to even have a chance at an at-large bid. They also need for Colgate not to win the ECAC tournament.
Ohio State can earn an at-large bid by beating Wisconsin but not winning the tournament only if Princeton loses their semifinal game. Boston University's path to an NCAA bid requires them to win their semifinal game. From there, a lot of options open up for them, but they have to get past BC to make it possible.
The final standings for the regular season went down to overtime in multiple games, so at this point we should all expect that there's a lot that can change over the course of about 36 hours this weekend. The fourth home-ice advantage spot is going to be hotly contested, and all 12 teams playing in the ECAC, Hockey East and WCHA tournaments have the opportunity to not only earn a bid, but have a major impact on other teams, as well.
Last year's Hockey East final weekend featured a no. 4 seed winning it all, and two years ago, Maddie Rooney made 112 saves in two games in the WCHA title and nearly pulled off an upset of both Wisconsin and Minnesota. This has been one of the most unpredictable seasons of women's college hockey we've seen in years, with a number of upset wins and head-scratching losses. Playoffs are when anything can happen, and this year there's no reason to think it won't.