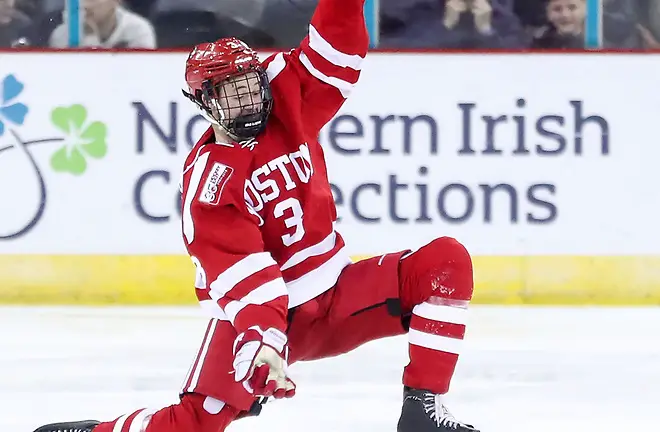 Most teams want to be playing their best hockey at the most critical juncture of the year.
For Boston University, that seems to be the case.
After a consolation game loss to Harvard in the Beanpot placed the Terriers fourth, a rarity in the annual contest of Boston hockey, BU fell again at Connecticut four days later.
That point of the season may have been the low point for the Terriers, which since that time has turned its year around.
Over the last five games, BU has allowed three total goals, posting a 4-0-1 record – that was the positive.
If you need a negative, outside of BU's 5-1 win over Merrimack on Saturday, goals haven't come in abundance, BU scoring just six goals in the four-game stretch.
That doesn't faze BU coach Albie O'Connell, who is happy to see his team playing a lockdown defense when needed.
"Even in the games that we won, we struggled [offensively]," said O'Connell, admitting one of his team's biggest struggles has been finding a replacement for center Bobo Carpenter, a senior that has been one of the biggest cogs in the BU offense.
Carpenter missed 10 games before last Saturday's 5-1 win over Merrimack where BU's offense returned to life.
If there was a lesson, though, learned in the absence of the Terriers best player, it was the importance of defense first.
"We have to play defense first and when there's a question of control, we have to be on the right side of the puck," said O'Connell. "We want to be aggressive and make sure we have guys who can jump up into the play. We want to have four guys who can jump up into the rushes. In the offensive zone, we want to be more aggressive.
"Over the year, we've learned when we can be aggressive and don't need to have a 'D' be the first forechecker every time. There's a balance of it and we've found a good balance. We've managed the puck a lot better and that leads to the forwards. They want to score and when they're not scoring, they're pressing and it's figuring out sometimes you need to play good defense."
On the back end of everything, Jake Oettinger has managed the time and has moments he has seemed to struggle, but of late, feels like there are moment he has been all league.
O'Connell understands his ebbs and flows.
"I think [Oettinger] is playing a lot better," said O'Connell. "He's confident and he's seeing the puck well. He's calm in the net. The first game of the year he had a puck-handling mistake that put a lot of pressure on him. It probably screwed him up a little bit.
"But I think on balance he's had a really good year. For us as a group, I think we are playing better in front of him. The biggest thing for us is the turnovers."
The other major issue for BU and its defense is being on top of the transition game. One of the better teams defensively once they get into a set formation in the defensive zone, BU has allowed far too many goals in transition.
"We've given up a lot less of the rush," said O'Connell. "Our [defense's] gaps have gotten better. It's trusting their skating and trusting their back pressure so that we can stay up in rush situations so we give up less shots and teams aren't able to enter our zone so easily."
This weekend, it's not obvious if BU will have any control over its playoff destiny when it takes the ice on Saturday in a single game at Maine.
BU must win against Maine to even have a chance to moving higher than fifth. But they also need either Northeastern to lose to New Hampshire or UMass Lowell to lose or tie New Hampshire to have the opportunity to move up.
For O'Connell, home ice would be welcome, as he points out things such as having your own training room and locker room can be an advantage, but he understands playing at this time of year creates the opportunity to win a championship.
"It's going to be a hard environment to play in," said O'Connell of finishing the season at Maine. "I don't think [our guys] are worried about going into a [loud] building. The game's going to happen fast. They're very heavy so we're going to have to win the one-on-one battles and be very heavy to win."