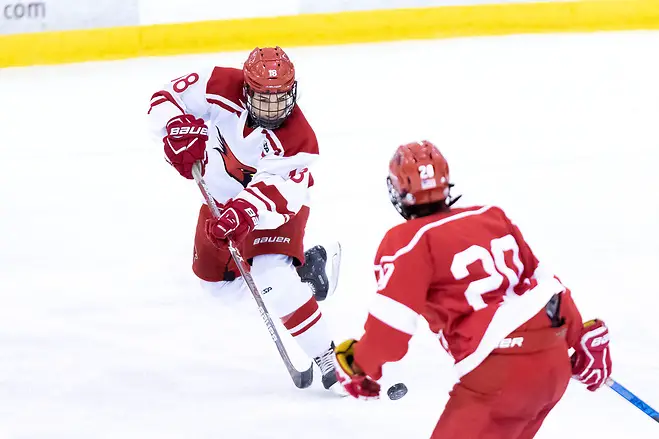 Wednesday, March 6
No. 2 Plattsburgh versus Endicott
Plattsburgh has more wins this season than any other team in the league. The Cardinals have an abundance of talent on their roster, and not just in one position. Statistically, Plattsburgh is ranked first in offense and defense. At forward, Annie Katonka, Courtney Moriarty, and Mackenzie Millen have been the driving force behind the Cardinals' well-known offense. With these three at the helm, Plattsburgh has averaged 5.07 goals per game. Erin McArdle and Hannah Kiraly have been stellar at defense and have contributed offensively as well. However, goaltender Kassi Abbott is the main reason the Cardinals have the best defense in the league. The senior has a .67 goals-against average and .96 save percentage.
Endicott is the underdog in this matchup, but they already knew that. The Gulls top player, Jillian Gibbs, has 13 goals and 11 assists this year. All of Endicott's games during the year have been low scoring except for a few. This team is not used to scoring a bunch of goals, but they do have a good defense. Ranked fourth for team defense, Endicott allows 1.11 goals per game. During the course of the year, Endicott played two teams that are in the national tournament. The first was Williams, to whom the Gulls lost, 4-3. Then in January, Endicott played Norwich and tied them 2-2. Endicott has the potential to upset Plattsburgh, but not this time. Plattsburgh 4-1
No. 6 Williams versus No. 9 Norwich
Williams is having a great year, and sophomore Meghan Halloran is doing a great job of leading her team. The forward has 18 goals and 17 assists this year. Senior Annie Rush has also contributed to Williams' offense with 23 points. Williams has a strong team this year, and they have proven it time and time again. They beat Elmira, 4-2, in December, won the NESCAC regular season and playoff tournament, and beat Middlebury three times. This team is consistent and a very dangerous team to play.
Norwich has been inconsistent all year, and they barely won their conference tournament. The Cadets have a talented player in Amanda Conway, but do they have enough depth in the roster to push past Williams? Statistically, Norwich does have the better team. In offense, the Cadets are ranked sixth, and in defense they are eighth. The Cadets also have a solid goalie in sophomore Emily Lambert, who played in 19 games and has a goals-against average of 1.31. Norwich does have the better team coupled with experience as the reigning national champions. Because of these reasons, I think Norwich will advance to the quarterfinals. Norwich 3-2