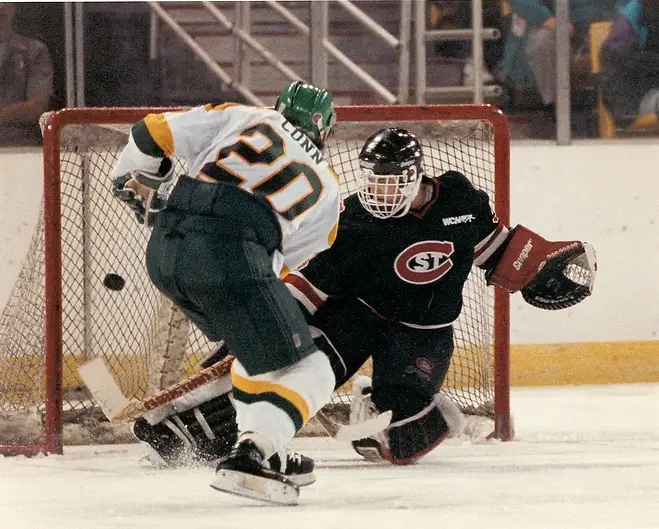 With Arizona State on the brink of the first independent at-large bid to the NCAA tournament in over 25 years, USCHO is revisiting the last program to accomplish this feat – the 1989-92 Alaska Anchorage teams.
This two-part recounting of the historic Seawolves teams was told by over 15 players, coaches, administrators, opponents, and journalists. Part II focuses on the 1990-92 seasons, Brush Christiansen's exit, and the years that followed in the WCHA.
Here is their story, in their own words.
Keith Morris, UAA forward, 1989-92 & 1993-94: "We were a year older, and we had the tremendous experience of playing against some great programs the year before and getting to the NCAA tournament. So I think that we came in and we felt like we were in a good position to have a real good year."
Doyle Woody, Anchorage Daily News sports reporter, 1983-2017: "It wasn't one of these things where they had a fluky season. They had the talent in abundance. The guys at the top end of the lineup had a lot of experience and a lot of success, and they had built a lot of confidence. So it was a team that really believed in itself."
Dean Larson, UAA forward, 1988-92: "That's the year that you really felt it, not only amongst ourselves, but around town. The support we were getting at games and the coverage we were getting in the newspaper, it just felt like we had stepped into a new level. As players, we felt that and were excited about what we could do."
The 1990-91 season got off to a rocky start. A 5-4 overtime loss at Providence capped off a 0-3-2 east coast road trip in November. The Seawolves returned to Anchorage with a record of 3-5-3 and called a players-only meeting.
Derek Donald, UAA forward, 1988-92: "We took a lot of ownership of our team and our group, and I remember that Providence game being one of those ones where the feeling was just like, 'This is a team we should have beat.' That was a disappointing trip for us.
"I think at that point, we had to shore some things up within our group, and I think as a player group, we wanted to be able to go back to our coaches as well and say, 'Look, these are some things that as a player and as a team that we really need to buckle down on.' And we felt that we needed a little more intensity in our practices and some things of that nature. We didn't like not playing up to our capability, at all."
Brian Kraft, UAA forward, 1989-92: "We all got together and had a little reckoning with each other like, 'Alright what are we doing?' We just said, 'Look, we've got a short window here. We've got to pull things together.' That was a long road trip, a two week road trip out east."
Kelvin "Brush" Christiansen, Alaska Anchorage head coach, 1979-96: "You can lose your frame of mind out there if you're a player. If you got hit the wrong way, you'd take a cheap penalty or something of that nature, because you're going to pay the guy back. That's not the way you could play the game if you want to do something [special]. So I think that was the meeting those guys had. They had to play together and so on, and come out and have that attitude again where, 'Nobody can beat us if we play our game.'"
After splits with rival Alaska and St. Cloud State, UAA won nine straight games. With their affairs in order, the Seawolves dominated a March independent tournament in their home arena, and despite key injuries piling up, secured a second straight bid to the NCAA tournament at 20-15-4. This time, they drew Len Ceglarski's Boston College Eagles for the first round.
Morris: "At the time you don't know, but it was the last year or two of Coach Ceglarski coaching at the Heights, and they were an outstanding program. They had tradition, they had tremendous players, and they were like the Yankees of college hockey at the time. We had never played in that type of environment before, playing in Boston for the NCAA tournament. So it was a great opportunity for us. We were excited about it."
Rob Conn, UAA forward, 1988-91: "That was a long, long way to go. We kind of got back to leaning on those experiences of Maine and Minnesota. I think it was just like, 'Here we go again – we've got these guys, and it's a long way, and nothing's in our favor.' I think, to be honest, I think it was a great situation for us, because we had all the reasons not to be successful."
Donald: "When the Boston College selection came up, I remember they had the 'H.E.M.' line (Steve Heinze, David Emma and Marty McInnis) and they were something like 18-0 at home, so it just made that much more this 'David vs. Goliath'-type scenario that much more prevalent for us."
Larson: "David Emma won the Hobey Baker that year…and Bill Guerin was on that team too, so you hear about all these guys. And we had some injuries as well, Doug Spooner was out as well, so we had some injuries going in there."
Jack Parker, Boston University head coach, 1973-2013: "I thought BC would blow them out of the building."
Marty McInnis, Boston College forward, 1988-91: "Any team that's in the tournament is obviously a very qualified team and a very good team. But we certainly didn't think of them in the same light as we thought of, say, BU or Harvard or some of the other teams we see at least twice, sometimes three or four times a year. So the familiarity obviously wasn't there, but we assumed they were good, and obviously when they showed up, they were good."
Conn and Kraft each scored a goal in game one on Friday night, and goaltender Paul Krake made 23 saves for UAA. The Seawolves won by a score of 3-2, and the focus of the series started to shift.
Morris: "Going on the road, you get that first victory and it puts you in such a tremendous position. And it certainly put the pressure on Boston College. You could tell. You could feel it around the rink, around hockey. They were shocked, I think. Things weren't working for them. And I think it was a situation where they were really on their heels."
Woody: "One of the distinct memories I've always had of that series was, one, Paul Krake played out of his head. They won that first night, and in hindsight, if you're a Boston College fan, you look back and you're saying, 'OK, they had the game of their lifetime, they beat us, we'll beat them Saturday, we'll beat them Sunday, and we'll move on.'
"So on Saturday, I was in the hotel, and I went up to the workout room. I was riding the bike, and a winger named Troy Coulson from UAA came up to ride the bike. And I'll never forget this – he said, not in these words, but his general statement was, 'That was not a fluke. We were better than them last night, and we're going to beat them tonight.' And I remember he was not a braggadocious guy. He was kind of a quiet, grinding winger, but I remember just being struck by that, and it didn't sound like a guy trying to talk himself into it. It sounded like a guy who had seen what the competition was and respected it, but thought that they were just as good or better of a team."
Coulson and the Seawolves proved it in game two on Saturday, as Krake made 39 saves en route to a 3-1 victory and UAA's first and only NCAA tournament series win.
Parker: "I'm walking out of the building, and I've got about 10 different fans bad-mouthing the BC coach. 'Oh, if you were coaching this team, that never would have happened.' And I'm thinking, 'These people don't know anything about what just happened.' BC played absolutely fabulously. [Krake] was unbelievable both nights. It was a shooting gallery at times, and BC played really, really well."
McInnis: "We were shocked it didn't go three games. We were shocked we didn't win. I remember being super frustrated after that, because we felt like we had a legitimate chance to win the NCAAs, to win the whole thing. 27 [games] is an awful lot of hockey games to win in the regular season and lose first round in Hockey East and in two games at home against Alaska [Anchorage], a team you don't see very often."
Larson: "I'm [injured] up there watching in the stands in Boston College, and I'm all fired up, and the guys celebrate on the ice after the game and go back into the locker room, and I thought it was going to be a big thing, everyone up hooting and hollering. And I got in there and the guys were drained, man. Bunch of guys with ice packs on them. Just the look – they were smiling, but they were exhausted. And it took every one of those guys everything they had to pull that off. It was pretty cool."
Donald: "We had a couple of guys that ended up not being able to play against Northern Michigan because that was a series [against Boston College] that we did everything we had to. For us, it was a back-alley fight. We did whatever we had to do. Block shots, pay the price, take hits. I think that was what ultimately ended up being the difference."
Woody: "This was huge news in Anchorage. This was front page news. Both game stories were on the front page of the newspaper, which is, other than radio or TV, how a lot of people found out about this. And one of the cool things for the Alaska Anchorage team was that by winning two straight games and making a Sunday game unnecessary, Sunday – in Boston – just happened to be St. Patrick's Day. And I recall this distinctly on Monday: there were some very rough-looking Seawolves at the hotel. And me and Brad Falduto, the reporter from the Anchorage Times, were right there with them."
Conn: "I don't think the timing could be much better, right? (laughs) We were able to go out and enjoy it on Sunday, for sure. I don't even know where we were, but we were all together. Right place to be at the right time."
Morris: (laughs) "We had a great time being in Boston on St. Patty's Day. We really enjoyed the time we spent there. It was great. I know the BU guys were pretty excited that we had taken out Boston College in the NCAA tournament. I'll leave it at that."
Still crippled by injuries, the Seawolves spent the week practicing in Boston before travelling to face eventual-national champion Northern Michigan. They lost by scores of 8-5 and 5-3.
Walt Kyle, Northern Michigan assistant coach, 1981-92: "That team of ours, in '91 and again in '92, those teams were unbelievable teams. They were really, really good college teams. The '91 national championship team scored something like 280 goals that year. We were really good, and for Anchorage to play us close like that, they were for real to do that."
Rick Comley, Northern Michigan head coach, 1976-2002: "It was a great atmosphere. I remember [UAA] being a team that worked extremely hard and would not go away. That first night, we had a chance to beat them pretty good, and it ended up being good but you knew that they were just not going to give up."
Scott Beattie, Northern Michigan forward, 1989-92: "They had some serious grit, they had some big, strong guys, they had skill guys, they had a great mix of everything that got them to that point. And it's just unfortunate that they had some key injuries when they met us."
Donald: "I said it before and I'll say it again: I think if we had those couple guys who weren't on the roster for the Northern Michigan series, I think we would have beat them. I think we were capable of beating them."
With the program's marquee victory under their belt, the Seawolves set out to make one last return to the tournament in the 1991-92 season. After getting off to a 14-2 start, UAA met Northern Michigan again in the championship game of their holiday tournament in Anchorage.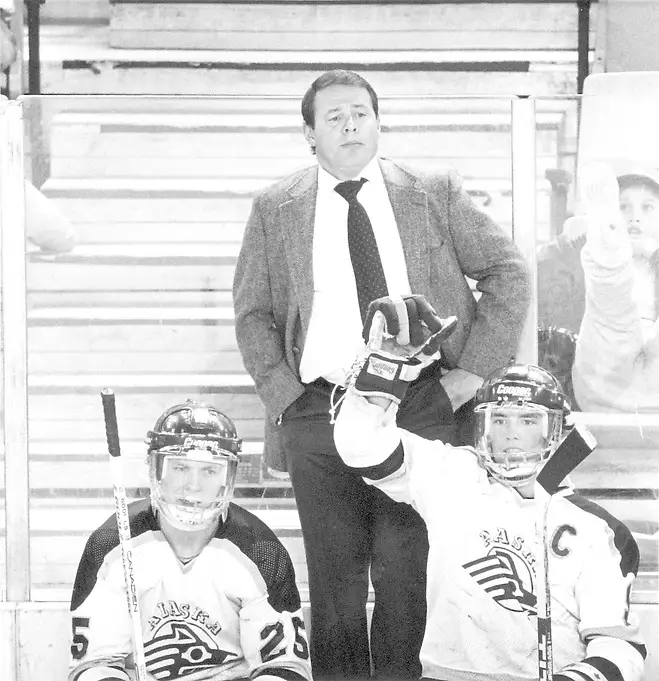 Beattie: "Again, they played very, very hard. If I remember, we won the game 4-2, and I think Dallas Drake was fantastic in the final game and actually carried us. It was a very difficult place to play and it was the first time most of us had ever been to Alaska, so the experience in itself was fantastic."
Kraft: "I remember the disappointment of not being able to seek a little revenge on them. I remember going through the handshake line, and I got to Coach Comley at the end. Rick was a powerful voice in the WCHA, and it was one of my last games because my eligibility ran out, so I ended up going to Europe shortly after that. And I remember shaking Coach Comley's hand and saying, 'Hey, can you make sure the program gets in the WCHA? The program deserves it.' And he just said, 'Absolutely. You guys are getting in.'"
UAA would finish the year at 27-7-1, setting a program record for single-season wins which still stands today. Under a new format, though, the team travelled to Detroit for the first round of the NCAA tournament, where Lake Superior State beat them in one game, 7-3.
Jeff Jackson, Lake Superior State head coach, 1990-96: "That may have been the final score, but I think it was a closer game than that. We had a tough time in that game, and I remember actually thinking that, I think we played Minnesota next and I think that we actually felt [playing UAA] might have helped us."
Morris: "That year, with our seniors and junior class, that was our best team on paper. We felt that we had a great change to advance. But when you get into it, it was a one-game deal. 60 minutes. And we fell a little bit short, but what I remember out of that game is Darrin Madeley was just outstanding, and Brian Rolston, who turned out to have a tremendous pro career, was the difference maker offensively in that game."
Donald: "Both times we played Lake State, they were a team that when we made mistakes, it cost us. If we made a mistake, it was in the net. They seemed to be that team that every time we played them, they always had our number. They had us figured out."
Christiansen led UAA to 18 wins in their last season as an independent before joining the WCHA in 1993. He endured three hard years in the new league and retired in 1996, but the program performed even worse afterward.
Donald: "I think there was almost some arrogance. They got into the WCHA and they struggled. I don't know – with a lot of guys like us, when I was in Anchorage playing with the [WCHL] Aces and was a GM with the Aces, it was one of those things where just watching what was going on, the decisions, the recruiting and everything that was going on…it was hard to watch."
Kraft: "I think it just got to the point where he thought he needed to move on, but the results really haven't proven that was the right decision. So personally, I wish that he would have been around a little bit longer and stuck through more of those WCHA years."
Woody: "He had done so much for that program, and he could coach. I don't think I ever gave him enough credit for that. You start from nothing and you're just this outlier program in Anchorage, Alaska, and you end up in the WCHA when it was a thing to be in the WCHA.
"That's a hell of a legacy."