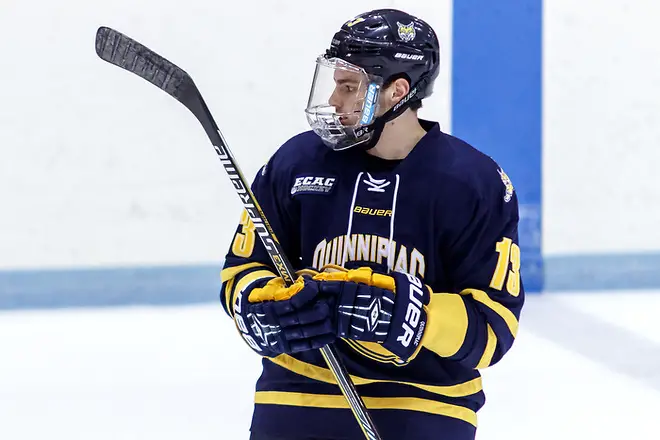 Quinnipiac coach Rand Pecknold and senior captain Chase Priskie have released statements regarding Priskie's actions during Saturday night's game at Yale.
"During his career at Quinnipiac, Chase has demonstrated himself to be a great player and a better person," Pecknold said. "Prior to the weekend, he had a total of four minor penalties on the season and this is the first major penalty of his career. Following the Yale game, Chase has been remorseful and understands that he exercised poor judgement in the moment.
"As a program, we accept the consequences of his actions and are prepared to have him sit out the first two games of the ECAC playoffs."
In the game, Priskie was given a five-minute major penalty for kicking and a game disqualification.
ECAC Hockey did not release a statement on the suspension.
Here is close up of Chase Priskie's major plus DQ for kicking. Right skate into upper chest area of Yale player who was down. This one will likely go to league office for review, and potential for supplementary action towards the QU captain. #ECACHockey pic.twitter.com/GRH3IrX4Al

— M.J. Baird (@MJ_Baird17) March 3, 2019
Priskie's has played 152 games for the Bobcats, amassing just 20 penalties for 51 penalty minutes.
"Throughout my career, I have prided myself on being a respectful person both on and off the ice," Priskie said. "My actions from Saturday's game have no place in our sport and I take full responsibility. I reached out to Tyler to apologize and ensured him that I would never try to injure another player. Those actions do not reflect who I try to be as a player or a person."