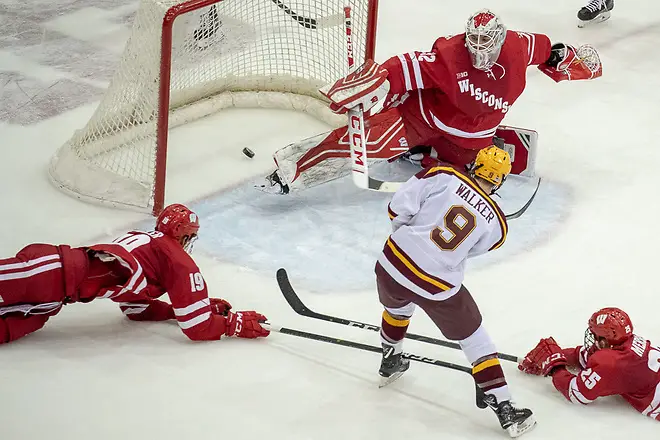 "It's been a crazy regular season in this conference, I can tell you that. We survived it. We're ready to go.""It's been a crazy regular season in this conference, I can tell you that. We survived it. We're ready to go."
That is something that any Big Ten coach whose team finished from second to seventh could have said this week, but it was Minnesota's Bob Motzko who got right to the point during a conference call featuring all seven B1G coaches Tuesday.
"I tell you what," said Penn State's Guy Gadowsky. "This has by far been the most competitive, tight conference I've ever been in in my 20 years of college coaching, and don't expect the playoffs to be much different."
After commanding nonconference results in 2017-18 and placing three teams in the Frozen Four, six of the Big Ten's seven teams have conference records at .500 or below and only one team – Ohio State, the regular-season B1G champ – is in a solid place in the PairWise Rankings at No. 7. Notre Dame and Penn State are on the PWR bubble at 15th and 16th. With the exception of Ohio State, the entire conference seems to have been thrown together in a giant mix of imbalance, inconsistency and varying degrees of growing pains.
"If you look at the standings, Ohio State was the team that kind of ran away with it," said Wisconsin coach Tony Granato. "We're in fifth place and we're three points from being in second place. You can see the parity in the league."
Parity, as has been noted in college hockey, doesn't mean equality and Granato said that there are many reasons why the Big Ten took such a strange ride this season.
"Some teams are little bit more experienced than others," said Granato. "Some have more youthful enthusiasm. Some have great goaltending. Some have great specialty teams. But every team is dangerous, and every team is well coached. Every team is prepared each and every weekend.
"Every team can make adjustments from Friday to Saturday."
Seven points separate second-place Notre Dame from the team the Fighting Irish host in a best-of-three quarterfinal series this weekend, seventh-place Michigan State. That's just two wins and a tie, essentially, over the course of a 24-game season. The Irish with 11 wins, 11 losses, two ties and two extra shootout points. Notre Dame had just one sweep of a B1G opponent this season and it just happened to be Michigan State, two low-scoring road wins Nov. 16-17, one a two-goal victory with an empty netter and one a one-goal win.
The Spartans also had just one conference sweep this season, a pair of 5-3 home wins over Minnesota Jan. 19-20.
"It's going to be interesting, not just in our series but in each of our series," said Notre Dame coach Jeff Jackson. "It's hard to sweep, and when you're playing a best-of-three, I can certainly see a number of series going more than two games.
"That's because of the quality of the opponents. It's an endurance contest. Kids are pretty resilient, but your mental toughness, your conditioning – all those things come into play. The series always start out … with a bang, and then kids wear down. It shows up on Saturday nights of two-game series. You potentially add a third game to that and it's definitely more of an endurance run than it is a sprint."
Michigan State coach Danton Cole said that playing on the road has some advantages.
"There's a little less pressure, maybe, to entertain and you go in and you play your game," Cole said. "Really, other than the last change, which does make things a little different, your game shouldn't vary that much depending on where you're playing it. You've got to trust your training and play the way you think you can win the game and stick with that."
With 36 points – one behind Notre Dame – Minnesota is hosting Michigan in the quarterfinal round. The Golden Gophers come into this weekend as the hottest team in the field, having gone 5-1-0 in their last six games, with two wins over Ohio State and a win over Notre Dame in that mix. Motzko, in his first year behind the Minnesota bench, said that the team has gained confidence as the year has progressed.
"We just kept plugging away," said Motzko. "I enjoyed being with them." Motzko said that the team needed to improve its overall defense. "Our direction to become a better hockey team was fairly simple if they could do it, and they enjoyed working at it."
Minnesota is 1-2-1-0 against Michigan this season, with the most recent action a home split Feb. 1-2. The Gophers earned two conference sweeps this season, on the road against Ohio State (Feb. 16-17) and Notre Dame (Jan. 11-12). Motzko said it's been difficult to put together a string of wins against conference opponents this season.
"When you have one game separating five teams, that's absolutely crazy," said Motzko. "I don't know how I'd even define a run in a conference like this. Maybe winning two out of three is a heck of a run. In the end, someone's got to win two games in this first round."
All the Wolverines needed to secure home ice in the first round of the playoffs was one more win. Michigan finished tied with Wisconsin in points – and tied in wins, losses, ties, overtime points and conference win percentage – but the Badgers edged the Wolverines head-to-head in the regular season with a record of 2-0-2-1. Michigan lost two overtime games to Wisconsin last weekend.
Coach Mel Pearson said that because sweeps are so hard to come by this season, he was hoping the Wolverines would start the playoffs at home, where they have a record of 7-4-5.
"That's why I was so disappointed after our past weekend, because I know how critical home ice for a lot of reasons," Pearson said.
One reason is that home teams went 9-0 in the Big Ten playoffs last season.
"I think the thing you really have to do as a road team is to play your game and to stick with what got you to where you are," said Pearson. "Having said that, this year, you look at last place to second place, the standings are so tight. I don't think there's a lot to choose from. I think you'll see some road wins this year."
Both Michigan and Wisconsin ended the season one point behind Penn State – although the Wolverines, Badgers and Nittany Lions each had the same conference win percentage (.479). Penn State hosts Wisconsin in the first round, just two weeks after the Nittany Lions and Badgers split a pair of lopsided games in Pegula Ice Arena, an 8-2 Penn State win followed by a 7-3 tilt that went Wisconsin's way.
"Two teams come out, the exact same teams, and you have two results on either side of the spectrum," said Gadowsky. "I think that's just a great indication of how, for whatever reason, when one team has it going a little bit how difficult it is to sweep."
Wisconsin took the seasons series against Penn State (2-1-1-0) and outscored the Nittany Lions 20-19 in the four contests, with 15 of the Badgers' goals coming in their two wins. Granato said, though, that he prefers to play more measured hockey against Penn State this weekend.
"They're going to want to open it up. They're going to want to play end-to-end action, chance-for-chance type of game," said Granato. "We don't want to get involved in a game like that. We're not quite ready to play that style. What we want to do is play more controlled, more structured, a more hard-to-play-against team and not give them the opportunities to turn a breakout into a two-on-one or a breakaway. They make the long plays. They're great at it."
Said Gadowsky, "I think this year more than ever, in this conference right now, you can play extremely well and lose."
Games this weekend are Friday, Saturday and, if necessary, Sunday. Three teams will advance to a single-elimination semifinal game. By virtue of their regular-season championship, the Buckeyes will sit out the first round and then host the lowest remaining seed March 17.
"It's going to give us an opportunity to get a little bit closer to full strength," said Ohio State coach Steve Rohlik.
All the talk this week may be about the six teams playing, but the Buckeyes – who finished nine points ahead of second-place Notre Dame and earn their first conference regular-season championship since capturing the inaugural CCHA crown in 1972 – are quietly relishing a very satisfying end to a wild Big Ten campaign.
"We're very proud of our accomplishment so far, obviously doing something that hasn't been done here in almost 50 years," said Rohlik, "but certainly we understand that everyone's on an even playing field right now."