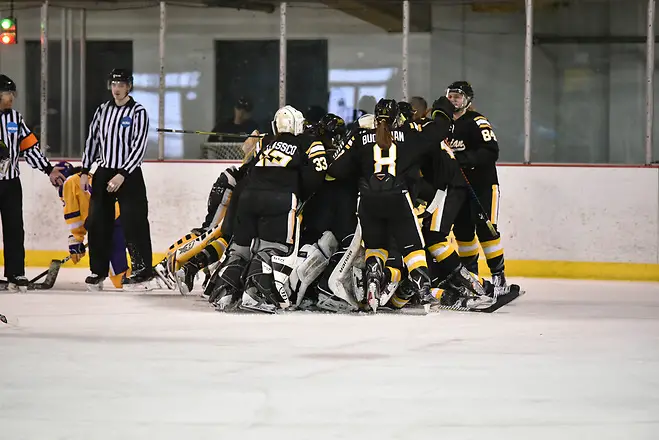 No. 2 Plattsburgh versus No. 6 Williams: Plattsburgh 5-3
Meghan Halloran had an impeccable night against the Cardinals. The sophomore scored the first two goals for Williams and then assisted on the team's third. Despite Halloran's strong performance, the Ephs just did not have enough power as a team to push past Plattsburgh. The Cardinals played a good game and seemed to have bounced back from their poor performance in the first round against Endicott. Something that should be noted about the Cardinals' run in the tournament so far has been their lack of consistency. They can play terrible against a non-ranked opponent such as Endicott, but then turn around and play well against a ranked opponent such as Williams. As Plattsburgh enters the Frozen Four and prepares to play Adrian, the Cardinals will need to focus on doing the small things correctly, which will transfer to more consistent overall play.
No. 5 Adrian versus No. 3 Elmira: Adrian 3-2 (OT)
Elmira completely outplayed Adrian in this quarterfinal game, statistically. The shots were 52-28 in Elmira's favor. However, the Bulldogs played the better game. They scored two goals in the first period and forced Elmira to play catch up in the second. Then in overtime, both teams had their opportunities to capitalize, and Adrian was the team to do it first. This victory has to be a confidence builder for the Bulldogs as they get ready to face Plattsburgh in the semifinals. Elmira was expected to make it all the way to the championship game. and now that they are out of the race, that spot is up for grabs.
No. 1 St. Thomas versus No. 8 Wisconsin-Eau Claire: St. Thomas 4-3
It's not surprising that the Tommies won, but it's surprising how close this game ended up being. After the second period, the Blugolds were leading 2-1, but holding the number one team from scoring proved close to impossible. Wisconsin-Eau Claire outshot St. Thomas, 32-22, and took half the amount of penalties. Statistically, the Blugolds played the better game and should have come out with the win. This shows just how strong of a team St. Thomas is and has been all season. The Tommies are expected to win the whole tournament, and if I were to bet on one of the remaining teams to win it all, my money would be on them. Senior goaltender Kenize Torpy is the backbone to this team's success, and for any opponent that wishes to upset St. Thomas they will need to figure out how to score against her.
No. 4 Hamline versus No. 7 Wisconsin-River Falls: Hamline 5-1
Hamline booked a ticket to the Frozen Four for the second year in a row, and forwards Molly Garin and Bre Simon played a huge part in that accomplishment. Garin, a freshman from Mound, Minnesota, had a hat trick, and Simon scored the game-winning goal, as well as helping on two other goals. The interesting part about this game was that all the goals were scored from special teams, except for the game's first goal by Hamline. If the Pipers could capitalize on their power-play opportunities against St. Thomas in the semifinals like they did against Wisconsin-River Falls, they will have a chance at winning. The Falcons had a strong offense this year, and seeing Hamline hold them to only one goal is key, as they will need a strong defense in order to beat St. Thomas.