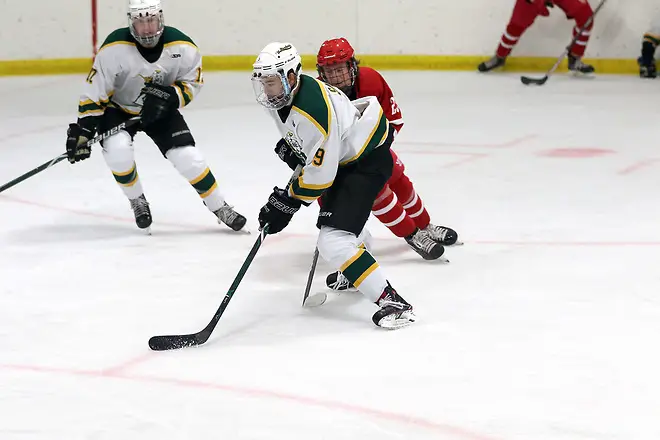 St. Norbert has done it again. The Green Knights defeated Augsburg in the NCAA tournament for the fourth consecutive year, this time rallying for a 4-3 win in overtime over the Auggies Saturday at the Cornerstone Community Center.
The reigning national champions trailed Augsburg 3-1 with 7:33 remaining. Jason Krych put the Auggies up two goals and seemingly in striking distance of a win in the opening around.
Riley Christensen started the rally. He scored off a power play with 5:04 to play, punching in his 14th goal of the season and cutting the Augsburg lead to 3-2.
With the clock approaching a minute to play, the pressure rose, but St. Norbert didn't fold.
Roman Uchyn delivered the game-tying goal with 1:11 left, getting past a couple of defenders to score the clutch goal. It was the 15th goal of the year for Uchyn.
In the OT, Dominick Sacco was the hero, redirecting a pass from Brad Pung to lift the Green Knights to the thrilling win and keep their hopes alive for a second consecutive national title. Sacco scored a little over two minutes into the extra session, whipping the crowd of nearly 1,600 into a frenzy.
St. Norbert is now 23-4-3 and will play unbeaten Wisconsin-Stevens Point Saturday at K.B. Willett Arena.
Neither team scored in the opening period. The Green Knights had three shots to score on power plays in the second period, but couldn't get the job done.
Uchyn gave St. Norbert a 1-0 lead before Tommy Carey tied the game at 1-1 in the third. Eric Brenk nudged the Auggies in front at the 8:03 mark of the third.
This was the third time the two teams have met season. Augsburg won 6-5 and played to a 3-3 tie with the Green Knights back in December in Minnesota.
It appeared the Auggies were on their way to a second win over the Green Knights this season until the maddening rally. St. Norbert has now won its last 14 games, the third-longest streak in program history. The Green Knights are unbeaten in their last 43 games at home.
T.J. Black racked up 19 saves for St. Norbert. Nick Schmit made 36 saves for Augsburg, which ends its season with a 21-4-3 record.