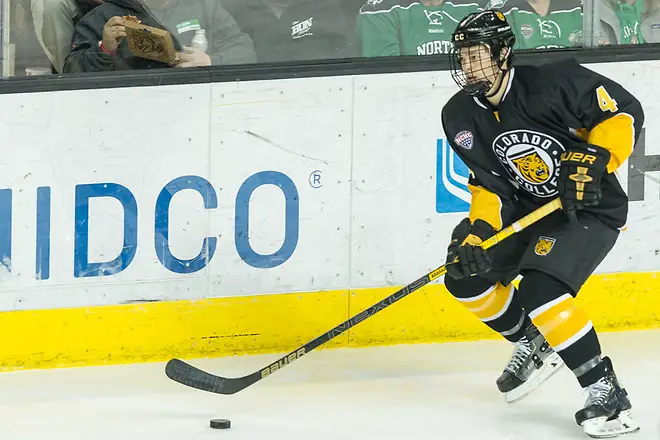 The NCHC announced its 2018-19 All-Rookie Team on Tuesday.
Six teams are represented among the seven players named.
F: Noah Cates, Minnesota Duluth – 19 (6)
F: Taylor Ward, Omaha – 18 (6)
F: Nolan Walker, St. Cloud State – 17 (5)
D: Bryan Yoon, Colorado College – 18 (6)
D: Nick Perbix, St. Cloud State – 14 (4)
G: Filip Larsson, Denver – 15 (4)
G: Adam Scheel, North Dakota – 15 (4)
Voting was conducted by the eight head coaches at each school. Coaches voted for six forwards, four defensemen and two goaltenders, awarding first-place votes for six players (three forwards, two defensemen and one goaltender) and second-place votes for the other six selections.
Three points were awarded for a first-place vote while one point was awarded for a second-place vote. Coaches were not allowed to vote for their own players.
The NCHC will announce its All-Conference Teams on Wednesday.
Individual award winners will be announced at the NCHC awards celebration in Saint Paul, Minn. on Thursday, March 21 on the eve of the 2019 NCHC Frozen Faceoff.