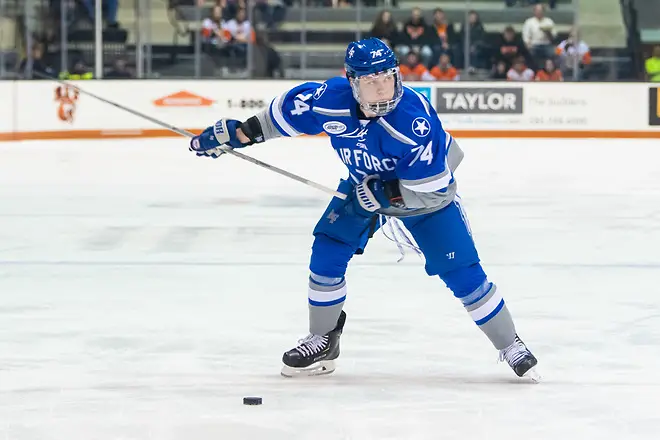 The opening round of the 2019 Atlantic Hockey tournament saw one series go the distance, three overtime games, and the only upset in the 14 Division I series taking place last weekend.
Tenth-seeded Army ended sixth-seeded Mercyhurst's season, 3-2 (OT) and 5-1, culminating a wild 2018-19 season series between the schools.
The Black Knights and Lakers met a total of six times, with Army West Point coming out on top in five of those contests, the other game ending in a draw. Four meetings needed overtime to settle.
The five wins against Mercyhurst, the defending regular season champions, account for 46 percent of the Black Knights' victories so far, and 25 percent of the Lakers' losses. Mercyhurst is the only team Army has beaten since a a 5-4 win over Canisius on Nov. 30.
Talk about having a team's number.
The other two series were claimed by the higher seed, but it wasn't easy.
Niagara defeated Canisius in three games, each decided by a single goal with two needing overtime. It was the first time in their long rivalry that the Purple Eagles have ended the Golden Griffins' season.
And finally, Robert Morris swept Holy Cross in a pair of one goal games. It marked the third consecutive season that the teams have met in the quarterfinals, with the Colonials sweeping each time.
So it's on to the next round. Here's a look at the four series:
No. 10 Army West Point (11-18-7) at No. 1 American International (18-15-1)
The rise of the Yellow Jackets has been the main storyline in Atlantic Hockey this season. AIC claimed its first ever regular season title and will host a playoff series for just the second time since the formation of league; the first time was last season.
AIC is looking to become the first top seed to win the tournament since Air Force in 2012.
Army West Point comes into the series undefeated in its previous three games, its longest stretch since a five-game unbeaten string back in October.
AIC coach Eric Lang was an assistant at Army West Point for five seasons before taking the reins in Springfield four years ago.
No. 8 Robert Morris (14-20-2) at No. 2 Bentley (16-13-5)
This is the highest seeding for the Falcons since 2014, when they also finished second. Bentley comes into the tournament with just one win in its last five games (1-2-2) after going undefeated in 12 prior contests (10-0-2).
Robert Morris is looking to make it to the semifinals for the sixth consecutive season. The Colonials have won four games in a row, their longest streak of the season.
Bentley swept the only other meeting between the schools this season, 5-2 and 5-1 at Colonials Arena back in January.
No. 6 Niagara (14-18-5) at No. 3 Air Force (16-13-5)
The host Falcons are gunning for their third title in a row and eighth since joining the league in 2006-07.
Niagara looks to win its first-ever AHA title, and get to the semifinals for the first time since 2014.
The teams have a relatively long history dating back to when they were members of College Hockey America. Back then, Niagara held the advantage, going 22-6-2 in CHA play. But since the teams moved to Atlantic Hockey, Air Force has dominated the series 20-9-2.
This season, the Purple Eagles and Falcons split a two-game series at the Academy back in October.
No. 5 Rochester Institute of Technology (15-15-4) at No. 4 Sacred Heart (15-15-4)
This is the highest seeding for the Pioneers since a second place finish in 2010. They're one of the hottest teams in the league, going 10-3-2 in their last 15 games.
RIT enters the postseason winless in its final three games of the regular season. The Tigers look to return to the semifinals after a two-year absence. RIT won back-to-back titles in 2015 and 2016.
The teams met last season in the first round of the AHA tournament. Scared Heart advanced in three games, including winning in triple overtime in game two. This season, SHU went 3-1 against RIT including two overtime wins.
Hey now, 2019 edition
Dan Rubin will have his picks for all-league in next week's column, but since this is my last of the season, I'll share mine:
First Team:
F Blake Christensen JR American International
F Dylan McLaughlin SR Canisius
F Ludwig Stenlund FR Niagara
D Noah Delmas JR Niagara
D Joe Duszak JR Mercyhurst
G Billy Christopoulos SR Air Force
Second Team:
F Derek Barach SR Mercyhurst
F Erik Brown SR RIT
F Alex Tonge SR Robert Morris
D Dalton MacAfee SR Army West Point
D Tanner Jago SR Bentley
G Logan Drackett SO RIT
Third Team:
F Jonathan Desbiens JR Bentley
F Kyle Haak SR Air Force
F Luke Santreno SO Bentley
D Adam Brubacher JR RIT
D Brennan Kapcheck SO American International
G Francis Marotte SR Robert Morris
Rookies:
F Austin Magera Sacred Heart
F Ludwig Stenlund Niagara
F Dalton Hunter Mercyhurst
D Josh McDougall Mercyhurst
D Luke Orysuik Bentley
G Matt Ladd Canisius
Most Valuable Player – Joe Duszak, Mercyhurst
Best Defensive Forward – Kyle Horsman, Robert Morris
Rookie of the Year – Ludwig Stenlund, Niagara
Coach of the Year – Eric Lang, American International
And finally
This is my final column of the 2018-19 season, my 21st writing for USCHO.com and my lucky 13th covering Atlantic Hockey.
As usual, it's been an unpredictable blast.
I'll be covering the Atlantic Hockey championships in Buffalo in two weeks, and then returning to the Queen City for the Frozen Four, my 22nd as a journalist. It never gets old, but I do.
Thanks to my fellow AHA columnist Dan Rubin, truly my better half when it comes to covering the league.
I'm always grateful for the coaches and players who take the time to answer my questions and share their observations, as well as the sports information directors who make my job a lot easier.
I'm grateful to Kathleen, my bride of 28 years, and my three sons, who continue to encourage and inspire me.
And finally, once again, thanks to you, dear reader. Keep those emails and tweets coming, and enjoy the hockey yet to come.