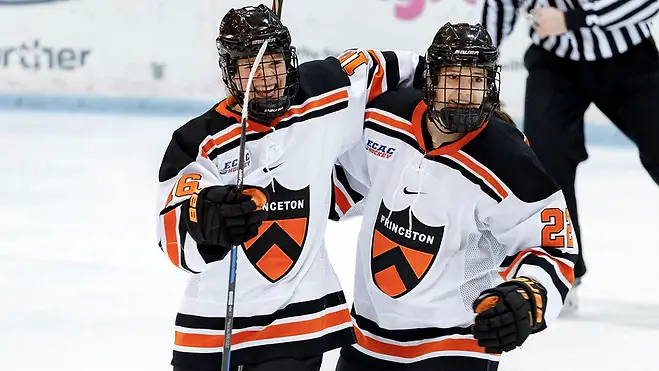 Nicole: We had quite a bit of excitement in the conference championship tournaments, but let's start with congratulating Syracuse on their first-ever conference title and first-ever berth in the NCAA tournament. They did so in pretty convincing fashion as well, culminating with a no-doubt 6-2 win over regular-season champion Robert Morris.
Of course, their prize for setting a new program standard is a trip to Wisconsin. The Orange actually played in Madison back at the start of December, where they were swept, 6-1, 9-1. That was long enough ago that we can assume both teams look very different than they did at that time. Though the results aren't heartening, the fact that Syracuse has done the travel and experienced playing at LaBahn already definitely has to be in their favor. Most teams have never experienced anything like it, and it can be overwhelming. The Badgers sold the game out in about five minutes Monday morning, so any comfort level the Orange can carry with them can't hurt.
Abby Moloughney has had a very good rookie year for them and is second in the team in scoring. What doesn't bode well for them against the tough Wisconsin defense is that their leading scorer is Allie Munroe, a defender.
What do you think we'll see out of this matchup on Saturday?
Candace: I don't think it will be close. I think the Badgers will roll. It's been several years at this point where we could consider the top CHA teams to be a danger in the NCAA tournament. Last year was the first time since 2014 that the CHA entrant wasn't blown out in the tournament. The last time Wisconsin hosted a CHA team, the Badgers crushed Robert Morris, 7-0, and I think we'll see that again. Syracuse did well to run the table and win the CHA tournament and the berth to the NCAA tournament. Truth be told, it has felt to me for a few years that the Orange were knocking on the door, but couldn't get through. It's nice to see new blood in the tournament.
However, as far as battling Wisconsin, Syracuse doesn't have what it needs. Starting goalie Maddi Welch has a 3.15 goals-against average. Even if Wisconsin's offense goes on walkabout again, it will be strong enough to take down the Orange. On top of that, Munroe averages less than .8 points per game, and after that, the next two top scorers are under .6 points per game. The Badgers just have too many ways to beat a team like Syracuse. It's been a good season for Syracuse, but it will end this weekend.
As far as the rest of the tournaments, I don't think there were too many surprises. As I said in our picks, it's March, and it's hard to bet against Clarkson in March. What did you think of the Golden Knights' run to the ECAC crown and what it means for them in the NCAA tournament? Can they win three straight?
Nicole: I definitely agree with you that it's hard to bet against them. I also think that of their recent squads, this one feels like the one with the most possible holes in their armor. I think they definitely could win three straight, but it's going to be far tougher than their previous two wins, in my opinion. I thought it was interesting that of all their opponents, the one that seemed to figure out how to quell their stellar top line was Colgate. Obviously the Raiders couldn't pull it off a third time this weekend, but they did seem to show that Clarkson has some points that can be exploited.
If they are going to three-peat, it looks like a mighty difficult path to get there. No offense meant to last year's Mercyhurst, Ohio State, and Colgate squads, but I think the relative strength of this year's team is deeper. Their quarterfinal match with Boston College is intriguing because both teams are so offensive. Shutting down the other team's high-flying scorers isn't where either team's strong suit lies, but I don't think Clarkson can rely on their offense to do all the work in that game. It has to be more of a two-way game instead of relentlessly pressuring the opponent into submission in the offensive third, and whichever team is able to balance that best will likely win. The semifinal would feature a likely matchup with Wisconsin, who'd be far less tired and who also carries a heck of a grudge over their 2016 title game defeat. Obviously the Golden Knights have shown they can beat the Badgers, but at best that game would be a toss-up for either winner. Then there's the title game, no easy task regardless of opponent.
I'm quite excited about the four pairings we have this year. I started to want to talk about the other side of the bracket in my answer about Clarkson, but we should probably spread that out a bit. I'm very interested in the Princeton/Minnesota game. That's a tough draw for the Gophers, as the Tigers are one of the stronger 7 seeds we've seen in recent years. Princeton opened its season at Wisconsin and lost 4-3, 4-0, but obviously is a very different team now. Maggie Connors didn't play in their ECAC semifinal loss to Cornell, so her status for the game is a bit up in the air, but back in November, we didn't have any inkling of what kind of season Sarah Fillier would have. The Tigers have the offense to put goals in and pressure the Gophers, but do they have the defense to stand up to their depth?
Candace: I give the Tigers a chance, but frankly, they haven't been playing too well of late, the double OT loss to Cornell notwithstanding, and truthfully I have trouble seeing the Gophers losing to anybody but Wisconsin at this point. That was essentially a one-goal loss to the Badgers on Sunday, as Annie Pankowski sealed the win with an empty-netter. Saturday against the Bulldogs, I thought the Gophers looked very intimidating. The Gophers have so many good offensive players. It says something about Minnesota that Kelly Pannek and Sarah Potomak aren't even the team's leading scorers. Minnesota also has depth at the goaltending position. I mean, usually at this point a coach is going with one person in net, but Brad Frost played Alex Gulstene against the Bulldogs and Sydney Scobee against Wisconsin; it will be interesting to see who gets the start against Princeton.
As for the Tigers, Saturday was a heartbreaking loss, but in many ways it was an encapsulation of their season in that they started well, but couldn't close. Perhaps some of it is youth, but at this point in the year, a team has to be able to shut the door once you get up on an opponent. After leading the team for most of the season, Rachel McQuigge seems to have lost the starting goaltending position to Steph Neatby, who played all of Princeton's playoff games so far. In some ways, that makes sense, as Neatby has had the playoff experience previously and was hurt for much of the first half. She played well against Cornell, well enough for her team to win. I don't think Minnesota will lose to the Tigers, but it might be a one- or two-goal game.
Like you, I am glad the committee changed things up. I think after the outcry when BC had to play Northeastern in 2016 and they sent Princeton to Minnesota that perhaps the committee changed its thinking. I was convinced that we'd have replays of the conference tournament finals in the ECAC and Hockey East for the first round of the NCAA tournament.
We already touched on Clarkson; before getting to Northeastern and Cornell, what is your take on Boston College, which looked like the team we all thought they were against Boston University before falling to Northeastern in the finals?
Nicole: I don't know that I'd agree that Minnesota has goaltending depth. Both are perfectly fine goalies, but I don't look at both of them playing as indicative of anything other than the fact that neither of them has distinguished themselves enough to win the starting role outright. Both have a good goals-against average, but their save percentages let us know that has more than a fair bit to do with the defense in front of them. Scobee's save percentage is .927, which is 15th in the country, and Gulstene's, at .917, is 24th. If the Gophers have a liability, it's in net.
I agree with you that Minnesota can be very scary, but they did not play their best against Wisconsin in the WCHA final. If you can't get up for a game that determines the number one overall seed against your biggest rival in your home rink, what will motivate you? We can be sure that Brad Frost and the rest of the Minnesota staff will be pounding that into the Gophers this week, but it definitely makes me wonder which Minnesota squad will show up against Princeton. That's not a thing I thought I'd be saying right now, but here we are. That the final was virtually a one-goal game was a lot more about Wisconsin missing opportunities than it was about Minnesota keeping it close. It was the first game between the two in a while where it didn't feel like the game would be won or lost on one bounce. The Badgers seemed to have the game in hand from the first goal.
As for Boston College, the only thing I know about them is that I don't know anything. I suppose it's actually a reiteration of what I just said about Minnesota, but it feels like we have no idea what BC squad will show up. I'm really not sure what to expect from them every time they step on the ice. It was nice to see the fight from them as they clawed back to tie the Hockey East title game twice. They've been getting contributions from across the board, but Megan Keller, a blueliner, was their leading scorer until a recent hot streak from Daryl Watts. It can only mean good things for the Eagles that last year's Patty Kazmaier Award winner seems to have found her stride at the right time.
Do you have any more solid thoughts on BC than I do?
Staying in Hockey East, what are you expecting from Northeastern? You mentioned Princeton's youth, but the Huskies have a similarly youthful squad. I was impressed that they pulled out the overtime win in the championship, but do they have what it takes to make a run in the NCAAs?
Candace: As for BC, the Eagles still aren't a squad I'd want to be on, but I imagine they are very motivated to make a statement and return to the Frozen Four after last year's upset loss to Ohio State. The bad news for the Eagles is they are on the road against Clarkson, and BC has generally been terrible on the road. Aside from Syracuse, the Eagles are the only team in the tournament to have a losing record on the road, where they are 7-9-1. That includes Princeton, which went 9-5-2. I suppose the Eagles could pull it together. The good news for BC is they really only have to shut down one line; the bad news is that even against teams that don't have one solid line, they have occasionally struggled.
With Northeastern, I think the Cornell matchup favors the Huskies. Northeastern has five players with more than 30 points, while Cornell only has two. In net, Aerin Frankel has a 1.77 GAA and a .934 save percentage. The Huskies have a 17.6 power-play success rate and are 89 percent on the penalty kill. The Big Red meanwhile, have a 19.2 percent success on the power play, but are 87.5 percent on the penalty kill, so I kind of think special teams are a wash. In net, Cornell's Marlene Boissonnault has not done as well as Frankel, posting a .916 save percentage and 1.65 GAA. Cornell wins with defense, but I think Northeastern has more ways to beat a team.
While you mentioned it being impressive that BC rallied twice against Northeastern, I think it also reflects well on the Huskies that they didn't fold and won in OT after giving up the game-tying goal with less than seven seconds left in the game. I thought that Northeastern's youth might hurt them, but they overcame their doubts after that potentially crushing goal and won.
Do you see it differently than me?
Nicole: No, you make a very good point about the Huskies not letting what was probably a pretty soul-crushing goal ultimately affect the game. The comeback by BC impressed me because they've sort of folded in those situations at times this season, but that Northeastern didn't let that snatch the victory from them answers a lot of questions I had about how they'd handle the postseason when most of their top players haven't been there before.
Early on in the season, we talked about Alina Mueller and Chloé Aurard sort of as a unit, but as the season wore on, Mueller out-paced Aurard and was sort of standing alone as the player to watch on NU. It was nice to see Aurard get the game-winner and show once again that Mueller isn't the only threat the Huskies have. The team is best when both those players are playing at their peak; they have a chemistry that's difficult to match and play off each other so well. They were trading off who would take the lead early on, and that makes them more difficult to defend. Getting back to that would be a huge boost to their postseason chances.
We really only talked about Wisconsin up top a bit in relation to how Syracuse and Minnesota played them. Some of their weapons are well known — Annie Pankowski, Emily Clark, WCHA Rookie of the Year Sophie Shirley — but the end of the year has seen a new level of play from freshman Britta Curl, who has six goals in four postseason games so far. There are four Badgers with 30 or more points, and nine with 20 or more points. Will that be enough?
This is Wisconsin's sixth-straight NCAA berth, and if our predictions are correct, a sixth-straight Frozen Four, as well. They're again the number one seed. However, the Badgers haven't been able to complete the dream. They've made the championship game just once in the past five years. Do you have any thoughts on why they haven't been able to finish the season out like they've started it? Or if this team is the one to finally put it all together?
Candace: Well, my thoughts on why they haven't been able to put it together are based on how Wisconsin plays. The Badgers take care of the fundamentals. They are a very good defensive team, consistently one of the best, in fact. However, they are not always able to open it up offensively. I think that is in part due to their commitment to playing on the back end. It makes Wisconsin hard to beat; the Badgers don't give up a lot of goals. That said, they have also not always been an explosive offensive team, and if a team gets up on them, I think Wisconsin struggles to open it up and rally.
When I look at recent seasons, only the last two pop out as ones where I really thought the team should have won and didn't. In 2016, Boston College was dominant, and Minnesota had just gotten Amanda Kessel back and was clearly a different team. I really thought 2017 in St. Louis would be the Badgers' year, but Clarkson came out and smothered them offensively. Even in the semis, Wisconsin only managed one goal against BC.
As for this year, if you look at last weekend, you'd think so, but the Badgers won the WCHA in 2017 in impressive fashion as well. The pressure will be stronger, and it will be interesting to see how they handle it.
We've talked about parity a lot this year, but yet when we see who is in the NCAA tournament, there aren't too many surprises. Boston College, Clarkson, Minnesota, and Wisconsin have been in every year for the last five years. Northeastern has been in three of the last four. Cornell has been in seven of the last 10. Princeton made it in 2016. It seems when it comes to the NCAA tournament, we are always discussing the same teams. Even the borderline squads are usually the same, like Boston University. Have we overstated parity?
Nicole: I don't think so. For me, parity isn't just about an immediate change or impact. The flippant answer is that five or 10 years ago, the only schools you mention in that list that we talked about were Wisconsin and Minnesota. It takes longer than a year or two to unseat some of the big names, and it takes long-term change and building to remake the culture in a program. The upsets and outcomes of this season will help those teams recruit and have a longer impact than a single game or series. The players on the 2019 U-18 Women's World Championships rosters for the U.S. and Canada have committed to 17 different universities so far. There may always be a chance for a team to go on a one-year run, but it's more likely that we'll continue to see the growth and strength of programs. For me, the parity we've seen is about closing the gaps between the top, the middle, and the bottom, not making the list of teams at the top bigger.
Years ago, teams like Minnesota Duluth and Harvard were perennial favorites. Boston College and Clarkson are teams that have turned things around and built top-tier programs in recent memory. Ohio State is an even more recent example of a team that I think will be consistently in the conversation in the coming years. One of the things I liked about having a team like Boston University in the postseason conversation — or even having Boston College in the tournament — is that those teams did not have perfect seasons. They didn't only drop a handful of games. BU had a 1-4-3 record to start the season. BC had a number of stops and starts to their season where it looked like they were down and out.
Arlan and I spoke a bit this weekend about how difficult it's going to be to pick some of our end of the year awards this year. Particularly, the rookie team will be tough. The more he and I talked about it, the more I wished we had a second team. Sarah Filler, Maggie Connors, Sophie Shirley, Britta Curl and Alina Mueller are obvious nominees, but someone like Gabbie Hughes had a major impact on her team, even if her numbers aren't among the top. For goalies, Lindsay Reed, Abigail Levy, Maddie McArthur, and Andrea Brändli all have a solid case. On defense, there's Cayla Barnes, Sophie Jacques, Tanner Gates, Maggie Flaherty, Nicole La Mantia, and more I know I'm forgetting.
Basically, the future is super bright, but we're going to struggle to narrow that list to six. Do you have any initial thoughts on what that final All-Rookie team might look like?
Candace: I want to wait till the Frozen Four. At this point, Fillier and Mueller are absolute locks. I'd lean toward Connors; she's had a better points per game average than Shirley. On d, I think Barnes has to be on there, but the other is really up in the air. Goal is a big battle, but I lean toward Brändli. McArthur hasn't done enough to really steal games, though her season has been respectable. Reed has been very good, but plays in a weaker conference. I could consider Levy over Brändli, because lets face it, without her Minnesota State doesn't get close to where it finished this season, but I think we can save that discussion for the Frozen Four. It will definitely be a spirited one!