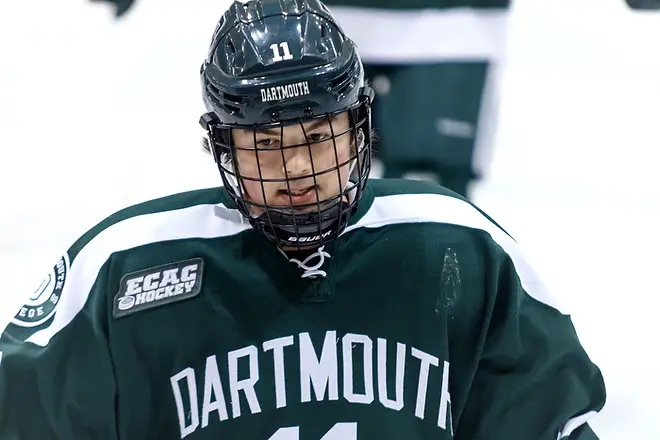 In looking at Dartmouth, this year's playoff run is like having a case of déjà vu.
For the second straight year, the Big Green needed all three games in the first round of the ECAC Hockey conference tournament to defeat St. Lawrence.
Also for the second straight year, Dartmouth will take on Harvard in the second round of the playoffs.
There's a slight difference those between the two years, however.
"The difference this year, we were in finals this weekend and we are finishing up (Wednesday) with finals," Dartmouth coach Bob Gaudet said. "This weekend, obviously we played a team that was playing good hockey who really battled fiercely. I am really proud of them because they stayed focus playing hockey and they did their studies."
Last year, finals happened to coincide with the second round of the playoffs where Dartmouth fell in three games against the Crimson. Players were taking exams last year in between the games down at Harvard.
The games against the Saints this past weekend saw the Big Green gain a come-from-behind victory on Friday night with a 3-2 victory. On Saturday, the Saints forced the lone Game 3 in the ECAC tournament with a 3-2 victory where Daniel Mannella made 58 saves for St. Lawrence.
Firing 60 shots on goal, there was not much for Gaudet to say to his team in the loss.
"The message was, 'the game is over,'" Gaudet said. "We've moved on to the next play. The next play was another playoff game. It was exciting actually; there was nothing we could do about it. They beat us fair and square – they made a really good play and won the game. The message was to move on. The next play and the fact how exciting it is to basically play in a seventh game, play a deciding playoff game. That's fun and that's where memories are made."
Game 3 started like it would be a classic do-or-die game with the Big Green holding a 1-0 lead after 20 minutes. Then the game went sideways for the Saints in the second period as Dartmouth added five goals before adding two more in the third period for an 8-0 victory.
The win gave Adrian Clark his sixth shutout of the season, which broke a 100-year-old school record. He also leads the ECAC in shutouts and is second in the nation in that category behind Hayden Hawkey of Providence and Joey Daccord of Arizona State, who each have seven on the season.
Dartmouth's top three point leaders Quin Foreman (12 goals, 14 assists), Drew O'Connor (16 goals, nine assists) and Will Graber (10 goals, 13 assists) were all over the scoresheet not only on Sunday in the deciding game, but the past two weekends.
After a 11-game pointless streak, Graber has a four-game point streak heading into the series against Harvard, highlighted by a three-goal performance against Rensselaer on March 2. He finished the game with four total points.
"Will is a very good player and plays a lot for us, plays a lot of different situations," Gaudet said. "He can pretty much play any position on the ice. He hasn't put on the pads as a goalie, but he has played everywhere else. He has done a really good job. Despite what people might see as that stretch where he wasn't scoring, he was getting some really good opportunities. That was the message: 'Keep after it, keep after it.'"
O'Connor, meanwhile, has become one of the most prolific freshman goal scorers this season with his 16 goals as he's second in that category, four behind Niagara's Ludwig Stenlund, who has 20 goals.
Gaudet knew early on that O'Connor was going to be a key factor for Dartmouth this season.
"He (has) the puck a lot and he's very shifty; he has an offensive knack," Gaudet said. "He's getting better, that's the thing. He's a kid growing into his body, but he's getting stronger and working really hard. I am really pleased with his development' it showed Day 1 in preseason. He's a kid that can play the game and has confidence that he can play the game. He has a lot of growth ahead of him and I think he will continue to get better throughout his career."
Gaudet likes the depth his team has with ten players with 10 or more points. Harvard might not have Ryan Donato this year, but they have other high-end talent that can be considered dangerous.
"We know we are playing an outstanding Harvard team," Gaudet said. "They had an opportunity to win the league championship in the last night of the regular season. They were right there, and they are a top-flight team with some exceptional players from (Adam) Fox, there's so many you can rattle off, but Fox is a cut above. They are really an excellent team and depth with four lines, excellent defensemen and (Michael Lackey) playing well (in goal)."