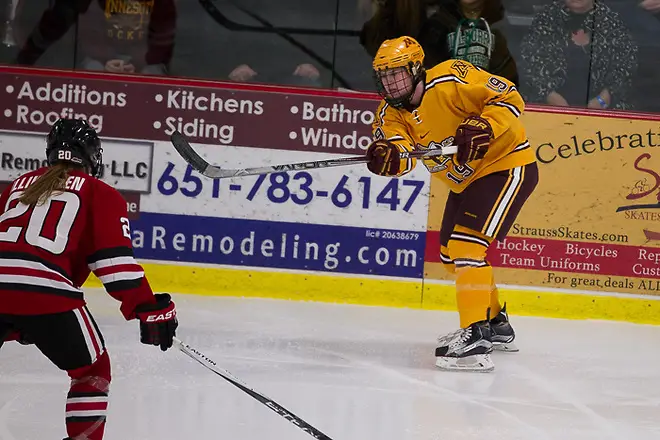 Nicole: That was quite an entertaining weekend of hockey. Two of the games went to overtime, and the other two were close for a majority of the game. In the end, though, our only upset was Cornell taking down Northeastern.
The Huskies played without leading-scorer Alina Mueller, who was out with an upper body injury, and that changed up each of their lines. Beyond moving second-line center Tori Sullivan up, the second and third lines were all kinds of scrambled, with players switching wings and moving from wing to center. Any of the comfort or chemistry they may have had was thrown into upheaval We'd talked a lot about how young this team was, and throwing that kind of wrench in their plans might have been a bit too much for them to handle.
Still, they came back from two goals down to force overtime, which was massive, but we also talked about their penchant for late-game heroics and how hard that can be to repeat — that had to be doubly so without their star playmaker. In the end, it was a breakaway that beat them, and Cornell moved on.
I was trying to keep up with the early games in the press box in Madison, and I will say that Northeastern looked good in the extra frame. It was a great play by Gillis Frechette, who now has 10 points in the last 10 games after being pretty silent through much of the season, that beat them.
Were you surprised by this outcome? I know we've talked in the past few weeks about not being sure about Cornell, but here they are again, finding a way to win and advance.
Candace: No, I wasn't really surprised. I felt this was the game for a potential upset, even more than Boston College versus Clarkson. Add in that Mueller wasn't in the game and it is even less surprising. Cornell has shown resiliency, most recently by snatching the ECAC crown from Princeton and Clarkson on the final weekend of the regular season. The Big Red are also an exceptionally good defensive team, ranked second in the country in that category. Northeastern, much like Boston College teams of recent years, saw its scoring fall off in the second half as teams tightened up their play.
Credit to the Big Red too for not letting losing the lead get to their heads. After giving up a two-goal lead as Northeastern rallied, that could easily have happened. The stuck with it, and ultimately they got the big win. It will be interesting to see how they stack up against Minnesota. My guess is the Gophers have too much firepower, but Princeton showed it is possible to keep that offensive talent in check. The scoreline read 5-2, but it was a one-goal game with Minnesota scoring a couple of empty-netters.
While considering the results, something did strike me. This is the second straight year that the Frozen Four will feature two ECAC teams and two WCHA teams. Yes, both the ECAC wins were in OT, but they got it done. Do you think that those conferences are getting stronger?
Nicole: There is more depth to the talent in the ECAC, which has had a bunch of trickle-down effects. All of the teams improving has improved the overall play in the league. They've pushed each other to be better. They're all earning quality win bonuses for beating each other, and the losses they do get are taken with a grain of salt knowing that they came against ranked teams. That perception definitely helps when it comes to weekly rankings. At times over the past decade or so, one team at a time has shone, but it's been rare that it would be more than one. Cornell had a good run in the early 2010s, and we've seen Clarkson over the past four years.
I think we're seeing the fruits of the growth of the game. There's simply a bigger pool of top-end talent, and those players aren't only going to Minnesota or Wisconsin or a Boston team. Increased focus on developing girls in both the U.S. and Canada also helps. Teams like Cornell and Clarkson have rosters full of women coming to the NCAA instead of universities in Canada, and being able to recruit that talent is incredibly crucial, especially to those upstate New York schools.
What's exciting, I think, is that we're seeing teams with repeat success — or at least a chance at it. Of late, we're not seeing one-off appearances where everything came together and then one graduating class changes everything. Colgate followed up last year's run with another great year. There were four ECAC teams that could have made the NCAA tournament. As a reporter, the fact that very little was settled for the postseason on the final day of the season was a headache, but as a fan, it said such good things about the state of the game. That chaos made the final day pretty darn fun. I know we sort of ended up in the same spot as we often do, but two weeks ago, things looked very different, and I think that's important. We might still be in a place to have Wisconsin, Minnesota and Clarkson up top, but the pool of teams that had a legitimate chance to be there was much larger than in years past.
You mentioned Princeton and Minnesota briefly, but let's dig in a little more. As you said, the final scoreline isn't really indicative of how the game went. Princeton scored first, just two minutes into the game. It was tied at the end of two, and the Gophers didn't pot the game-winner until less than 10 minutes were left. The Tigers impressed me way back in November when they played their first weekend in Madison, and they impressed me again as I watched the feed on Saturday. They graduate just three seniors this year and basically have nothing but potential to get even better. I thought they bounced back really well after losing the league title by getting swept on the final regular season weekend. Right now, they'd be my team to watch for next year. What are your thoughts on the Tigers?
Candace: I think with Sarah Fillier and Maggie Connors leading at the forward position, as long as they don't have a sophomore slump, Princeton should do very well next year. Of course, avoiding that sophomore slump can be difficult. Last year's Patty Kazmaier Award winner Daryl Watts struggled to match her first-year production and really didn't catch fire until February. Teams will study film, and outstanding rookies will face increased scrutiny and have to play against a team's top defenders.
Most of Princeton's top players are back. It's not just Fillier and Connors. Carly Bullock will return as a senior, and goalies Steph Neatby and Rachel McQuigge are both back. The one top player and leader Princeton loses is Karlie Lund, but with Princeton having experienced the NCAA tournament and hung with Minnesota, they will have experience and motivation.
The other ECAC teams lose more, especially Clarkson, which loses top forwards Loren Gabel and T.T. Cianfarano and goalie Kassidy Sauvé. The Golden Knights have shown they can reload, and with Elizabeth Giguère back they will still be dangerous, but I think they will have a harder road to hoe next season. Colgate also loses top players, including Jessie Eldridge and Shae Labbe, their two top scorers. Princeton is well positioned to do well next season.
We haven't talked too much about the Gophers yet; what do you think of Minnesota as the Gophers ready for the Frozen Four?
Nicole: I hold Minnesota to a pretty high standard because I've seen what they are capable of. So when I say that I think they've been a bit inconsistent this year and maybe lacking that one dynamic, game-changing player, it sounds a little ridiculous. Pretty much every other team in the county would love to have the roster the Gophers have, and I'm aware that when we talk about them, to some extent it's nitpicking. I think Kelly Pannek has been very, very good for them this year, but I've seen her play on a line with Sarah Potomak and Dani Cameranesi where the three of them together are simply electric. I just don't think we've seen that kind of chemistry much from Minnesota this year. The Pots and Pan line of Pannek with Sarah Potomak and Amy Potomak has had flashes of that kind of brilliance, but hasn't sustained it. The line has been broken up at times to shake things up. When it's good, it's very good, but when it's not, the Gophers look a lot less like the mythically and massively successful program they are and more like the rest of the plebes.
Part of what makes the Gophers so amazing is that often watching them, it doesn't even look like they're working. They're usually so good that it looks almost effortless, and they sort of create their own luck. Pucks just seem to bounce for them at all times, and it feels like the gods are smiling down at them at all times. This year's team doesn't really feel like that. It doesn't look free-flowing and easy. It looks like work. That being said, the team has had to grind and push and manufacture, and they're still the number two team in the country. I think they're just a bit more vulnerable than they have been in years past because there's not as much smooth flow and chemistry to what they're doing. They're winning because they have a collection of the top talent in the country and because they work hard and are grinding out wins. I don't know if any of that is necessarily a bad thing, but it is definitely a different look than we've seen from them before.
I liked their perseverance in the quarterfinal game, and I liked how they picked it up in the second half of the WCHA championship game against Wisconsin. The Princeton win was exactly the kind of grinding win I'm talking about. Not much pretty about it, but they all count the same in the end. For the most part, I don't bet against Minnesota, and if the semifinal comes down to which team can outlast the other, I have to go with the Gophers.
We've talked a lot in recent weeks about how we wouldn't discount Clarkson in March, and they do seem to find a new level when the calendar turns. They're now won their last four NCAA tournament appearances in overtime. Wisconsin is still smarting from their loss to the Golden Knights in the 2017 title game. How do you think the teams match up, and how do you think the game will go?
Candace: It wouldn't surprise me if the game is much like Clarkson's win over Boston College. Wisconsin usually plays a very defensive-oriented game, especially in the playoffs, and Clarkson has shown it is perfectly comfortable doing the same. I'm impressed that the Golden Knights didn't panic against BC, even as time was winding down. They found a way to get it done, and then their usual OT heroine, Giguère, got the game-winner in the extra session. Given how often she has done that, if a game goes to extra time this weekend, the opposing coach should just designate someone to follow Giguère every time she is on the ice.
Wisconsin seems to have stepped up its game though, especially Annie Pankowski, who is proving that anyone who doubted her Patty Kazmaier Top Three nod was absolutely ridiculous. Pankowski is the player who the Badgers will live and die on. I think she has found another level in the last month, and she seems determined to end the Badgers' streak of futility, which started when Minnesota beat them in 2012.
If it turns into a defensive battle, I lean toward Wisconsin, simply because I feel the Badgers are more comfortable playing that style. They had better watch out for Giguère though.
Do you feel the same?
Nicole: I'm not sure I would classify Wisconsin as a defense-oriented team, mostly because they rarely have to play defense. The fact that Kristen Campbell has given up a number of soft goals against lesser opponents and that their blue line hasn't really had to withstand an onslaught like what Clarkson will bring is definitely something they'll be thinking about and working on this week. The Badgers are a puck control team, they're quick in transition, and they are going to want to push the pace and really lean in on the fact that they are so deep. The games are televised, which benefits Clarkson with the additional stoppages, so the Badgers will be looking for ways to wear them down between those TV timeouts. Wisconsin is definitely not afraid to cycle the puck back and use the length of the ice to move it around and get themselves set up. A big thing I've seen from them as the season wound down was patience and poise. They're deliberate with the puck, they don't get spooked on defense, and even the rookies are playing really calmly. They have to hope that keeps up in the face of Clarkson's offense this weekend.
Pankowski has always been a special player, but you're right that she's elevated her game even more in the past few weeks. It's like she's single-handedly decided that this season will end differently, and she's doing her damndest to make it so. Despite being one of the most dominant teams in the country over the last few years, Wisconsin has definitely faltered come tournament time. They've made just one championship game in five consecutive tries, and that was their disastrous loss to Clarkson in 2017. Someone told me they're not sure they've ever seen a player look as upset as Pankowski did on the ice after that loss. She's had bigger disappointments since then, but she's also a perfectionist. She can't change her 2018, but she seems to be set on replacing the memory of 2017 with something a lot better this year.
No offense to Loren Gabel, who set a number of career goals for Clarkson this season, but it sure looks like Giguère is well on her way to being able to eclipse them. She just seems to have a finesse with the puck and a nose for the goal that's sort of unquantifiable. Her creativity and vision make her so dangerous. She scores gorgeous goals, but the OT winner against Boston College was pure garbage clean-up. Both count the same, and that she seems to be as gritty and dirty as she is skilled on the puck is what makes her dangerous.
You mentioned the Pankowski proving she was worthy of the Patty Kaz top-three finalist spot, and it made me wonder if you think the outcome of the vote would be different if the vote took place now instead of a few weeks ago?
Candace: Possibly, but maybe not. How's that for wishy-washy? Pankowski is leading the team at the time it needs to be led, but Gabel has been consistent all season. I guess it would depend as a voter if I valued a season's body of work over performance in the clutch. Also, it's not like Gabel has been invisible since the postseason started. She had six points in five games in the ECAC tournament, with two being multipoint games. She scored twice against Cornell in the final. Yes, BC held her off the board last weekend, but every great player can be shut down for a night. Even though Pankowski has been lethal the last few weeks, Gabel still has 22 more points than her, and I don't think you can chalk all of that up to Clarkson playing in an overall weaker conference. Of course, that also ignores Keller, who had one of the more impressive offensive seasons by a defender in recent memory. I don't think Keller will get it, but she probably got close.
It's time to cycle around to the question I asked earlier. The semis pit WCHA teams against ECAC teams. Clarkson is the two-time defending national champion, but Wisconsin seems on a mission. Cornell plays a very tight defensive game, but Minnesota has more depth and better offense. Do you think we once again see an all-WCHA final?
Nicole: I think I'm more confident that Minnesota will win than I am the Wisconsin will win. That says less about Cornell and Minnesota than it does about the fact I'm super gun-shy on the Badgers right now. It's so hard to believe they will take down Clarkson when they were in much this same position two years ago and couldn't rise to the occasion. Basically, I've seen this play before. I do think they have extra motivation and really want to avenge what happened and send out this senior class — probably the iconic one of this generation — with a win. I see what they have and are capable of.-It's not that I don't think they can and probably should win, it's just that I've been here before and was burned so I'm really wary.
I just don't feel like I have a great read on Cornell. They've sort of done the opposite of what I expected a few times this year, and it makes me feel like I'm not in a good spot to know if they have what it takes to beat Minnesota. I talked earlier about the reasons I think the Gophers are vulnerable, so I don't think a Minnesota win is in the bag, but I'm just unclear on if Cornell is the team to exploit those vulnerabilities.
After we spent the whole year talking about upsets and chaos, there would be something hilarious about ending up with the Badgers and Gophers for the title. If this truly is the Wisconsin redemption arc and Pankowski's swan song, you couldn't script a better final scene than taking down their rivals to get the trophy that's been elusive for so long.
This is our last Wednesday Women of the yea, and I just want to say thank you to our readers and to you and Arlan — this has been a really fun year of women's college hockey, and I'm so lucky that I get to cover it week in and week out and that people come back every week to see what we've got to say about what's happening around the country every week.
I'll turn your question back around since you're less attached to any of the teams than I am and probably have a better perspective on the whole thing. Do you think we'll have a Wisconsin/Minnesota final?
Candace: First, I want to echo your thanks to our readers. I feel lucky to be able to do this column with you and Arlan and watch the season evolve and discuss the surprises and how expectations change for different teams. It's hard to believe that this is our last one of the year, but we'll be back next October, and of course everyone should come back next week to read our USCHO awards.
As for the chances of a Wisconsin versus Minnesota final, I think it will happen. I'm pretty sure Minnesota will beat Cornell. With Pannek and the Potomak sisters having an explosive game last week, and Minnesota also having Nicole Schammel, Grace Zumwinkle, and Taylor Heise up front, I think the Gophers have two forward lines that can really hurt an opponent, and it makes it that much harder for an opposing team to defend. It's like pick your poison.
I lean toward Wisconsin over Clarkson as well. I think the Badgers have the ability to shut down the top line of Gabel, Giguère, and Michaela Pejzlová, and once you do that, Clarkson's scoring falls off significantly. I think the Badgers want vengeance for 2017, and they will get it.
Stay tuned, loyal readers, for Nicole's Frozen Four preview, our semifinal picks, and our championship pick, as well as coverage of the Patty Kazmaier Award ceremony!