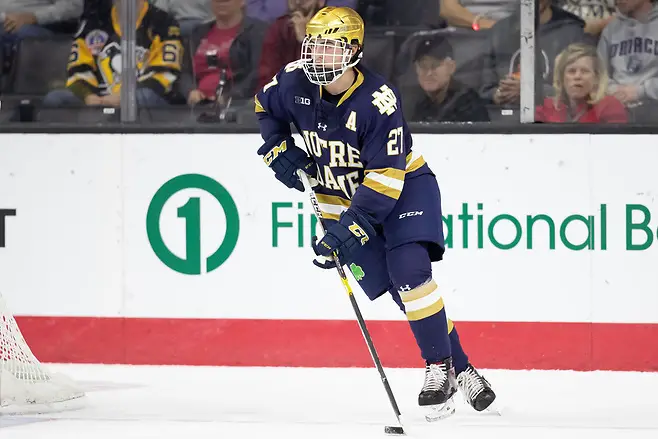 One year after the Big Ten placed three teams in the Frozen Four, two B1G teams on the PairWise Rankings bubble will be vying for the conference playoff championship Saturday night and the guaranteed ticket to the NCAA tournament that goes with it.
Either Notre Dame or Penn State – Nos. 14 and 16, respectively, in the PWR – will earn the conference's NCAA autobid while the only other team with a ranking high enough to be invited, Ohio State, sits and watches and waits.
Ohio State, the regular-season conference champ and currently No. 7 in the PWR, was one of the three teams competing in last year's Frozen Four along with Notre Dame and Michigan. The Wolverines finished the season at No. 28 in the PairWise.
It's safe to say that this isn't what anyone in the Big Ten expected.
"This season was unlike anything I've seen in 20 years of coaching," said Penn State's Guy Gadowsky. "You've got three wins separating second to last place and it speaks volumes about the league."
Ohio State topped the conference with 46 points, nine points ahead of second-place Notre Dame. Then there were seven points separating second place from seventh. The Fighting Irish had 37 points. In fourth place, the Nittany Lions had 35. Last-place Michigan State had 30.
"I really do feel that's a testament to how tough and how close this league is," said Gadowsky. "There isn't a weak team in the conference."
Notre Dame coach Jeff Jackson said that the size of the seven-team league and the quality of the teams produced great hockey but factored into the conference's NCAA tournament hopes.
"I'm sure that most of the coaches would probably feel that way too," said Jackson. "The biggest problem with our conference is that we're all .500 except for Ohio State, and every time we play each other, we're being judged against ourselves. We have the second-best nonconference record in college hockey, but when we're playing each other and splitting every weekend, you know, it hurts us. But that's the conference."
The Fighting Irish have made nine NCAA tournament appearances under Jackson dating back to 2007, and those appearances came as a member of three different conferences: the now-defunct CCHA, Hockey East and the Big Ten.
It's more difficult to do, said Jackson, in the Big Ten. In a small conference, said Jackson, there are fewer tiers – and this year, the Big Ten had no real bottom tier.
"No disrespect for the old CCHA or Hockey East, but there were teams at the bottom in those leagues," said Jackson. "We don't really have that right now. We don't have anybody that's a cellar-dweller. It's just not there. I don't expect that it's going to change, either."
Given the precarious PairWise position both the Nittany Lions and Fighting Irish find themselves in, it would be natural for each team to be thinking more about NCAA tournament implications right now than the Big Ten playoff trophy, but both Jackson and Gadowsky said that's just not the case.
"Even when we started the playoffs in the Big Ten we were on the bubble, so why worry about it?" Jackson said. "Why not focus on the Big Ten playoffs and everything will take care of itself. If we don't advance in the Big Ten playoffs, it won't matter. It's been more of an emphasis on us winning each game in the Big Ten tournament, each game that we play."
As for the Nittany Lions, Gadowsky said that he could sum up his team's emphasis on the NCAA tournament with one word.
"Zero," said Gadowsky. "Zero. We knew all we had was one game to play last weekend, and that's what we focused on. Now we have one game on Saturday."
That game pits the top offense in the country against the best defense in the league. Averaging 4.61 goals per game, Penn State is a potentially explosive team – as Jackson is well aware. The teams split the four-game regular-season series. Three of those contest were decided by a goal, and two of those one-goal games went Notre Dame's way.
The fourth game, though, was a 9-1 Penn State home win Dec. 8.
"That game was a bit of an outlier for me," said Jackson. "It was the last game before Christmas break. We had won the night before. They were fed up from losing to us. But that's their team, though. They've done that to a lot of opponents. They just did it to Ohio State. They have a great offensive team. They have a lot of guys that are skilled and can make plays and their game is about pressure. They create turnovers. It's how they play, and it works for them very well."
The Nittany Lions advanced to the B1G championship game by beating the Buckeyes 5-1 on the road. Ohio State scored its only goal toward the end of the third period, but Gadowsky said that the game felt a lot closer than the score. The Buckeyes had a goal waved off early in the game and failed to convert on a shorthanded breakaway that would have made it 2-1 midway through the second.
"There's always a few points in the game when the momentum can swing either way and I think we had a few of those," said Gadowsky. "Peyton Jones was the difference. We give up a shorthanded breakaway and then a few minutes later Brandon Biro scored. They kill that penalty off and all the momentum is with them. Instead, Peyton makes a great save and all of a sudden it's 3-0 instead of 2-1.
"There's been times that we won with less of a margin and felt much more in control. We didn't feel that way at all against Ohio State. We seemed to come out on the good end of those momentum-changing times."
The Fighting Irish beat Minnesota 2-1 in overtime for the chance to play for their second consecutive Big Ten playoff championship. In that game, Notre Dame and Minnesota each scored in the first period. Notre Dame's Michael Graham scored 53 seconds into overtime to give the Irish that win on a power-play call that was questionable, at best, as Tyler Sheehy was called for hooking 31 seconds into OT while appearing to have made minimal contact to earn the infraction.
Jackson said he knew how difficult that game would be because the Irish and Gophers split a series three weeks ago.
"I knew how well they'd been playing," Jackson said. "To win on a power play in overtime is kind of a rare thing, but I wasn't going to complain about it."
Now that each team has arrived at this moment, each coach knows that playoff hockey requires a balance of external and internal gazes
"We have to try to play our best game," said Gadowsky. "We're very comfortable in what we do. That's all there is to it. We have great respect for them and how they play and how they can shut you down.
"We're more focusing on ourselves. It's more of where we are as a team right now and the information that we've received the last couple of weekends that we need to do better."
"Penn State is an offensive juggernaut," said Jackson. "It's not just about defending; it's about doing good things with the puck, managing the puck. They're impressive. I enjoy watching them play. I give Guy a lot of credit. He recruits to their identity and they play to their identity as well as any team in college hockey.
"You have to play to your identity. We haven't really recovered from the losses we had last year offensively, so I think that we have to play a game that's close to the vest. We've always played good defense and focused on transitioning from that defense and that hasn't changed. It's just that we haven't scored as much as we have in the past. That hasn't changed the way we've played the game."
There have been five different Big Ten playoff champions in the conference's first five seasons, but this season for the first time, someone will repeat. Penn State won in 2017, Notre Dame last year, and the teams meet each other this Saturday inside Notre Dame's Compton Family Ice Arena. The puck drops at 8 p.m. EDT.