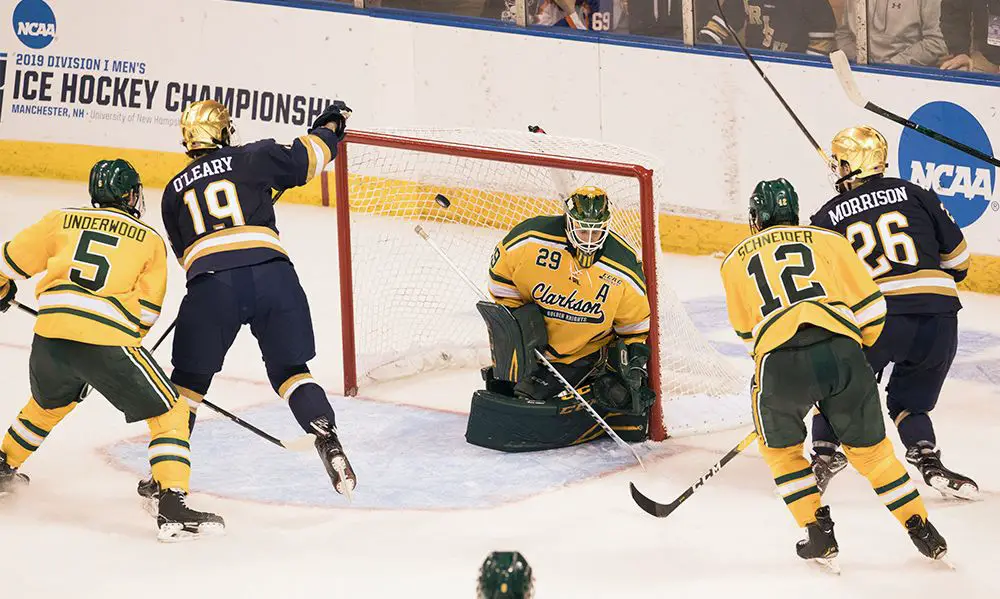 MANCHESTER, N.H. — In the end, Notre Dame defeated Clarkson 3-2 at 15:53 of overtime in Friday's Northeast Regional semifinals. To get there, however, the Irish went through more ups and downs than a world class roller coaster.
Their spirits soared when the third period opened with Clarkson's leading scorer and assistant captain Nico Sturm being assessed a five-minute major and a game misconduct for a hit from behind. With Clarkson leading 2-1, this would be Notre Dame's golden opportunity to at least tie the game if not seize the lead.
Instead, Clarkson killed the penalty and even generated some great short-handed chances of its own.
"It's frustrating when you don't capitalize at all and it can easily put you in a bad mental state," Notre Dame defenseman Bobby Nardella said. "But this team has been in these situations a lot the last few years. You just have to refocus your energy and get back to the game plan."
The score remained 2-1 heading into the final three minutes of regulation when Notre Dame coach Jeff Jackson took his gamble. With a faceoff in the offensive zone, he pulled goaltender Cale Morris at the 2:39 mark.
"I've gotten more brazen in my old age," Jackson said. "When you go that long without challenging to score a goal, [you have to take the chance]. I hesitated to do it, but why wait?"
The Irish worked a give-and-go until Cal Burke fed right-to-left across the low slot to Nardella, who buried the tying goal high into the net.
Irish hearts went back into their throats just minutes later, however, when Jake Pivonka took a faceoff violation penalty for falling on the puck. Clarkson enjoyed the last 56 seconds of regulation on the power play, as well as the opening 1:04 of overtime.
Notre Dame killed the penalty.
Then came the granddaddy of them all. With Burke breaking in all alone on Clarkson goaltender Jake Kielly, a Clarkson defender blatantly hooked the Irish forward, prompting a penalty shot.
Would this be Notre Dame's key to advancing? Nardella was already cautioning his teammates that if Burke didn't score, they'd still be fine.
Burke skated slowly in on the left but shot wide.
Not until Cam Morrison put in the game-winner at 15:53 of overtime, followed by the requisite video review, was the roller coaster ride over.
"There are so many momentum swings in the game," Jackson said. "The penalty shot or killing off a five-minute major. That's what these games are all about. Whoever handles the momentum swings the best will end up winning the game."
For Clarkson, there was the agony of knowing it had been 2:20 away from advancing.
"It's a tough pill to swallow, losing that game," Clarkson coach Casey Jones said. "At no point did I think our season would be over today.
"It was a battle out there. Our guys faced enormous obstacles and adversity. We persevered through them. I'm really proud of our guys."
Clarkson had taken a 1-0 lead at 16:56 of the first period on Marly Quince's third goal of the season. The third-line senior right wing scored from in close on the left.
Notre Dame evened the score in the second on a Burke pass from right-to-left to Colin Theisen, who from in close roofed it far corner.
Clarkson, however, needed only a minute and a half to take back the lead. Haralds Egle skated up the right wing, then blasted a shot into the upper short-side corner.
And so the stage was set for the all the third-period and overtime ups and downs.
With the win, Notre Dame advanced to face Massachusetts on Saturday in the regional final.