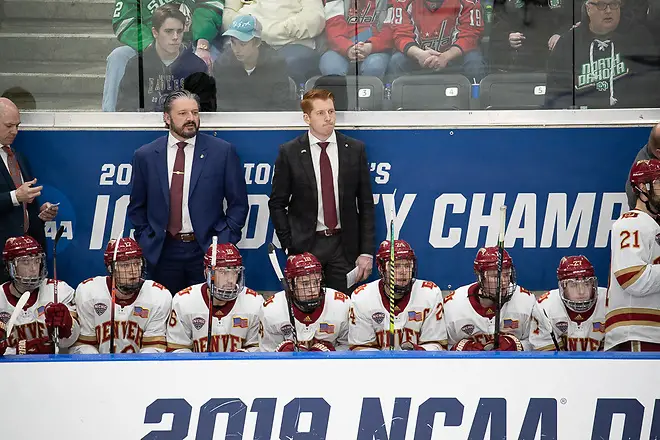 If things would have gone as planned by David Carle, he wouldn't be preparing to coach Denver in the upcoming Frozen Four in Buffalo.
The 29-year-old Carle wouldn't be the youngest head coach in Division I men's hockey. The Anchorage, Alaska, native wouldn't find himself on college hockey's biggest stage in his first season of leading a team — at the college level or any other level.
Instead, he would be well established in his career as an NHL defenseman, following in the footsteps of his brother Matt, five years his senior, who won the Hobey Baker Award as a Pioneers defenseman (2006) and played 10-plus seasons in the NHL.
At the age 18 the ensuing 10 years and beyond of Carle's life appeared all mapped out — three or four years of college hockey at DU and then on to the next level. But it all changed on one fateful day in April of 2008.
Carle was attending the NHL Pre-Draft Combine when a physical examination uncovered an abnormality with his heart. Tests revealed he had hypertrophic cardiomyopathy, a thickening of the heart muscle that could lead to cardiac arrest during strenuous activity. Carle's playing days were over before he could play a single college game.
"Having to go through something like that at the age of 18 certainly forced me to grow up a lot faster than most 18 year olds," Carle said. "It was really hard to get through, but [in the end] you have to try to make the most of the hand you've been dealt.
"At the same time, you don't get through hard times by yourself. Most people who experience adversity need a good support group. I've been blessed with a great family and great friends to help me through it."
Carle had committed to play at Denver, and Pioneers coach George Gwozdecky honored Carle's scholarship and added him to his staff as a student-assistant. Carle held the positions for four years, and after graduating from DU took a job as an assistant coach with the USHL's Green Bay Gamblers. He returned to the Pioneers in January of 2014 when head coach Jim Montgomery hired him as an assistant coach.
Despite his age, Carle emerged as the logical choice to take over when Montgomery left last May when Montgomery left to coach the Dallas Stars. And he had the support of the players.
"We knew he was going to stay with the same systems as 'Monty,'" senior forward Jarid Lukosevicius said. "That's why our leadership group really pushed for him to be the head coach. He got the job and we're so thankful for that because he's a great coach."
Carle said his health diagnosis pushed him into coaching.
"I was actually told during my junior year by [then-DU assistant] Derek Lalonde that I should pursue it was a career," Carle said. "He thought I would be good at it. When you have someone you look up to as a mentor tell you that, it certainly opened my eyes more to the idea."
Carle said he entered the season confident that he was ready for the added responsibilities that go with being the head coach. Just as importantly, he went into it knowing that new experiences, both positive and negative, awaited.
"The biggest thing is that you just try to evaluate things and make decisions one game at a time and take things as they come at you," Carle said. "I'm really fortunate to have the staff that I have, with Dallas Ferguson, Tavis MacMillan, Steven Reinprecht and Ben Scrivens.
"There is a lot of experience around me that has really helped me along. And I have been blessed with great leadership with our team."
Carle said he doesn't believe his age has been a factor at all — either positively or negatively — in his role as head coach.
"I'm a big believer that your life experiences are what they are and they make you what you are," he said. "Just because I am 29 and Tavis MacMillan is 20 years older than me, that doesn't mean that I relate any better to our players than he does. He's an elite communicator.
"You are who you are. People are good at what they do because of what they've been through and who they are as people. There's no doubt that I have been in situations this year that I haven't seen from that chair, but I've been blessed with working for some great coaches.
"I watched them; I wasn't just sitting around twiddling my thumbs. I tried to be a sponge, and watched how they handled different situations. You can't ask for better people to learn from. And with Dallas and Tavis being head coaches before, they have been tremendous resources to help fill the gaps of the perceived inexperience."
Now Carle has his first team just two wins away from winning a national championship in his first season as head coach.
"It's really incredible," Carle said of the way things have turned out this season, pointing out how his team has continued to grow and get better as the season went along.
He couldn't have planned it any better.