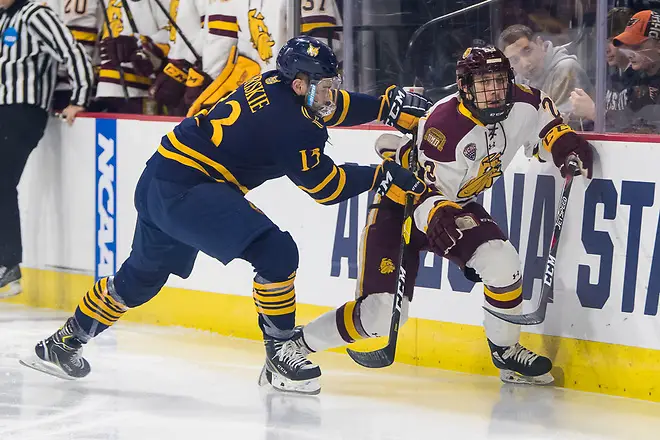 Each week during the season, we look at the big events and big games around Division I men's college hockey in Tuesday Morning Quarterback.
** This is also our final TMQ of the 2018-19 season. **
Jim: Well, Paula, it is the last TMQ of the season and after a weekend of some incredible NCAA regional action, there is plenty to talk about.
We know our Frozen Four with Denver, Massachusetts, Providence and Minnesota Duluth all advancing to Buffalo. What is interesting is that, in a year where we have talked about so many programs having an opportunity to win their school's first national title, three of the four teams to advance are past national champions.
UMass is the lone outlier as they marched through the Manchester regional without allowing a single goal. The other three teams, though, have varying degrees of experience on the biggest stage, highlighted by Duluth which looks to go back-to-back for the first time since Denver in '04-05.
Being at the Providence regional, I didn't have the chance to watch the other three regions as closely as you may have, so I will ask, what stood out to you this past weekend?
Paula: Jimmy, there were so many things that stood out to me in all the regionals: No. 16 American International knocking out the overall top seed, St. Cloud State; six games decided by one goal or one goal and an empty-netter; how the two most consistently good conferences advanced in equal parts to the Frozen Four; and two freshman goaltenders who posted back-to-back shutouts.
On top of all of that was Leah Hextall's outstanding, historic play-by-play in the Northeast Regional, which you got to experience firsthand.
I want to go UMass first, though, for a moment. Our good friend and executive editor Todd Milewski, tweeted this past weekend, "Maybe whoever has been giving UMass a No. 1 vote in the poll has been onto something." From Feb. 25 onward, someone in the know has been giving UMass its single top vote in the USCHO.com Poll.
I was so impressed by the Minutemen from the goal out. They seemed to control every aspect of the game. I got to watch at least a little of every game in the tournament, and UMass looks to me like the best team advancing to Buffalo.
And that brings me back to the freshmen goaltenders. UMass freshman Filip Lindberg (1.42 GAA, .939 SV%) made 30 saves in his two shutouts and looked poised, ready, and unflappable. Denver's Filip Larsson (1.87, .935) stopped all 50 shots he saw in the West Regional and looked impenetrable. Both Massachusetts and Denver have play excellent team defense, but for these two freshmen to distinguish themselves in this way is what makes this time of year that much more exciting.
That the Lindberg and Larsson are meeting in a semifinal match in Buffalo is a sad little luck of the draw. I think the Pioneers are second only to the Minutemen in this Frozen Four field.
Jim: Well, obviously having the first name Filip went a long way this weekend.
I was impressed with how strong the performances were by not just the goaltenders from both UMass and Denver were, but also the overall team defense. UMass coach Greg Carvel said, without taking anything away from his goaltender, that he might have been able to strap on the pads and get a shutout. That says a lot about a team defense.
Switching gears a little, I wanted to talk to you about attendance this weekend, which becomes a perennial topic after the regionals. We saw some decent crowds, particularly Saturday in Providence. More than 7,000 fans came to the Dunkin' Donuts Center for the two semifinals. But overall, I thought the crowds weren't as strong as I expected. Placing UMass in Friday's early semifinal didn't help. But even with UMass advancing, the crowds weren't outstanding in Manchester.
Fargo and Allentown were the smallest crowds on average, neither of which is shocking. But it all leads me to wonder if there is a solution. Campus sites have been talked about as have a number of other alternatives to the current four-region format. Do you have a thought on what can make the attendance at regionals better?
Paula: I am all in favor of campus sites at this point because of the attendance. One of the most exciting regionals I've ever attended as at Yost Ice Arena in 1998. Granted, things were a lot different then and the event benefited from a field that included Michigan, Michigan State, Ohio State and the only non-CCHA team, North Dakota. The final between Michigan State and Ohio State was electric and the small, on-campus venue was rocking.
Of course, lower-seed schools may complain about the home-ice advantage that an on-campus regional will provide, but I also know that many teams would prefer to play in a packed building with an enthusiastic crowd to a near-empty arena.
I know that the Big Ten is happy with its decision to have its championship game hosted by its top seed. That saves a lot of money and guarantees good attendance.
Fargo would have been a fine choice had either North Dakota or Minnesota been there – and I'm sure that's something that the NCAA banked in selecting that site. I do not understand Allentown being selected as the site of the Midwest Regional. Anything 90 miles and change from Manhattan is not the Midwest. Additionally, no one was really near that site. Quinnipiac was closest at a little less than 200 miles and Bowling Green was next a full 500 miles away. Nothing about the selection of that site for a Midwest Regional made sense to me, and given the field, the attendance was doubly doomed.
What are your thoughts on future regionals? What do you anticipate from Buffalo as a host site for this year's Frozen Four?
Jim: I have been told by people on the NCAA committee that there have been more cities in the western regional willing to bid on future regionals. That, hopefully, will be beneficial. But I personally think that the regionals should be opened up to campuses, not for a home game or series, but as hosts.
I think places in my neighborhood like Boston University or UMass Lowell would be great venues, each with a little under 6,000 seats. Those would have been packed for either of the two east regions this weekend. In the Midwest, Minnesota, Michigan and Notre Dame, for example, would be incredible atmospheres for the event. I understand the desire to use "neutral" sites for these events. But these large venues don't help create the appropriate atmospheres.
As for Buffalo, I am very much looking forward to this city and it's hosting abilities. I remember back to 2003 and the city's last chance to host the Frozen Four. At that time, the arena was on an island with almost nothing around it. Since then, the Harbor area has been beautifully built and there is so much life and atmosphere around the venue. Anyone who makes their way to Buffalo will have a great time.
Paula: I haven't been back to Buffalo proper since 2003 and cannot wait to see the Harbor area, as all of my friends in Western New York brag about it – and Buffalo, the City of Good Neighbors, deserves to have a focal point that is brag-worthy. I am sure that the venue, the city, and the four teams vying for a national title this year will make the 2019 Frozen Four a memorable one.
And, as always, I'm looking forward to seeing my extended college hockey family. The Frozen Four is more than just a championship. For so many fans, it's an annual event around which annual vacations are built. I'm especially looking forward to being in the same room our USCHO crew and I know I'm not alone.
Thanks, Jimmy, for another great season of TMQ. Thanks to Candace Horgan and Dan Rubin for filling in for us when we needed them, and thanks to our managing editor Matt Mackinder for his hard work putting all of this together.
Happy hockey, everyone!