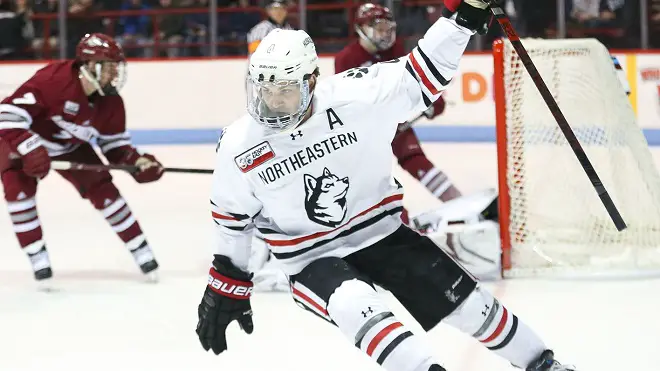 After leading Northeastern with 36 points in 2018-19, Jeremy Davies will forgo his senior season with the Huskies to sign a two-year, entry-level contract with the New Jersey Devils starting with the 2019-20 season.
"Jeremy Davies established himself as one of the top defensemen in team history, and one of the NCAA's elite blueliners, during his three years at Northeastern," said Northeastern coach Jim Madigan in a statement. "He is an NHL-caliber talent who played a pivotal role in our Beanpot titles, Hockey East championship and two trips to the NCAA tournament, and we'll miss him on our blue line next season. We look forward to watching him as a professional, wish him the best and thank him for his contributions to Northeastern hockey."
Originally New Jersey's seventh-round pick (192nd overall) in the 2016 NHL Draft, Davies posted eight goals and 28 assists this season, good for seventh in the NCAA in defensemen scoring.
"We are very excited to sign Jeremy," said New Jersey GM Ray Shero in a news release. "He is a very smart puck-moving defenseman who can transition his team to offense in all three zones. His vision, skill, competitiveness, character and leadership helped Northeastern become one of the top echelon schools in the country during his time there. We also want to thank Jim Madigan and his staff at Northeastern for Jeremy's development these past three years."
Davies finishes with career with 94 points on 22 goals and 72 assists in 111 games.