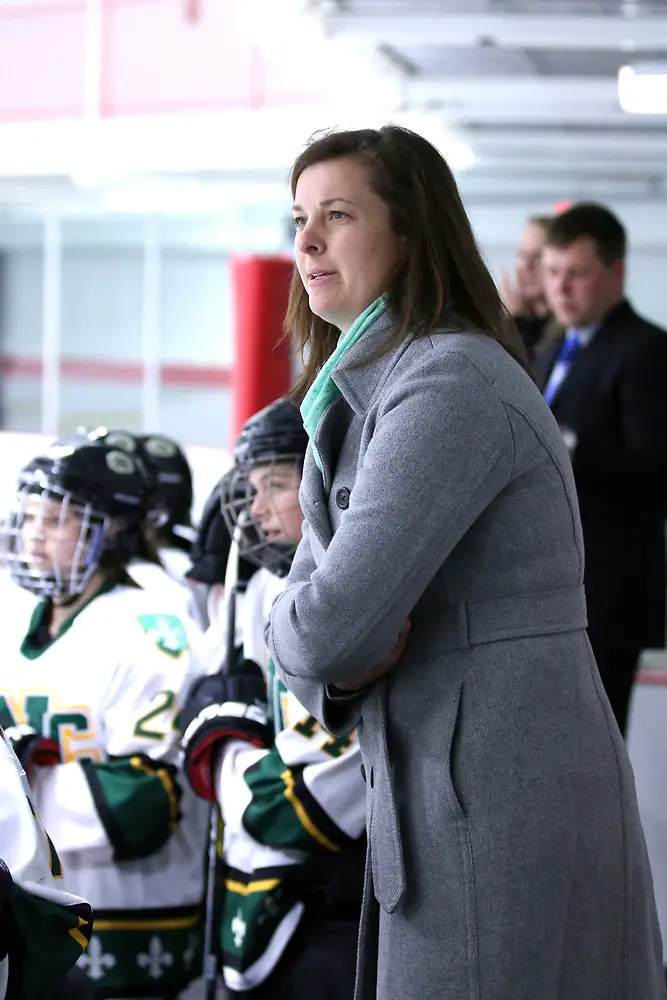 After coaching at St. Norbert College for the last four years, Meredith Roth has been named the new associate head coach of Holy Cross Women's ice hockey program.
During Roth's time at St. Norbert College, she led her team to an NCHA championship game in her first season as head coach. Roth said she thoroughly enjoyed her time at St. Norbert, and the experience helped shape who she is as a coach.
"I had a wonderful experience at St. Norbert," said Roth. "The community there, especially the athletic director, men's hockey coach, and others were very supportive. Hockey is a big sport at that school, and it was a really great opportunity to get your head coaching experience started. As I was the only full-time staff member on the women's side, it really helped shape a great perspective of who I am as a coach."
Roth will work alongside head coach Katie Lachapelle, who will be entering her third season at Holy Cross, but her first as head coach. Lachapelle was elevated to head coach in March when Peter Van Buskirk retired. Lachapelle said Roth's presence and impact will be noticed right away, and she is the perfect fit to take this program to the next level.
"Meredith's impact will be felt right away," said Lachapelle. "She is such an experienced and knowledgeable coach that at this level and especially in Hockey East, she will be able to step right in. We are very lucky to have someone with Meredith's caliber come on board to help take this program to the next level in Hockey East and D-I. I'm excited to see what Meredith, with the help of (assistant coach) Maddy (Norton), will be able to do with our recruiting. She loves being on the ice and working with players, so I am confident that we will be able to see our individual skill level improve as our staff and players continue to work hard. Our staff is really grinding right now to continue to make this place better. The addition of Meredith will help us build this program in D-I and strive for continued success on the ice and with the recruiting process for years to come."
Roth looks forward to heading back to the Hockey East conference where she played and coached. She played at Providence from 2000-2004 and was the assistant coach for the Friars from 2006-10 and 2012-15.
"I'm excited to be joining the coach staff at Holy Cross and go through the transition of coaching D-III to D-I. It will be great to help the program grow in Hockey East and because I played and coached in it, it's kind of like going home in a sense," said Roth.
Lachapelle also acknowledged that Roth's background in coaching with teams in Hockey East conference, as well as her time at St. Norbert, is an advantage that the program at Holy Cross can benefit from.
"Meredith will be able to step right into any role that we have for her. She has the experience of this league, both as a player and a coach, and knows how hard it is to compete in Hockey East. With her experience of being a head coach at St. Norbert's, I know that she has had to be a jack of all trades and can handle anything put in front of her. We are building a program for success to reach the next level. It is going to take a lot of hard work from our staff, and I know she loves what she does. Meredith's previous experience as a head coach is really going to help me and our team get better. It is reassuring to know that some things that I may experience for the first time as a head coach she may have already faced, and she can be there for me with advice."
Lachapelle hopes to create a winning culture at Holy Cross with the addition of Meredith Roth and build the program, which just finished its first season competing in Hockey East and at the D-I level.