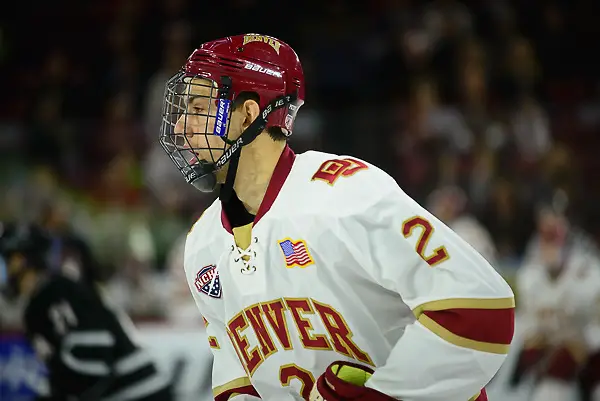 Denver junior defenseman Erich Fear has been named the recipient of the Elite 90 award.
In three years, Fear received his undergraduate degree in finance with a 3.97 cumulative GPA. The Winnetka, Ill., native is currently pursuing a master's degree in accounting.
Fear has two goals and three assists with 48 penalty minutes through 63 career games with the Pioneers. He has one goal and two assists with 10 penalty minutes in 37 games this season.
In the classroom, Fear is a two-time member of the NCHC Academic All-Conference team, a two-time NCHC Distinguished Scholar-Athlete and was named an AHCA All-American Scholar in 2017.
The Elite 90, an award founded by the NCAA, recognizes "the true essence of the student-athlete by honoring the individual who has reached the pinnacle of competition at the national championship level in his or her sport, while also achieving the highest academic standard among his or her peers." The award is presented to the student-athlete with the highest cumulative grade-point average participating at the finals site for each of the NCAA's championships.
Eligible student-athletes are sophomores or above who have participated in their sport for at least two years with their school. They must be an active member of the team, traveling and a designated member of the squad size at the championship. All ties are broken by the number of credits completed.
Fear becomes the sixth player in school history to receive the Elite 90 award and second from the hockey program, joining Gabe Levin who won in 2016.