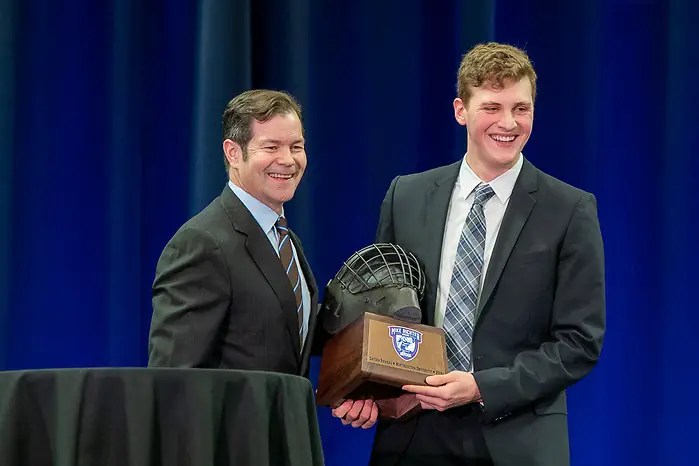 BUFFALO, N.Y. — When you're the son of an NHL giant with a legendary last name, it's not unusual to work your way into the family business.
When your dad is Keith Primeau — a veteran of more than 900 NHL games with more than 600 points to his name — goaltender may not seem like the most likely position where you'd land.
Cayden Primeau, the 2019 Mike Richter Award winner for the most outstanding goaltender in Division I men's hockey, had to work to convince his famous father that the goal was where he belonged.
"I've always wanted to be a goalie," said Cayden Primeau. "I started out as a player, but I would skate with my head down and my stick behind me. I just wanted no part of it. It took some persistence."
Keith Primeau said that he had a solid reason for wanting his son to play in front of the net: "I was always a firm believer that you needed to learn how to skate first, and he was just learning, and he would stand in the middle of the ice and not move around."
There was another reason, said Cayden Primeau, that his dad didn't want him become a goaltender. "Because goalies are crazy," he said, "and goalie parents are crazy as well so he probably didn't want to become a goalie parent."
Eventually, Keith Primeau relented when Cayden Primeau was about 9 years old. "I tried playing once when I was a kid, and I got lit up," said Keith Primeau, "so I was like, you know what? I'm going to teach him. I'm going to put him in, let him get lit up, and then we'll never have this conversation again. Right from the first day, he could stop a puck. Crazy."
Said Cayden Primeau, "He just got tired of me asking and got tired of watching me skate back and forth with my head down."
Also a finalist for the 2018 Richter Award, Cayden Primeau made the decision to leave Northeastern after his sophomore season to sign with the Montreal Canadiens, who chose him in the seventh round of the 2017 NHL Draft. He finished his two seasons at Northeastern with a career save percentage of .932 and goals-against average of 2.00. He said he's ready to tackle the challenges of a professional career.
After signing with Montreal, Primeau spent a week with the Laval Rocket, Montreal's AHL affiliate, where he said he was training in "how to be a professional." He didn't play, but he said, "It was good to get in there for a week and see what it's all about. I was able to practice with the guys, so just … experience what it's like to be in that kind of environment."
Primeau said that he's eager to work with Montreal goaltender Carey Price, someone he said he looked up to growing up. "Any time you can gain experience with someone like that, and obviously he's been an idol of mine since I was young, it's huge," he said. "And anything you can take from an organization where there's a goalie like that and great goalie minds, you just try to soak up everything that you can."
The lessons about how to be a professional began before his signing with Montreal. Although his father retired when he was young, Cayden Primeau said that he was always around the game. "I was fortunate enough to grow up in a hockey family where my dad and my uncle were professionals," he said.
Keith Primeau played in the NHL from 1990 to 2006, first for the Detroit Red Wings, then the Hartford Whalers, the Carolina Hurricanes and the Philadelphia Flyers. His brother, Wayne, started with the Buffalo Sabres in 1995 and ended with the Toronto Maple Leafs in 2010.
Cayden Primeau's brother, Chayse Primeau, also plays college hockey now, having just finished his freshman season with Omaha, where he scored three goals and had three assists in 25 games.
"Obviously, I'm fortunate that I had that experience as a young kid," said Cayden Primeau. "Being young, being around the locker rooms, just experiencing that, not many people can say they had that experience. It definitely helped me."
As he makes the transition from college hockey to the professional ranks, Cayden Primeau said he's looking to stay balanced. He said he isn't pressuring himself to reach certain benchmarks, and he's looking to learn.
"I'm pretty level headed, but honestly goalies are weird, and I'm not going to sit here and say I'm not," he said. "I definitely try to stay level-headed."
Being level-headed wasn't exactly what Keith Primeau was known for in his NHL days. He finished his NHL career with 1,206 penalty minutes, including four seasons in which he had more than 150 PIMs per season.
"He's got such a great disposition, totally different than me when I played," said Keith Primeau, "and I think I kind of subconsciously I maybe tried to instill that a little bit because I wanted him to have that. To his credit, he's always been balanced his whole life."
The elder Primeau said that he and his wife, Lisa, are happy for their goaltending son, even if the net was not the choice that Keith Primeau would have made for him.
"We're happy for him. We're happy for the accomplishments that he's had," Keith Primeau said. "It doesn't guarantee anything, it doesn't always translate, but we're just happy that he's had the opportunities that he's had to this point. It's a great game and it's given him a lot of chances, and we're just very pleased and proud of how he's handled it."
And that is why his dad finally let him put on the pads, said Cayden Primeau:
"He just wanted me to be happy."