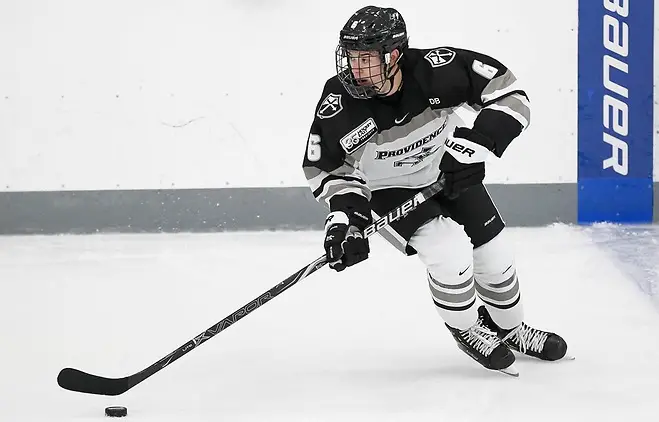 According to philly.com, Providence freshman forward Jay O'Brien has left school and is looking at all options for the 2019-20 season.
"It was a tough year for me, but I learned a lot," O'Brien said in the report. "I thought I played some really good hockey and I found myself taking a step forward and then getting hurt and taking a step back. I want to play more games, have fun playing hockey again, and then get back on track.
"Obviously I had a tough time with injuries this year, and coming straight out of high school and going to college was an adjustment, but I think, for me, taking a step back and playing more games [is important]. I'm not sure where I'm going to play next year. My agent has told me, and the same with the people in Philly, that there's no rush. Philly was totally fine with the decision."
The Flyers selected O'Brien in the first round (19th overall) last June, and he suffered a concussion and a shoulder injury at PC this past season.
Last season with the Friars, O'Brien tallied two goals and five points in 25 games.
In addition to his two injuries at Providence, O'Brien said he "got pretty sick when I was at the World Juniors."
"Honestly, it's just been an unlucky year. Obviously, no one wants this to happen to them, but I haven't really had to face too much adversity up until this point. I think it really put the fire back. Not that it wasn't there, but after going through all these things, you realize how much you just miss playing hockey. It lit the fire for me to get that much better and get back on track.
"I'm going to go play hockey again and get bigger and stronger. The player in me hasn't changed. I think I'm that much more driven to go get better."