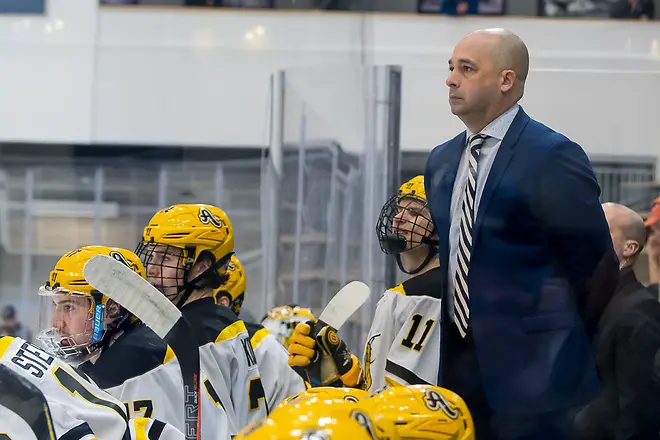 American International announced Friday that head coach Eric Lang has signed a contract extension.
Lang was hired prior to the 2016-17 season and took the Yellow Jackets to the Atlantic Hockey tournament championship and an NCAA tournament berth this past season, upsetting top-ranked St. Cloud State in the opening round of the NCAA tournament.
In 2018-19, American International finished 23-17-1 (18-9-1 AHA).
"Loyalty to AIC, which has granted me an opportunity to coach this hockey team at my alma mater, will always be at the forefront," said Lang in a statement. "I am indebted to President Maniaci for his continued belief in me and everything he has done for our hockey program. I love this team, this program, and this institution."
AIC athletic director Matthew Johnson added praise for Lang.
"Eric Lang has elevated the AIC men's ice hockey program to levels we could only have dreamed of three years ago," added Johnson. "As a two-time AIC graduate, Eric has brought considerable recognition to his alma mater in a sport he truly loves. We are excited that he will continue to lead the team and we look forward to the continued success of AIC Yellow Jackets men's ice hockey."