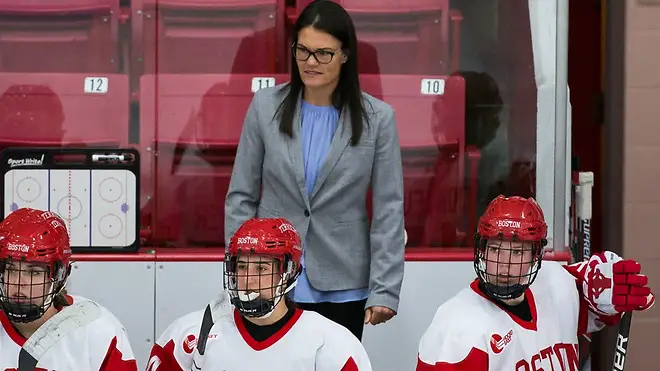 Boston University announced Thursday the promotion of Liz Keady Norton to women's associate head coach.
"Liz has been a tremendous asset for our program and for Boston University," BU coach Brian Durocher said in a statement. "She brings knowledge, passion and a highly visible energy level to the rink. Her interaction with recruits, our players and the staff have earned her great respect as a coach and as a person. I look forward to her continued growth in her new role."
Responsible for coaching the Terrier forwards, Keady Norton has helped BU average over three goals per game in each of her two years behind the Terrier bench. Two players – Victoria Bach (2018) and Jesse Compher (2019) – have been named as top-10 finalists for the Patty Kazmaier Memorial Award during Keady Norton's tenure, with both skaters setting new career highs in goals, assists and points en route to earning All-America accolades.
"It's an honor to be promoted to associate head coach," Keady Norton added. "I want to thank Coach Durocher and Drew Marrochello for this opportunity. My time at BU has been rewarding both on and off the ice and I'm excited to continue mentoring the amazing young women we have in this program."
A 2008 graduate of Princeton, Keady Norton coached two seasons at Harvard prior to her arrival on Commonwealth Ave. She also spent one year at Union and served two seasons as head coach for the girl's varsity hockey team at Andover High School.