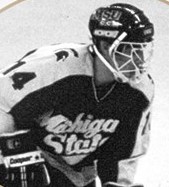 Michigan State will induct former hockey player Mike Donnelly into its athletics hall of fame on Thursday, Oct. 24 as part of its annual Celebrate weekend.
The Celebrate 2019 weekend includes the 10th annual varsity letter jacket presentation and hall of fame induction ceremony on Oct. 24 and then a special recognition of the hall of famers during the Michigan State-Penn State football game at Spartan Stadium on Saturday, Oct. 26.
Donnelly played at MSU from 1982 to 1986, recording 120 goals and 86 assists for 206 points in 156 games.
"Shawn Walsh was the one that really recruited me and had a lot to do with me coming to Michigan State," Donnelly said in a news release. "I remember talking to Shawn and he said they didn't have any available scholarships to offer me, but they have a new thing called a 'recruited walk-on.' That's Shawn for you right there. Thank God he got me."
In an era without Internet and accessible real-time statistic updates, Donnelly rarely knew where his scoring prowess placed him among other top players around the nation.
"We'd get a copy of the CCHA stats here and there, but I never realized where I stood," Donnelly recalled. "I think one time around Christmas some of the guys said 'Hey, you have more goals than Brett Hull.'
"Today, everything is tracked so closely and everyone knows, but back then, I had no idea. There was no Internet and you just didn't know where everyone stood. Looking back on it, it's kind of funny."
Donnelly's goal with 2:51 to go in the third period in the 1986 national championship game against Harvard proved to be the difference in a 6-5 Spartan win, giving MSU its second national championship.
Donnelly was voted the Most Outstanding Player of the NCAA tournament and was a first team All-America selection. His 59 goals that season remain an NCAA record.
Today, Donnelly works in player development for the Los Angeles Kings. He played over 300 games for the Kings, helping the club to the 1993 Stanley Cup Final.
In total, Donnelly's NHL career spanned 11 seasons and 465 games with the Kings, New York Rangers, Buffalo, Dallas and New York Islanders.