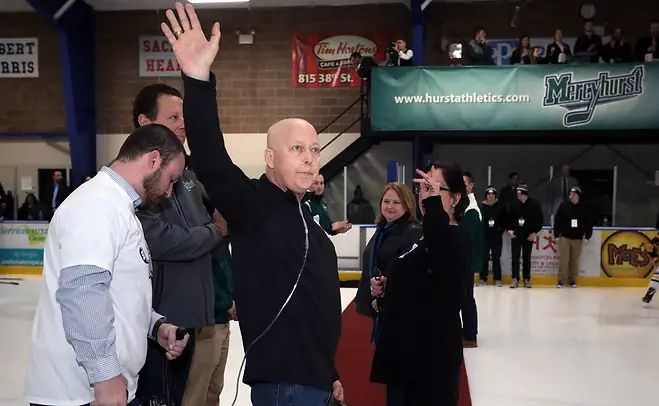 Mike Folga, longtime hockey equipment manager and beloved member of the Mercyhurst community, passed away Aug. 31 after his battle with cancer.
Folga was 63 years old.
He dedicated 19 years to the Mercyhurst hockey programs and was an integral part of the Laker program.
This past January, "Fighting for Folgs" night, recognizing the ongoing battle for Folga, who had stage IV leiomyosarcoma, a soft tissue cancer, drew a capacity crowd in Erie and raised thousands of dollars for Folga and his family as well as the American Cancer Society.
All the Mercyhurst players wore the name "Folga" on the backs of their jerseys that night.
Folga graduated from Cathedral Prep in 1973 and then obtained a degree in sports medicine from Mercyhurst in 1986. After graduating, he served as an assistant baseball coach at Penn State Behrend from 1981-83 before taking over as head coach in 1984.
Shortly after the season's end, Folga began a 16-year career as either head medical trainer or head equipment manager for a number of professional sports teams, including an 11-year stint in the NHL.
From 1985 to 1988, he worked as head medical trainer for the Pittsburgh Pirates and/or Chicago Cubs affiliates in the Carolina, Midwest and Appalachian Leagues.
In 1988, Folga began a lengthy career in the NHL as head medical trainer for the St. Louis Blues. Five years later, he worked as the head medical trainer for the IHL's Indianapolis Ice. Later that year, Folga returned to the NHL as head equipment manager for the New York Rangers. He was among the support staff for the 1994 NHL All-Star Game that season, then culminated the year by watching the Rangers win the Stanley Cup.
Folga worked for the Rangers until the end of the 1999-2000 campaign, then joined the staff of Team USA in the 2000 World Hockey Championship, held in St. Petersburg, Russia.