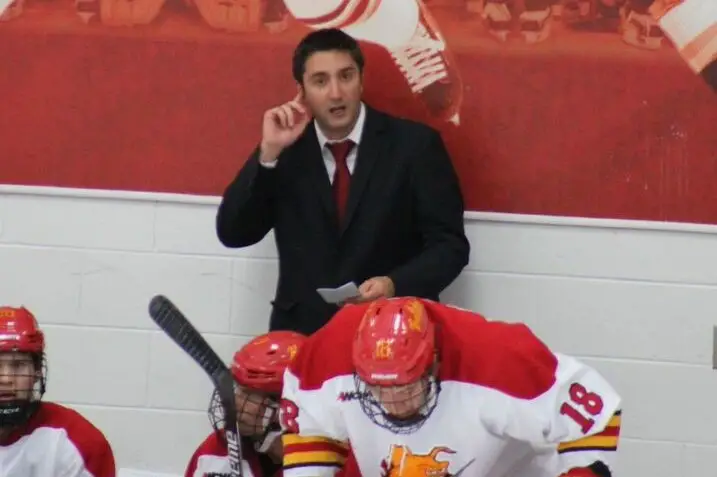 Arcadia announced Tuesday the hiring of Vincent Pietrangelo as head coach for the men's hockey team that will start in 2021-22.
He will begin his tenure with the Knights on Oct. 1.
Pietrangelo spent the last three seasons as the assistant coach at Canton.
"We were fortunate to have a deep pool with a number of qualified candidates during this search," said Arcadia executive director of athletics Brian Granata in a statement. "Vincent has strong connections to NCAA Division III through his time playing at Finlandia and also coaching at Canton. He truly separated himself from the rest of the candidates with his comprehensive recruiting plan and detailed program development outline. Vincent relishes the opportunity to start a men's ice hockey program from the ground up. His passion to do so was very evident."
"I want to thank executive director of athletics Brian Granata, assistant director of athletics Michael Hebenstreit and the entire search committee for entrusting me to lead the men's ice hockey program," added Pietrangelo. "I'm eager to continue the rich tradition of academics and athletics that Arcadia University has already established and look forward to building a proud and committed program."
In 2017, Pietrangelo took on the role of assistant director of intramural sports at Canton. His duties included planning, coordinating and scheduling multiple athletic leagues for the university's student body.
Before joining Canton, Pietrangelo worked as an assistant coach at Ferris State for the 2015-16 season.
A defenseman, Pietrangelo played at Finlandia where he was one of two freshmen to dress every game during the 2010-11 season.
In junior hockey, Pietrangelo was drafted second overall in the 2009 CSHL (now NA3HL) Draft by the Michigan-based Metro Jets.
Pietrangelo graduated with a bachelor of science in healthcare services administration from Ferris State in 2015.