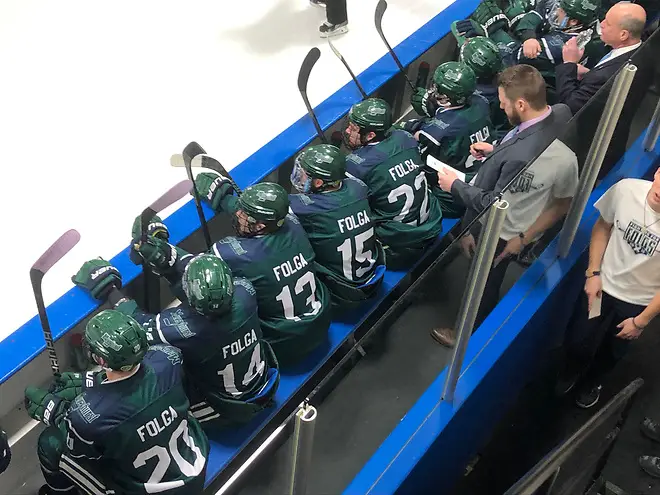 ERIE, Penn.— Though the scoreboard on Saturday night at the Mercyhurst Ice Arena read 8-5 in favor of the visitors from American International, the real winner on the evening was those who are battling and hope someday to find a cure for cancer.
"Fighting for Folgs" night, recognizing the ongoing battle for Mercyhurst equipment manager Mike Folga, who has stage IV leiomyosarcoma, a soft tissue cancer, drew a capacity crowd and raised thousands of dollars for Folga and his family as well as the American Cancer Society.
The Lakers wore special jerseys for the night, every one sporting the name "Folga" on the back while also featuring a patch on the front to recognize American International freshman Eric Otto, who is battling cancer himself.
The evening put the entire game into perspective for both teams.
"There was a lot of emotion in the hockey game," said AIC coach Eric Lang. "I kind of feel like at the end, we're just playing hockey while Mike Folga is in a battle for his life, our guy Eric Otto is in a battle for his life.
"It's nice to win but who really cares. It's just a hockey game."
Mercyhurst coach Rick Gotkin said after the game while it would've been nice to win the game, the most important thing that his players can do it battle, just like Folga.
"Certainly the players want to win for Mike Folga I think," said Gotkin. "Someone asked me if we're using Mike Folga to movitvate our team and I said, 'No, not at all.'
"We just go out and try to play our game. These guys wanted to win for Mike Folga, but I told them, 'what Mike Folga wants for you is to keep fighting, just like he is.'"
[photoshelter-gallery g_id="G0000cY.Cstsq0RU" g_name="012619-Folga-Game-Mercyhurst-AIC" f_show_caption="t" f_show_slidenum="t" img_title="casc" pho_credit="iptc" f_link="t" f_bbar="t" fsvis="f" width="500″ height="375″ bgcolor="#AAAAAA" bgtrans="t" btype="old" bcolor="#CCCCCC" crop="f" trans="xfade" tbs="4000″ f_ap="t" linkdest="c" f_fullscreen="f" f_constrain="f" twoup="f" f_topbar="f" f_bbarbig="" f_htmllinks="f" f_enable_embed_btn="f" f_show_watermark="f" f_send_to_friend_btn="f" f_smooth="f" f_mtrx="f" f_up="f" target="_self" wmds="llQ6QNgpeC.p1Ucz7U.eAHOGBgIMKjm3pqOo32rbkxYIRLIq5_epQTcTSLUEAzVZeVFYKw–" ]
Fight Mercyhurst did, falling behind by multiple goals throughout the game but somehow always finding a way to score and make the game interesting.
AIC opened leads of 2-0, 4-1 and 6-2 only to have Mercyhurst score to keep a heartbeat going. Lang admitted he was never secure with the victory until the game's closing seconds.
"I credit Mercyhurst. They didn't make that easy for us," said Lang. "I didn't feel good about that game until the last 20 seconds."
AIC opened the scoring at 6:50 of the first as its leading scorer, Blake Christensen potted his ninth goal of the season with a seeing-eye wrister through traffic.
The game remained that way until a wild ending to the second period featured five goals in the final seven minutes.
Martin Mellberg fired a shot through traffic to give AIC a 2-0 lead at 13:06. But at 14:57, Mercyhurst's top player, Joseph Duszak scored on a breakaway.
Just 42 seconds later, AIC regained the two-goal lead on a Kyle Stephan goal and extended the lead to three with a tally with 29.9 seconds left by Justin Cole.
AIC was seemingly comfortable to head to the locker room up three, but Mercyhurst had a late answer, scoring a shorthanded goal off Joshua Lammon's stick with 3.5 seconds left.
That same power play, though, produced AIC's fifth goal, Christensen's second early in the third, and then a sixth on a penalty shot by Luka Maver.
Even at 6-2 and less than 18 minutes remaining, there were still five goals left to be scored. And when all was said and done both AIC and Mercyhurst set season highs for goals scored and goals allowed, respectively.
While the night was about Mike Folga and raising money for his fight with cancer, the game was a key one in the Atlantic Hockey standings. AIC entered the weekend with a six point lead over Mercyhurst but after losing on Friday were in peril of watching their lead over Mercyhurst and others in the league shrink.
"I'm proud of our team where we are," said Lang. "We talk about celebrating small victories. I'd rather be in first now than not, but there's a long way to go. We've just got to put our head down and win hockey games down the stretch."
Around the Nation
North Dakota 5, No. 1 St. Cloud State 1
Dixon Bowen and Gavin Hain each scored twice as North Dakota routed the nation's top team, St. Cloud State, 5-1. The two clubs split the weekend series in Grand Forks.
The Fighting Hawks jumped out to a 3-0 lead by the midway point of the game and after St. Cloud responded late in the second with a shorthanded goal by Jimmy Schuldt, North Dakota closed things out with two goals in the third period.
Adam Scheel made 22 saves to earn the victory.
Maine 4, No. 2 Massachusetts 3
Host Maine jumped out to a 4-1 lead through two period and then held off a frantic rally by No. 2 Massachusetts in the third as the Black Bears earned a 4-3 upset victory.
Maine's Jeremy Swayman made a career-high 53 saves. Alex Binner (goal, assist) Brady Keeper (goal, assist) and Mitchell Fossier (two assists) all posted multi-point games in the victory.