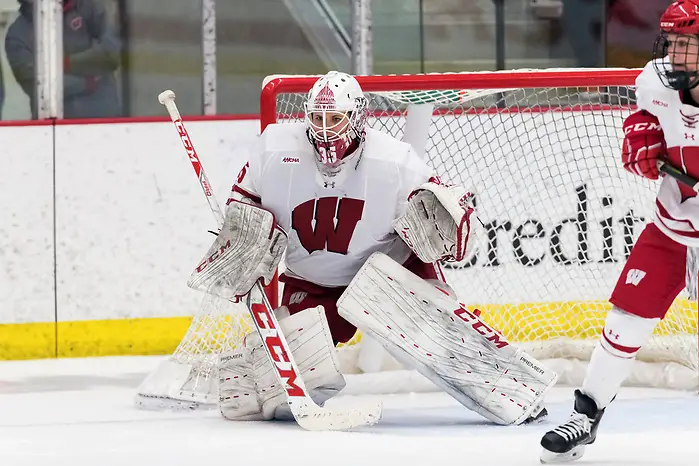 Bemidji State
Last season
13-21-2, 10-12-2, (fifth). Lost to Minnesota Duluth in the opening round of the WCHA tournament.
"Competing every year is a challenge in this league. The competition just keeps getting better and better," said Coach Jim Scanlan. "We've got a deep group of forwards. You can tell the players have worked very hard in the offseason. We have a lot of experience returning."
Names to know
Junior Clair DeGeorge is the team's go-to player. The playmaker led the team with 22 points in her sophomore year.
Freshman Cheyenne Abear is a Minnesota native who was a late signing for the Beavers. Originally committed to Union, she chose to stay closer to home and brings another boost to the BSU team. 
What to Watch For
Bemidji lost very few players in the offseason and return nine of their top-ten scorers – all of whom tallied double-digit totals – from last year. All three goalies are experienced, five defenders return and just one forward left the squad. The team should be able to start the season feeling weeks ahead of other squads who still need to find chemistry and trust. 
They open conference play by running the gauntlet, hosting UMD, traveling to Wisconsin, hosting Ohio State and heading to Minnesota in succession. On the one hand, they get two of the toughest road trips out of the way early. But if this month-long stretch doesn't go well, it could set the tone for the rest of their season. 
Crystal ball
I expect them to finish fifth.
Minnesota
Last Season
32-16-1, 19-4-1 (first). Lost to Wisconsin in the NCAA championship game.
"I feel like we have a real nice team on paper, the question is just where that goes throughout the year," said Coach Brad Frost. "We're much more of a veteran team this year. We only have four freshmen, two of which are goalies. We should be able to hit the ground running."
Names to know
Junior Grace Zumwinkle was named to the preseason all-WCHA team and is the Gophers' highest returning scorer. She's scrappy and dangerous in front of the net. 
Redshirt senior Sarah Potomak took on a more secondary role last season, dishing pucks instead of scoring, but she has an incredible vision on the ice and her ability to anticipate her teammates' moves is a huge advantage for Minnesota. 
What to Watch For
The Gophers have been successful recently by relying on their depth and general high-level of play instead of one or two individual players standing out above the rest. Their highest scorer last season was 12th in the country, but they have 11 players with 20 or more points. It's been an interesting pivot and has shown that often, their top line isn't even their scariest or most dangerous. 
Rookie Madeline Wethington is the reigning Minnesota Ms. Hockey and was named the coaches' pick for preseason Rookie of the Year. She's a big, strong defender in the mold of Lee Stecklein and provides a solid presence in front of the net. The Gophers return both goalies that split time in the net last year, but they did allow 1.77 goals per game and have a fairly porous power play – both things unusual for Minnesota. 
Crystal Ball
I'm putting the Gophers second, but the margin between them and the Badgers will be razor thin. 
Minnesota-Duluth
Last Season
15-16-4, 9-11-4 (fourth). Lost to Minnesota in the WCHA tournament semifinals. 
"What I'm seeing on the ice right now is just a very prepared and experienced group," said Coach Maura Crowell. 
Names to know
Sophomore Gabbie Hughes led the team in scoring as a freshman, scoring 19 goals and tallying 18 assists. She's the type of player that can take over a game and she seemed to play her best against rival Minnesota, scoring in each of the Bulldogs' six games against the Gophers. 
What to Watch For
The Bulldogs will use their experience to build on this season. They return all the members of their top three offensive lines and their top two defensive pairings, plus Rooney. Not only do the have a large class of players that are now sophomores, but they had seven different players participate in summer camps with Team USA and Hockey Canada. That elevates their game in terms of the level of play they skated at, but also means those players arrived in Duluth having spent most of August on the ice already. It's impossible to quantify how important participation in those camps and U-22 series is for a player's development and having a large portion of their roster come in with that kind of knowledge and experience will be a big boost for UMD this year. 
Having Rooney in the net can only go so far if she doesn't have support in front of her. The Bulldogs gave up 2.83 goals per game last season, which is nearly impossible for any offense to overcome. This is the area of the ice where UMD should most hope that the sophomores can really step up and make an impact.

Crystal Ball
I think they can give UW and UM a scare at times, but I have them finishing third.
Minnesota State
Last Season
9-19-7, 3-16-5 (sixth). Lost to Ohio State in the first round of the WCHA tournament. 
"We're in a position now where we have a lot of parts now that we haven't had in previous years," said Coach John Harrington. "Our seniors will be a big part of our success this year – or lack of it. We need their leadership not only in the locker room, but with their production on the ice."
Names to know
Sophomore goalie Abigail Levy made an immediate impact for Minnesota State in net. She's 6'1" and she handled herself well against the top teams in the country. Her .924 save percentage while facing 1069 shots was beyond impressive for a rookie. Having her in net means the Mavericks can be more offensive focused, something they've not been able to do much in the past. She allows them to be a much more dangerous team and she's also really fun to watch. She moves well while covering a lot of the ice and net. 
What to Watch For
This is a team on the upswing. Last season, they had five fewer conference losses and seven fewer losses overall. Most of those games ended in ties instead, but it was a step in the right direction for this program. They allowed 32 fewer goals last season than the season before and have a balanced roster that should help them consistently grow. 
They close the season with Minnesota Duluth and Wisconsin at home before heading to the Twin Cities for the final regular season series. The plan is always to be playing your best hockey at the end of the season, but it will be incredibly important for the Mavericks to finish strong and push for postseason position over those final three weeks. 
Crystal Ball
I have the Mavericks in seventh. 
Ohio State
Last Season
20-13-2, 1210-2 (third). Lost to Wisconsin in the WCHA tournament semifinals.
"We three fantastic goalies an I just play whoever is the best. It's a fight. Monday is a new tryout for every weekend we're about to face. We're going to play who is the best and who's earned it," said Coach Nadine Muzerall. 
Names to know
Sophomore goalie Andrea Braendli won the starting role and had an absolutely stellar season. Her .939 save percentage was the second best single season save percentage for a Buckeye goaltender in program history. She also stepped it up when the pressure was on, making 92 saves in two games at Wisconsin to close out the regular season.
Redshirt senior Jincy Dunne is a strong, dominant blue liner that was also second on the team in scoring. She's a dynamic player that can single-handedly start a momentum shift. 
What to Watch For
It's a bit of a refresh for Ohio State, who have eight freshmen on the roster this season. Braendli and Dunne provide a solid defense to build out from. Junior Emma Maltais led the team in scoring and Tatum Skaggs led the squad with 17 goals. They're a fearsome offensive threat, so if the youngsters can step in to fill some of the gaps, OSU should be looking at an NCAA tournament bid.
They have one of the more interesting non-conference slates, starting the season against St. Lawrence and playing a stretch against Cornell, Colgate and Princeton to close out the first half. The Buckeyes were just outside of the NCAA tournament field this year and wins against other likely tournament teams would boost their quality points bonus. 
Crystal Ball
Ohio State and Minnesota-Duluth feel like they're basically interchangeable this season. I currently have OSU fourth because of their younger squad.
St. Cloud State
Last Season
10-25-2,  5-19-0 (seventh). Lost to Wisconsin in the first round of the WCHA tournament. 
"We're really pleased with where we're at and we believe we're headed in the right direction," said Coach Steve MacDonald. "We want to play with as much tempo as we can, as much possession as we can." 
Names to know
Steve Macdonald was promoted from assistant coach to head coach after a nationwide search. He promptly promoted Jinelle Siergiej to associate head coach and hired former Wisconsin Badger and USA Hockey Developmental Scout Molly Engstrom as assistant coach. 
Senior goalie Janine Alder and junior goalie Emma Polusny shared time in net last season and bring a wealth of both college and international experience to the team. They're leaders on and off the ice for the Huskies. Alder has played in two Olympics with Team Switzerland and Polusny played with Team USA in the 2018 Four Nations and 2019 World Championships. 
What to Watch For
St. Cloud isn't a high-scoring team and they graduated their two top scorers – who accounted for 25% of the team's points last season. The Huskies are going to need players to step up and find the back of the net. Senior Hallie Theodosopoulos has the skills and vision to be the top scorer, but she'll need help. 
St. Cloud has players on the roster from Finland, Austria, Germany, Czech Republic and Switzerland. It's a unique mix of backgrounds and experience among WCHA teams. 
Crystal Ball
I have SCSU sixth.
Wisconsin
Last Season
35-4-2, 18-4-2 (first). National Champions.
"It's a new opportunity. It's a new year. It's going to be a very competitive league. We're looking forward to the challenge that will be presented to us. Now it's back to work," said Coach Mark Johnson. "The most important thing is what's in front of you (whether) that's the next practice or the next game."
Names to know
2018 Patty Kazmaier winner Daryl Watts transferred to Wisconsin this offseason. She is the only freshman to ever win the award. After putting up 42 goals and 40 assists as a rookie, she struggled to repeat the performance, putting up 22 goals and 26 assists as a sophomore on just 30 fewer shots on goal
Senior Abby Roque took a more secondary role last season, dishing passes to freshmen Sophie Shirley and Britta Curl (third and fourth on the team in scoring, respectively) and was still second on the team with 43 points. She was the WCHA Rookie of the Year and then led the WCHA in scoring as a sophomore. Her adaptability and leadership are going to be a big part of the Badgers' title defense this season. 
Goalie Kristin Campbell was a huge addition to the team two years ago, transferring from North Dakota when they shuttered their program. She somehow managed to follow up that stellar season with an even better one. She was the most outstanding player of the National Championship game and shut out every Badger opponent through the NCAA tournament. She allowed one goal or fewer in 29 of the team's 41 games and led the NCAA in goals-against-average (1.03), wins (35) and shutouts (11). Her 35 victories (35-4-2) are the most wins in a single season by any Badgers goaltender in school history. With the goaltending history at Wisconsin, it's not easy to make your mark. The Badgers will have a lot of adjustment with who they lost to graduation, but having Campbell in net gives them a lot of leeway to figure it out. 
What to Watch For

The Badgers got scoring from so many different places that I don't see them struggling to replace the points from Pankowski, but they will miss her leadership. She led the team with seven game-winning goals, five unassisted goals, three short-handed goals and two overtime goals.When the team needed magic, she was the one that provided it. If they're going to have a repeat of last season, younger players will have to take advantage of the opportunity to be the playmaker and difference-maker. 
Best I can tell, no other national MVP has ever transferred schools after winning the award. This move is rather unprecedented and it'll be incredibly interesting to see how it plays out. Watts has major skill, but her regression last year is obviously not what she or anyone else hoped to see. There's an opportunity here for her to grow into herself and her game and flourish – the Badgers last two transfers (Claudia Kepler and Campbell) blossomed at Wisconsin. 
Crystal Ball
I have the Badger finishing first, but as always, it's going to be a tight race with Minnesota.