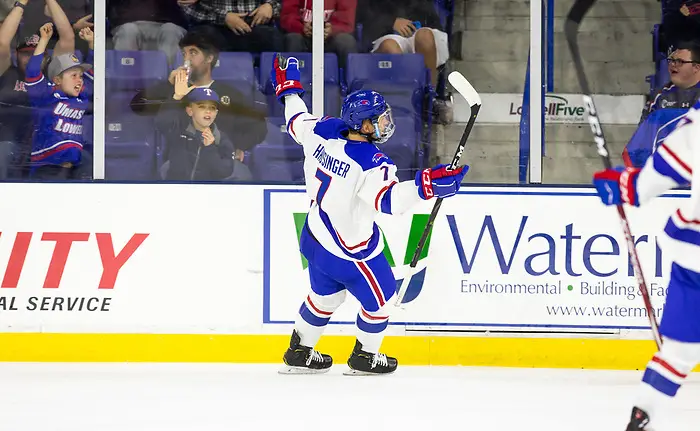 LOWELL, Mass. — UMass Lowell put up a dominating defensive performance on Sunday on the back-end of a two-game series with Alabama Huntsville.
But despite limiting the chances for the Chargers, the River Hawks had just a one-goal lead after Huntsville's Tyr Thompson scored a power play goal with 12:40 remaining.
That's when senior Kenny Hausinger made the game's biggest play. A night after scoring on a breakaway to extend a River Hawks lead, Hausinger repeated the feat, this time just 57 seconds after the Chargers pulled close, leading the River Hawks to a 3-1 win and sweep of the opening weekend series.
Lowell took a 2-0 lead on goals by freshmen, the fourth and fifth goals scored by the rookie class on the weekend. Carl Berglund opened the scoring poking home the rebound of a Zach Kaiser pass that seemed to fool goalie David Fessenden. Then Andre Lee scored his second of the weekend on an odd-man rush.
Tyler Wall earned his second win of the season making 12 saves.
Around the Nation
No. 20 Arizona State 6, Mercyhurst 4
The 20th ranked Sun Devils bounced back from a difficult loss on Saturday to earn a 6-4 victory over Mercyhurst on Sunday.
Host Arizona State held leads of 4-1 and 5-2 before Mercyhurst drew close late, as third period goals from James Anderson and Owen Norton, Saturday's hero who scored the overtime game winner. But unlike a night earlier when Mercyhurst found a way to tie and win the game in the closing minutes, Johnny Walker put this game away with an empty-net goal with 12 seconds remaining.
Max Prawdzik, a transfer from Boston University, earned his first win as a Sun Devil, making 17 saves.
😈 SUN DEVILS WIN! 🔱

Back in action next weekend on the road at #3 Minnesota State. pic.twitter.com/O4TiMG2Tkl

— Sun Devil Hockey (@SunDevilHockey) October 7, 2019
Michigan Tech 7, Robert Morris 0
On Saturday night, Michigan Tech needed overtime to survive at Robert Morris. On Sunday, the win came a bit easier.
Alex Broetzman's first period hat trick faced the offense for the Huskies, while Matt Jurusik made 25 saves to earn the shutout.
Parker Saretsky notched a goal and two assists while six different players posted multiple-point games for Michigan Tech.
Sunday highlights at RMU #mtuhky #FollowTheHuskies https://t.co/gnsqwMk0T6

— Michigan Tech Hockey (@mtuhky) October 6, 2019
Lake Superior 4, Merrimack 3
Third-period goals 87 seconds apart by William Riedell and Collin Saccoman helped the host Lakers erase a 3-2 deficit through two periods and propelled Lake Superior to a 4-3 victory over Mermimack, completing the weekend sweep.
Mareks Mitens made 20 saves in goal for his second win over the weekend for the hosts. Troy Kobryn took the loss for Merrimack making 15 saves.
Bowling Green 7, Miami 4
Cameron Wright scored four goals and his Bowling Green team exploded for five third period goals as the Falcons knocked off host Miami, 7-4.
The game was the first for former Bowling Green coach Chris Bergeron, now head coach at Miami.
Gordie Green and Karch Bachman each recorded two goals in defeat for Miami.
Army West Point 3, Union 2
Colin Bilek's goal with 8:56 remaining in regulation broke a 2-2 tie and helped propel host Army West Point to a 3-2 victory over Union.
Goals by Sean Harrison and Christian Sands for Union gave the Dutchmen the lead in the second. But just 1:17 after Sands goal, Michael Wilson notched the equalizer with 17 seconds remaining in the middle period.
— Army WP Hockey (@ArmyWP_Hockey) October 7, 2019
No. 2 Denver 3, Alaska 0
One night after surviving a scare, No. 2 Denver made things easier by shutting out Alaska, earning a 3-0 road victory to complete the weekend sweep.
Neither team scored for the majority of the opening 40 minutes before Denver's Ian Mitchell broke the deadlock with 55 second left in the second. Griffin Mendel scored an insurance marker at 6:07 of the third before Ryan Barrow notched an empty-net goal to assure the Pioneers of the victory.
Magnus Chrona made 28 saves to earn the shutout for Denver.