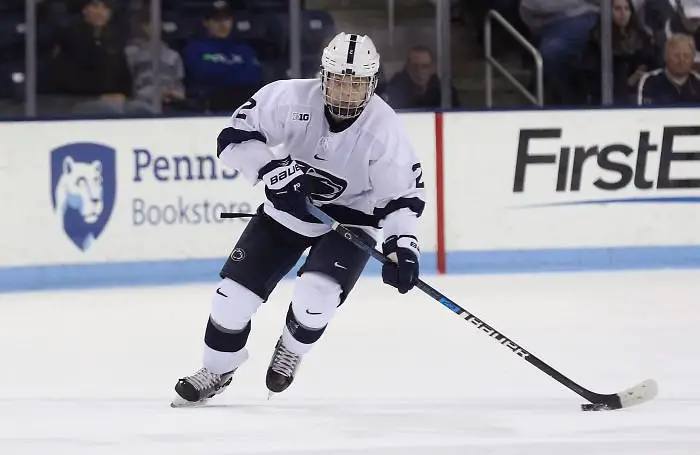 Each week during the season, we look at the big events and big games around Division I men's college hockey in Tuesday Morning Quarterback.
Paula: Well, Jimmy, last week we were speculating about what we might reasonably take away from a weekend of hockey that was earlier than usual. Now with two straight weeks of play for some teams, we have evidence that the poll voters are speculating, too.
Denver is the new No. 1 with a vast majority of votes with Minnesota State and Minnesota Duluth picking up multiple votes and one lone vote for Penn State.
Even though it feels as though Duluth has been dominant forever, it wasn't that long ago in terms of poll history that they were not the top team; St. Cloud State had 43 votes and the top spot March 25, and all of this is a reminder that the poll is such a snapshot of current events.
Having said that, Denver earned that top spot with two more wins and a hot 4-0 start to the season with road sweeps over Alaska and Lake Superior State. The Pioneers are averaging 3.50 goals per game – ironically, same as the 2-2 and Lakers through four games so far.
Another story of the weekend is the sheer number of goals that some teams scored: Wisconsin beat Merrimack 11-5, North Dakota beat Canisius 8-1 and scored 13 on the weekend, Omaha beat Alabama Huntsville 11-1 in two games, Maine rebounded from a tough opening weekend to sweep Alaska Anchorage while scoring seven goals in one game.
And there are three players who scored four or more goals in their season-opening series – Providence's Greg Printz with five goals in two games, Cole Hults from Penn State with four and Cole Caufield with four.
What do you make of some of these seemingly fast starts?
Jim: Well, we all want goal scoring, right?
In all seriousness, I think often times we see some big offensive numbers early in the season because of the fact that teams are still working on breaking players into their defensive systems. That said, I'm impressed with some of the offensive totals.
Obviously, Greg Printz and his four-goal outburst last weekend for Providence, coupled with a goal in the Friars loss to Holy Cross this weekend stands out. But Caufield, to me, is the player to watch. He was drafted lower this summer than teammate and classmate Alex Turcotte, also a great talent, but I think Caufield is the player at Wisconsin we are going to be talking about the most.
Caufield has such offensive talents and is almost undoubtedly a one-and-done player for the Badgers. That said, he might as well re-write the record book as much as possible. According to our colleague Todd Milweski, Caufield is the first player in the modern era for Wisconsin to record back-to-back multiple goal games as he scored two against both Boston College and Merrimack.
Getting back to your point about the poll, I have always thought the inaugural poll each season is a dart game. For the second straight year, Minnesota Duluth began the season atop the poll but fell in the first weekend. Friday's 3-2 loss to UMass Lowell was sloppy. But the fact that the Bulldogs trailed 3-0 after 2 and nearly tied the game shows the talent this team has. The Bulldogs – and for that matter, the River Hawks – likely will be among the top clubs in college hockey when this season ends.
Paula: I have no doubt that the Bulldogs and River Hawks will be in the mix at the end of the season. I'm starting to think that maybe after years of some parity-related changing landscape, some usual suspects are emerging in the top tier of college hockey. We'll never return to the decades-long dominance of certain teams that we've seen the past, I think, because preparation for the game itself has changed so much, but I wouldn't be surprised to see more familiarity than not at the top of conference standings for the next few years.
On that subject of growing pains, I do want to give a shout out to Alaska for its road sweep of Michigan Tech. In their opening game of the season two weeks ago, the Nanooks lost to Denver 4-3 but was in that game for its entirety. Last Friday's win over the Huskies was the first for Alaska since 2014, snapping a 16-game losing streak against Tech.
Also, it's an indication that the Nanooks may be starting this season where they left off last year. Alaska had 12 losses in the first half of 2018-19 and rallied to finish the season 12-21-3 overall with eight of those wins coming in the second half. For the Nanooks, too, it was an important conference-opening weekend. Given the uncertainty that Alaska, Alaska Anchorage and Alabama Huntsville are facing with the direction the WCHA wants to take and budget cuts to the Alaska university system, these wins must take on even greater importance for the Nanooks and I wonder if Alaska will progress even further this season.
Who do you see poised to make a move toward significant improvement this season? In the Big Ten, everyone's money is on Wisconsin and with good reasons, two of whom you've already mentioned. Are there teams we should be watching that may be under the radar?
Jim: There are teams whose upwards direction is more obvious than others. You and I already said Wisconsin, I think that Western Michigan fits into that group. I'm not sure that any teams are that obvious, but I do have a few true dark horses in mind.
On Hockey East, I think New Hampshire is greatly overlooked. They have talent and good, young coaching in Michael Souza. Clarkson has been knocking on the door for a while both in the ECAC and nationally. Coaches weren't high on Mercyhurst this year, but I think they'll be a top 3-4 team in Atlantic Hockey.
The WCHA has become a bit predictable, but you mentioned Alaska and I feel like that team will be stronger than most expect. If Western Michigan isn't the surprise team in the NCHC, don't put that job past Colorado College as I feel like that program has played everyone tough in the last few years. And in the Big Ten, if there isn't a favorite, can there be a dark horse? That said, I like Michigan State to be better than expected.
I have to think you and I have a couple of similarities in our dark horse list, no?
Paula: Yes, I think you and I are on the same page about the dark horses. It's felt as though Colorado College has been on the verge of breaking through in the NCHC for the past couple of years, and that may be the issue with playing in such a strong league from top to nearly bottom. CC in several other leagues would make some significant noise, and the Tigers certainly benefit from the level of play in the NCHC.
I have to think that Michigan State is close to making a big jump. The team is exceptionally well coached, and Danton Cole and his staff get the best out of the players. With improvements in their game and the renovations that have just begun to Munn Ice Arena, the Spartans will begin to look like a very attractive destination for top recruits interested in landing in the Big Ten.
I liked what I saw of Clarkson against Michigan, especially with Francis Marotte in net. Marotte played three seasons with Robert Morris and is a graduate student now at Clarkson. I also like the way both RIT and Mercyhurst have started, but it's early.
Jim: Switching gears from dark horses back to the now-favorite. I want to tip my cap to Denver and it's 4-0-0 start. Folks may not think they have faced the toughest talent (I think we both somewhat disagree), but the time on the road they have accumulated in the first to weeks is unprecedented.
The Pioneers began the year in Fairbanks, Alaska playing Saturday and Sunday. Instead of flying home on Monday, David Carle wisely took his club to Detroit where it practiced for a couple of days before heading to the U.P. to take on Lake Superior State.
Four wins later, Denver finally arrived back home on Sunday afternoon with approximately 9,000 miles traveled. I guess a reward of being No. 1 in the country is a decent payday.