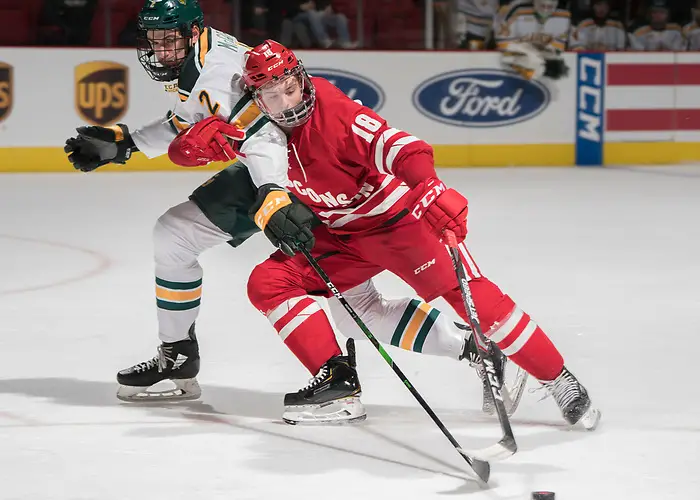 Thanks to Owen Lindmark, Wisconsin fans can breathe a sigh of relief.
Just days after the Badgers ascended to sixth in the USCHO.com Division I men's poll, they were in danger of possibly being swept by No. 13 Clarkson at home. But Lindmark's goal with 6.1 second remaining was the game-winner, averting a potential lost weekend for the Badgers at the hands of the Golden Knights.
Lindmark's game-winner! 🔥 pic.twitter.com/zXVq1qbZVE

— Wisconsin Hockey (@BadgerMHockey) October 27, 2019
Saturday's victory looked like a foregone conclusion when K'Andre Miller scored at 7:08 of the second to give the hosts a dominating 3-0 lead.
But Clarkson was feisty. Adam Tisdale responded to Miller's goal with one of his own 11 seconds later. Devin Brosseau then scored twice in the third, including the equalizer with 1:12 remaining.
Lindholm, though, found a loose puck in a scramble on the rush in front of Clarkson's Frank Marotte and poked it him in the closing seconds. A challenge for goaltender interference by Clarkson was for naught.
Around the Nation
No. 14 St. Cloud State 2, No. 11 Northeastern 1
A night after losing at home for the first time in more than a year, St. Cloud State bounced back and earn 2-1 victory over Northeastern, handing the visiting Huskies their first loss of the season.
Tyler Madden scored his third goal of the weekend to give Northeastern the early lead in the first. But Jack Poehling and Sam Hentges each tallied in the middle period for a lead St. Cloud never relinquished.
And Another One! Sam Hentges gives St. Cloud the 2-1 lead at the midpoint in the 2nd period off the assist from Chase Brand! 🏒 #scsuonfsn @fsnorth @Fox9Sports @MarkDParrish pic.twitter.com/wOPlQa8P46

— Husky Productions (@hphky) October 27, 2019
The defense for the hosts clamped down on Saturday, allowing Northeastern just 17 shots total and nine over the first two periods of play.
Michigan Tech 4, No. 17 Bowling Green 2
A natural hat trick by Tommy Parrottino – with all three goals coming in less than 20 minutes – broke open a 1-1 game as Michigan Tech earned the victory over No. 17 Bowling Green, 4-2.
Parrottino's first goal at 11:45 of the second period gave the Huskies a lead in never lost. He then followed up with a second tally with 1:45 left in the second and the back-breaker for the Falcons at 11:16 of the third.
Saturday night highlights #mtuhky #FollowTheHuskies https://t.co/dskvCT87rQ

— Michigan Tech Hockey (@mtuhky) October 27, 2019
Robbie Beydoun made 25 saves to earn the victory.
UMass Lowell 3, No. 7 Providence 2 (OT)
Carl Berglund's goal with 39.7 seconds remaining in overtime gave the visiting River Hawks a 3-2 road upset of seventh-ranked Providence.
It was Lowell's four straight overtime game, but the team's only win (1-1-2). In fact, it was only the second overtime win in the last 22 attempts (2-10-10) for the River Hawks.
Take at a look at Carl Berglund's OT winner tonight at Providence #UnitedInBlue #HockeyEast pic.twitter.com/pBKENpVyHI

— UMass Lowell Hockey (@RiverHawkHockey) October 27, 2019
Lowell took a 2-1 lead on an assisted Zach Kaiser goal at 3:47 of the second. But Providence responded with a 5-on-3 power play goal just 56 seconds later, that coming from the stick of Patrick Moynihan.
Providence held a hefty shot advantage through two periods, outshooting Lowell, 24-9. But The River Hawks got their skating legs under them in the third and outshot the Friars, 23-18, through the overtime period before getting the game-winner.
No. 8 Minnesota Duluth 2, No. 20 Minnesota 0
A sweep of local non-conference rival Minnesota was just what two-time defending national champion Minnesota Duluth needed to get back on track.
Saturday, it was a 21-save shutout for Hunter Shepard combined with an early Quinn Olsen goal and another from Jackson Cates in the closing seconds as the Bulldogs earned a 2-0 win over the Gophers.
Jared Moe was stellar in net despite taking the loss, stopping 21 shots, many of the high-end scoring chances.
Dogs sweep! https://t.co/kKoHD27ok0

— UMD Men's Hockey (@UMDMensHockey) October 27, 2019