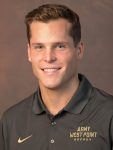 Atlantic Hockey announced Tuesday a one-game suspension to Army West Point junior defenseman John Zimmerman.
Zimmerman was whistled for a contact to the head major penalty midway through the third period in the Black Knights' 5-0 loss to Bentley on Friday night, Oct. 25.
Zimmerman will be unable to suit up for Army on Friday, Nov. 1 at home against American International.