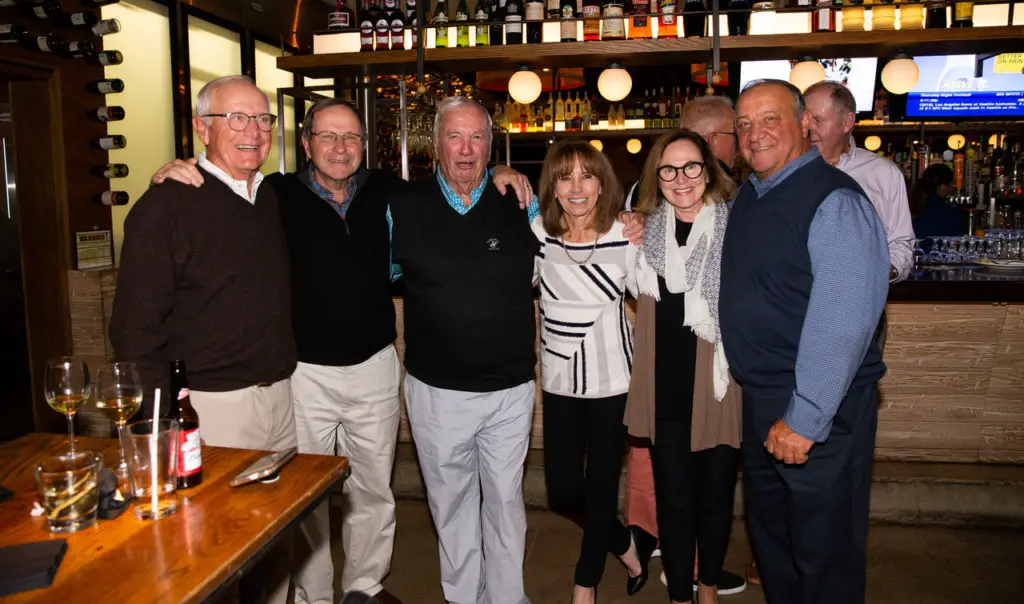 A few weeks ago, I received a phone call from former UMass and Princeton men's coach Donald "Toot" Cahoon, informing me that he was organizing a reunion of some hockey friends who grew up in the local (Northeast Massachusetts) hockey community.
Toot had done this before and it was nice of him to organize another event.
Shortly after this call, Toot sent a text indicating the event was growing in numbers and that we would have to change the date and move to a larger venue. A week later, he texted with a request: can you find a photo-journalist who might come and memorialize the evening? This was starting to look like something other than the usual effort to meet friends for drinks after work.
And so, on the evening of Oct. 3, at the Legal Seafoods in Lynnfield, Mass., 19 hockey friends assembled, most with spouses, to raise a glass, have an appetizer or two and catch up on life, in and out of hockey. Oh, and maybe to share an old hockey story or two.
Who was there? I'm not sure how to begin. Or how to organize the roster. Let's start with coaches. There were nine college hockey coaches, all but one of whom was now retired. Together, they have accounted for 4,329 wins. They were, in order of career college hockey wins, Jack Parker, Mike McShane, Dick Umile, Joe Marsh, Mike Gilligan, Bob Gaudet, Billy Riley, Toot Cahoon and Ben Smith.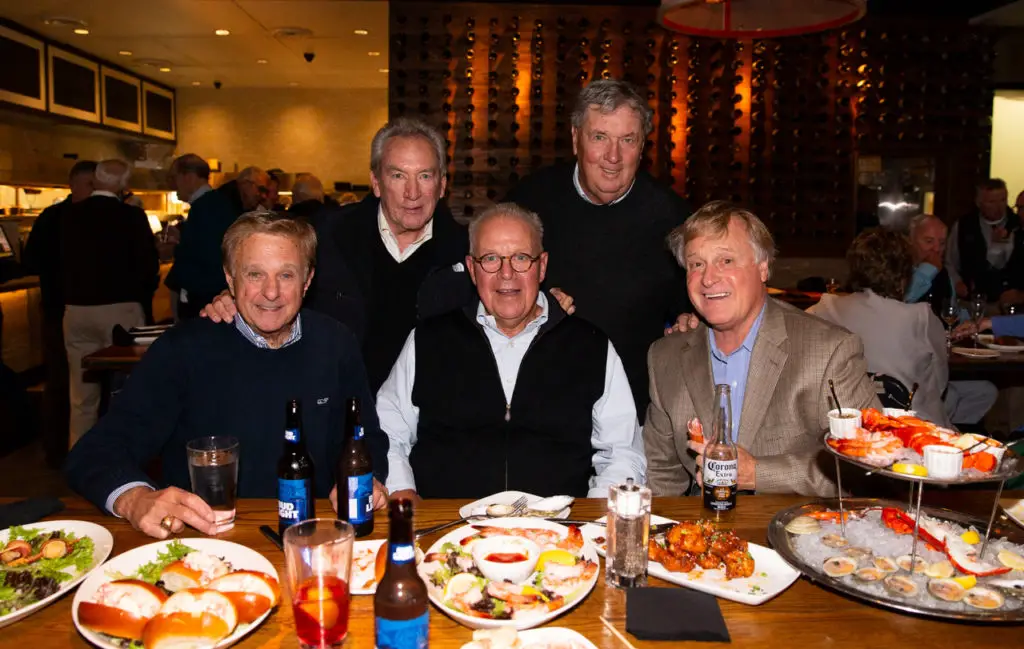 What about Olympians? Six of the attendees served on Olympic teams and four of them won medals. Chronologically, there was Jim Logue, the long-time BC assistant who tended goal on the 1968 U.S. Olympic Team. One of his teammates in 1968 was Larry Pleau, whose name was connected to successful teams throughout his career. As a player, he was on a Montreal Canadiens team that won a Stanley Cup, though he didn't play enough games to land his name on the Cup. Later, he was an Assistant GM with the 1994 New York Rangers when they won the Cup and he was the GM of Team USA in the 2002 Olympics when the U.S. won silver. (He also had a hand in the 2019 St. Louis Blues' Cup run, having been a Blues GM not that long ago.)
Then there is Stu Irving, the long-time Merrimack assistant coach, who, fresh from the jungles of Vietnam, won silver with the 1972 U.S. squad. Then some guy named Eruzione, who, you may have heard, had something to do with the 1980 "Miracle" team. Next up would be my humble role as Tim Taylor's assistant GM on the 1994 Lillehammer Olympic squad. Then on to Ben Smith, the Hall of Fame coach who won three medals, including gold in 1998 with the U.S. Women's Team.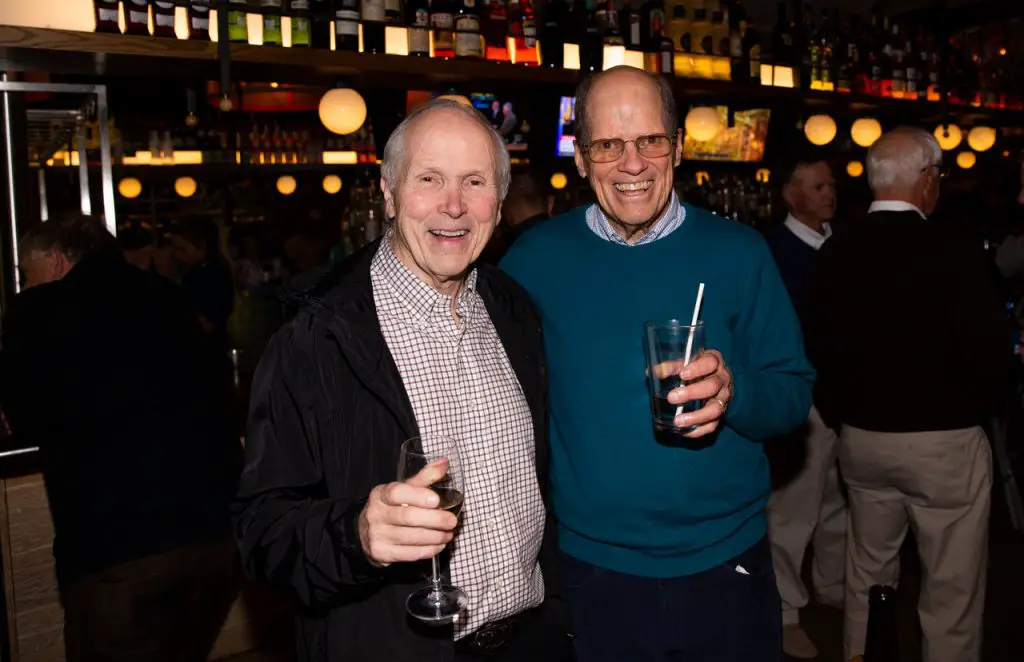 Referees were represented by former Hockey East supervisors Dick DeCaprio and Brendan Sheehy. Their resumes also include championships, as DeCaprio, a former BU player, won titles as a player and coach at his alma mater, Arlington High School, and Sheehy assisted Thom Lawler when Merrimack won the 1978 NCAA Division II championship.
That leaves three others who don't fall neatly under these headings. John Marsh played for the legendary "Snooks" Kelley at Boston College and spent time with the U.S. National Team during the 1964-65 season. A high school coach after his playing days, he also co-authored a Sports Illustrated-produced tome on training with weights. His co-author was Robert B. Parker, who created the Spenser for Hire series of books. Oh, John also had something to do with younger brother Joe's sense of humor.
John Gummere was a defenseman on some very good St. Lawrence teams in the early 1960's, dabbled a bit in Europe after that, and earns trivia stripes for being the college roommate of the late Ron Mason. (Note: Gummer was also a blueliner on the Depot Café Bombers, a senior team for whom I tended goal. Other defensemen included 1983 Hobey Baker Award winner Mark Fusco and current New York Rangers head coach David Quinn. While other netminders rely on mastery of the "reverse VH," I preferred spending my time securing good defensemen.)
And then there was Jack Turco, a product of the Melrose, Mass., and Harvard University hockey cultures, who once scored five goals against Boston College in an ECAC Quarterfinal game. He has worked as Dr. Jack Turco at Dartmouth's Hitchcock Memorial Hospital for the past few decades.
As one might imagine, the conversation shifted from the current — observations that retired coaches look so much younger than when they stood behind benches — to the past. And, as is so often the case with hockey people, the stories of the past reveal connections between so many of these attendees.
When Jim Logue and Stu Irving pose for a photo, their connection is not only that they coached at Merrimack or that their names appeared on consecutive Olympic rosters. But, more significantly, it was Logue's appeal to Olympic coach Murray Williamson in 1971 that got Irving out of Vietnam and into a Minnesota tryout. ("Hey, Murray, no pressure but if you cut the kid, he is going back to Vietnam.")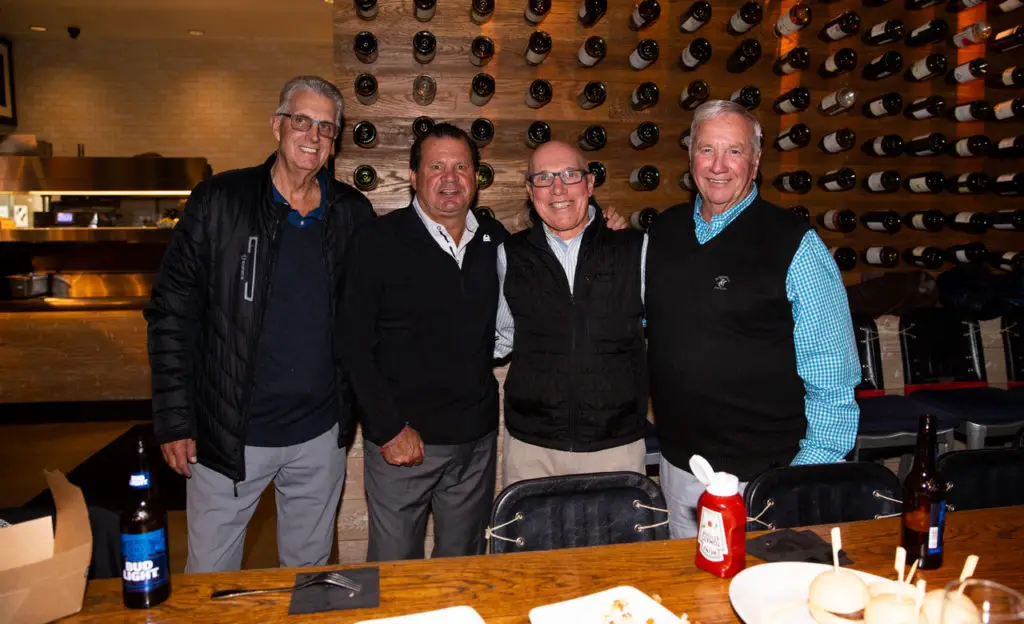 Parker chatting with Eruzione looks like another Friends of BU Hockey outing. But then you hear how Mike was heading to Merrimack when Parker was reffing a summer league game in which Eruzione was playing, the summer after graduating from high school. A post-game conversation changed Eruzione's college plans and a quite a bit more.
Same with a Parker-Riley conversation. Old BU teammates chatting. Then you find out that it was Riley who gave up a job as the assistant coach at Medford High School to take a job at Lehigh. It was Riley who said to Parker, "Hey, Jack, are you interested in a high school coaching job? The Medford coach (George Boudreau) wants an assistant who can implement Jack Kelley's systems at BU. Now that I'm leaving, why don't you take it." Just think, if that had not happened, how much more enjoyable my time in Hockey East would have been.
There is Joe Marsh posing with McShane, who gave Joe his start in coaching. Oh wait, there are the two old UNH teammates, Umile and McShane. McShane gave Umile his start as a college coach while at Providence.
Jack Turco's wife, Mary, poses for a photo with Ben Smith. Her book, "Crashing the Net," provided one of the best accounts of how the 1998 Women's Olympic Team captured the gold medal in the first Games featuring women's ice hockey.
There's John Gummere posing for a photo with John Marsh. They played against each other in the 1963 ECAC Semifinals at the Boston Arena. That was just the second ECAC tournament.
Old friends. Old players. Eleven of them played in the Beanpot. Many were teammates at one time or another. Some played Senior Hockey. (This writer still does.) And on it goes.
These were hockey people from a different era, or maybe hockey people who crossed eras. They came from towns that run into one another. Hockey towns. Arlington, Somerville, Belmont, Medford, Wakefield, Melrose, Saugus, Winthrop, Lynn, Swampscott, Marblehead, Beverly and Gloucester. They battled in the state high school tournament. Most attended public high schools and went directly to college. They entered college when they were 18 years old. Or maybe 17.
They played 10-minute periods in the winter. Perhaps at the old Boston Arena on a Saturday afternoon, when two games were intertwined. Arlington and Medford played their first period, followed by Waltham and Brookline playing their first. Then came the second period of the first game and then ice was made.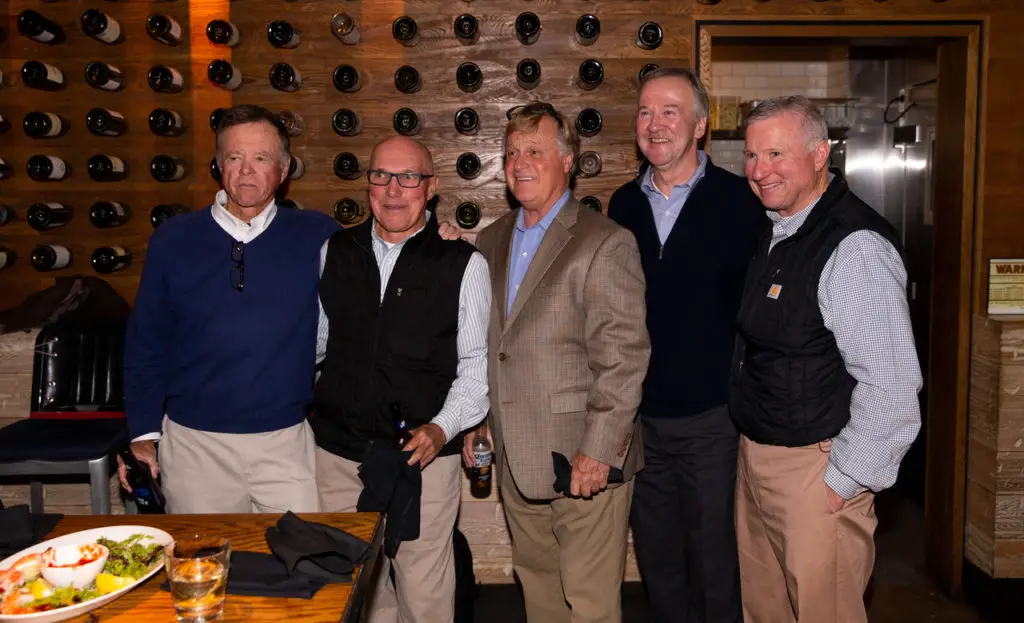 They played in the Mayflower League at the Boston Skating Club in the spring. Their summer hockey was played at the Lynn Arena or the old "Hockeytown" rink in Melrose, on teams of friends who organized themselves and found a local league. There were no showcase events. And they played other sports through high school.
As college coaches, when they competed against each other, they wanted to win badly. But when the game was over, they retained their relationships. They were civil. They might even grab a meal or a beer after a game.
As I work through my final season with Hockey East, I am vulnerable to looking back. To waxing nostalgic. While I still have work to do and need to stay in the present tense (like I tell all the goalies I coach), I can be forgiven if, on this one particular night, my thoughts are of hockey years past.
On this fall evening, amid the beers and appetizers, these friends had smiles from the time they entered the restaurant until the tab was paid. Photographer Rich Gagnon chronicled the smiles, the handshakes and the hugs. (Rich asked me how many college hockey goals the group had scored. When I told him I had no idea, he said, "Well, if you figure it out, add one. I scored one goal for Worcester State against Plymouth State.")
While there was some talk of "the next time," what was left unsaid was the possibility that this particular group might never again occupy the same space at the same time. We are getting older. Hell, we are old. Most of us. We still like the feel of a newspaper in our hands each morning and we might give equal time to the "Sports" as to the "Obituaries."
We left the restaurant and returned to life in 2019.
But for this one night, this unique group of hockey friends cherished the moment, their common past, and their fondness for a hockey world that bears little resemblance to the one that exists today. We marvel at what the game has become, how talented the players are, and how the sport has grown. But, at the same time, we feel privileged to have lived and played when we did and how we did. That stays with us forever.