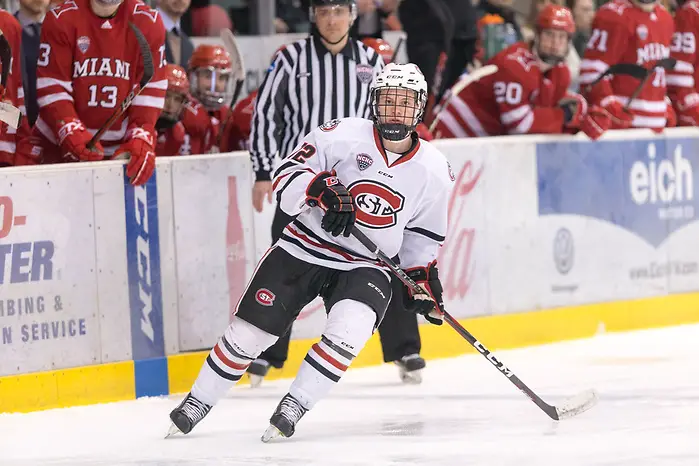 Each week during the season, we look at the big events and big games around Division I men's college hockey in Tuesday Morning Quarterback.
Jim: First off, let me welcome back to TMQ Dan Rubin, who will fill in for Paula this week while she travels. Always good to have you along, sir.
This week was a pretty tame weekend by college hockey standards. All of the top five teams in the USCHO.com poll held their position and there weren't too many major upsets along the way.
That said, there was plenty of great hockey starting with a barnburner of a series in Madison between Clarkson and Wisconsin. The upstart Badgers got thrown back a peg on Friday night when Clarkson whitewashed the high-scoring Wisconsin offense 4-0.
Wisconsin did bounce back with a win on Saturday. In that game, the Badgers jumped to a 3-0 lead, watched Clarkson rally to tie the game late before Owen Lindmark poked him a rebound with 6.1 seconds left to salvage the split for Wisconsin.
I've been pretty bullish on both of these teams this season. But I guess I did walk away from this weekend wondering just how good this Wisconsin club is. What do you think, Dan?
Dan: I think there are two ways of looking at it.
The loss to Clarkson was the third time in their six games that the Badgers gave up at least four goals, though one of them was the 11-5 thumping they laid on Merrimack, so it's a little easier to overlook. That was a problem last year, especially in the second half of the season when offense had no problem scoring goals. There was a period last year when Wisconsin scored four goals in five out of six games but only won once, and that doesn't include a 6-2 loss in an exhibition game against the US Under-18 national team.
On the other hand, the two losses this year were to Boston College and Clarkson, and it's still incredibly early to view anything as a long-term problem or goal. For all intents and purposes, I'm throwing out that Merrimack game because things can become so unconventional when a team goes over 10 goals. Those two losses are to good teams that I think will be factors at the end of the year, so I'm not hitting the panic button on the Badgers yet.
I am, however, hitting the panic button on St. Cloud State. I was really hoping for a bounce-back weekend at home after the two ties against Bemidji State, and a split wasn't exactly what I had in mind. That 4-1 loss was a little disconcerting to me because of the shot disparity – the Huskies had 27 shots in the first two periods. I'm not sure what to make of this team right now, and I admit that I don't see them as often as I would watch teams in Hockey East, ECAC or Atlantic Hockey, but this is starting to dig an early hole.
The RPI rating is down around the 30s, and even though it's early, I'm starting to feel like this weekend represents a must-win scenario. Princeton isn't a team expected to be at the top of ECAC this year, and if the Huskies lose a home game to the Tigers, it could pose a huge issue later down the road.
Besides St. Cloud, I'm trying to find some other teams that could face some early-season must-win scenarios. Who is on your radar in that regard, even though I always throw the asterisk that what happens now may not necessarily dictate anything before Thanksgiving.
Jim: See, I'm not that concerned about St. Cloud State. I know that the two ties at Bemidji State weren't ideal, but it was their opening weekend.
If the Huskies got swept by Northeastern, I may raise a warning flag, but the split resets things in my mind. That said, you're right that taking two at home this weekend against Princeton is paramount to prove that this team remains on the right track.
As for teams that concern me right now, until this weekend I might say Minnesota Duluth, but they responded well against Michigan. Even Boston University was about to get my panic button before they shut out New Hampshire on Saturday to earn three of four points on the weekend.
I guess if there is a team heading in the wrong direction right now, it's Boston College.
After opening the season with a nice win over Wisconsin and then following it up two days later with a road shutout at Colgate, BC's two losses at Denver two weekends ago didn't concern me too much given it was against the nation's No. 1 team.
But last Friday's 6-2 loss to Providence at home certainly wasn't the rebound that Jerry York and his team needed. Certainly, Providence is an excellent team and a more-than-worthy opponent, but BC fell behind early in that game and didn't chase the game with any success, something I wouldn't expect after an empty road trip the week prior.
On another note, the Ivies are about to get play underway. I know you get to call a lot of games in that league anything you look forward to? And do you ever think we'll see the Ivies jump into college hockey's modern era and play a full slate of 34 games in our lifetimes?
Dan: I don't think the Ivy League will ever raise its number of games, and I'm still not sure how I totally feel about it.
The Ivy League football schedule is still 10 games, and basketball only held its first league tournament in 2017. ECAC commissioner Steve Hagwell explained the scheduling process to me last year, and the league has a good thing going with the teams. They tend to play each other at the beginning of the year, so there isn't a total need to reinvent the wheel there. I will always advocate for more hockey, but at the same time, if it ain't broke, I don't see a need to fix it, either.
As to the other point, I am beyond excited for the Ivies to get into the college hockey mix, and I think this might be one of the most talented groups of hockey teams coming out of ECAC's sub-grouping of programs. Every Ivy team hosted a playoff series last year except for Princeton, and they all advanced out of the first round, except, once again, for the Tigers, who lost in that triple overtime epic at Brown last year that I had the privilege of calling on the air. Three of the four teams in Lake Placid were Ivy League teams, even though the one that wasn't (Clarkson) wound up winning the ECAC championship.
Among those teams, I have Cornell flagged as a legitimate national championship contender, and I know Harvard will always find its way into the league's mix for top four spot. Dartmouth finished fifth for the second straight season and is one of those teams that could very quietly make some noise, and Yale overcame a tough finish to its regular season to at least advance out of the first round of the postseason tournament.
But the one team I'm actually incredibly high on this year is Brown.
Last year's team finished the regular season within a game of fifth place and had a mathematical shot at the spot in the final weekend of the regular season before a disappointing sweep loss. But the two defeats sent the Bears into another memorable playoff run that began with that sweep of Princeton. Their sweep of Quinnipiac in the quarterfinals was a resounding stamp on the round, and from that team, Brown returns a handful of incredibly key components. I have one concern around the offense after Tommy Marchin's departure, but the defense marked the program's best output in five years.
As a full disclosure, I call games for Brown on occasion with my brother, Mike, so I'm willing to admit the obvious conflict there, but there's a lot of excitement surrounding this team. I have them pegged as a dark horse to really make some noise.
Jim: Aside from Harvard and their home opponents, I typically see the Ivies from afar. But last season I had the chance to watch Cornell in the NCAA East Regional.
I was very impressed with their team and believe everything that improves makes them an even better team this season.
The only caveat I say about the Ivies and the ECAC is that the league often tends to cannibalizes itself. It doesn't seem in league play that many teams sweep a weekend. Maybe it is because you have to prep for a different opponent each night, but upsets in the regular season often times may eliminate a team that could succeed in a single-elimination tournament like the NCAAs from participation.
That is likely an over-generalization, so I will allow you to provide feedback to this ECAC outsider.
Dan: So I'm in the middle of this argument because I like the travel partner format but agree with you about the cannibalization.
I'm not saying that it's the direct reason, but I think there's going to be an impact somewhere along the line. Union finished 18th in last year's PairWise Rankings and missed out on becoming the fifth ECAC team to qualify for the national tournament after losing nine league games across seven different weekends. The team did a very good job of not getting swept throughout the year, but it also didn't help itself by not sweeping a full four points all that often.
I think a couple of weekends probably didn't help the situation. In one scenario, the Dutchmen blew two leads against Brown, including a 2-0 first period advantage, and finished with a 3-3 tie. The next night at Yale, they lost 3-0 to a Bulldog team coming off of a dominant 4-2 win over RPI. They got bit again later in the year at Colgate, when they pounded the Raiders for 28 shots in the latter two periods but lost 5-1. The next night against Cornell, it happened again in a 3-1 loss where the Dutchmen offense outshot the Big Red 14-3 in the second period but got outscored 1-0 in the period.
I don't think those weekends ultimately killed Union's chances at an at-large bid, but the 18th-place team in the Pairwise is usually left one or two games away from getting into the tournament (see also: North Dakota finishing 20th because it lost two games to Canisius). In the long run, these things always have a way of ironing out, but I know that the second half of a weekend can be especially tough if a team has to travel the wrong direction to face the wrong opponent.
I really believe ECAC is the standard-bearer conference in the east right now, but I also feel like the regular season battery sometimes hurts some of its teams. Then again, it's unique and compelling, so in the end, that's what makes it worth watching.