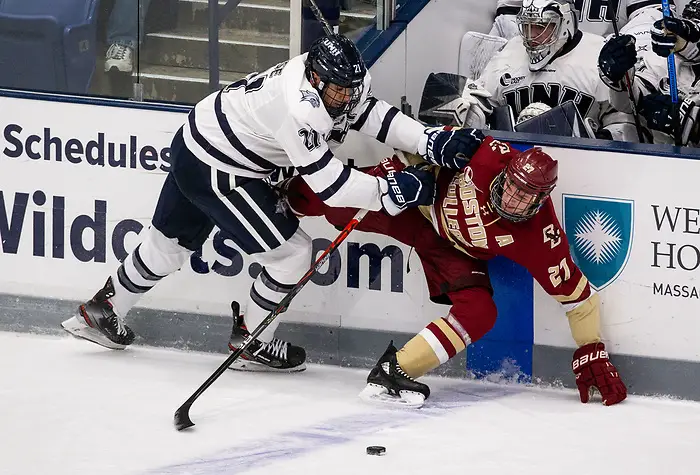 Each week during the season, we look at the big events and big games around Division I men's college hockey in Tuesday Morning Quarterback.
Paula: There is so much to talk about this week, Jimmy, including upsets and on-ice oddities, but instead of starting with something that stirs the pot, I'd like to admire the sheer perfection that is – at this moment – Denver Pioneer hockey.
Okay, so I know that's a little hyperbolic, but the Pioneers remain the only team to have played a significant number of games to remain undefeated and they have done so impressively.
Averaging 4.12 goals per game and allowing only 1.62, Denver is tied with Cornell for the nation's fourth-best scoring margin. The Denver power play is scoring at 22 percent but the Pioneers' penalty kill is successful 97.1 percent, having allowed only one goal on 34 opponent attempts.
Rookie goaltender Magnus Chrona – my new favorite hockey name – has impressive numbers (1.86 GAA, .925 SV%). After giving up 61 shots against Alaska in their opening weekend, the Pioneers have tightened up their team defense and impressively decreased shots allowed in every game they played from the start of the season through their second game with Boston College, and last weekend against Niagara, Denver outshot the Purple Eagles 95-32, giving up 16 shots in each game.
Toward the start of the season, we speculated about whether it was too soon to worry about Minnesota Duluth's sluggish start.
Here's the flip side of that: Is it too soon to hype the Pioneers?
Jim: I am fine with hyping the Pioneers a little right now. They are finding ways to score and Brett Stapley is an offensive machine. Chrona is money (pun intended) in net. So there is plenty to like about this team.
That said, I feel like the NCHC league schedule is a juggernaut which kicks off for Denver this week as they travel to Duluth to face the two-time defending national champions.
If they come out of this weekend 10-0-0, let's bring the hype machine out and set it to max power. Until then, we can set it to moderate.
Another team deserving moderate hype is Massachusetts. A pair of wins against a very good Northeastern team this weekend should grab people's attention. Good goaltending from the pair of Filip Lindberg and Matt Murray helps on one end while players like John Leonard and finding ways to replace goals lost by guys like Cale Makar and Jacob Pritchard.
Paula: I think it's fair to give a glance to the performance of three Ivies this weekend, Cornell, Harvard, and Princeton.
After a one-goal road win over Michigan State Friday, the Big Red doubled their score on the Spartans in a 6-3 win Saturday for a nine-goal weekend. Harvard scored seven in its opening game over Dartmouth. In its first two games of the season, Princeton traveled to St. Cloud and defeated and tied the Huskies, scoring five goals in each contest. Collectively, that's an impressive opening-weekend statement.
Speaking of offense and statements made, Arizona State swept visiting Quinnipiac, outscoring the Bobcats 9-4 in the process. While we can talk about how many teams have the luxury of a long season, the Sun Devils need to make the most of every opportunity, and they certainly helped their cause, climbing to No. 14 in the PairWise.
Again, it's too early to think about such things for most teams but because Arizona State can't play its way into the NCAA tournament with a conference autobid, the Sun Devils are most assuredly paying attention to the PWR.
Arizona State's schedule is such a mixed bag, too. The Sun Devils have opportunities to improve their PWR against teams like Denver, Omaha and Clarkson, but stumbling against struggling teams will sink them. We've talked about how difficult it is to maintain success annually for programs affiliated with conferences. That's compounded by a lot of factors for a team without a league.
Jim: I am not sure I totally agree here. For an independent, there is a benefit of not depending on teams in your conference to raise or lower your conference RPI.
For Arizona State, there is a sheer question of wins and losses. If they set up a schedule that is advantageous to them – a decent amount of home games, play some tough teams where wins boost your RPI, and play enough games against teams you can beat – the path to an NCAA bid can be easier than, for example, a second place team in Atlantic Hockey or the WCHA.
Arizona State, as long as it is an independent, won't have bottom feeder teams in their conference that they are required to play bringing down their RPI. Sure, they may play some of these teams in the course of the season, but ASU can likely count on a formula where 21 or 22 wins guarantees them an NCAA bid. Not every team in the country can say that.
Paula: That is an excellent point, Jim – and a lament that we often hear from coaches about the way in which league play affects their postseason odds. I guess one point I was really trying to make, though, was that conference-affiliated teams that don't have particularly good season can still play their way into the NCAA tournament with the autobid that comes with the playoff championship.
What else is striking you about the season so far? The offensive output of several other teams is impressive, and I was a little surprised to see Penn State dominate Wisconsin in the opening weekend of Big Ten play. Of course, in that series, everyone was surprised to see Penn State's James Gobetz on the ice killing the penalty for which he himself had been called late in the third period of Friday's game. The league rectified the situation by having Gobetz serve the remainder of his penalty at the start of the third, but that situation just boggles my mind.
Bowling Green splitting with Minnesota State says a lot about each team – and maybe a little bit about the continued improvement of the WCHA, as does Northern Michigan's 6-1-1 start and Alaska's 5-5-0 record.
Other things capturing my attention include whether Maine is a team that may shake things up in Hockey East this season, and the six teams that have played more than two games that are averaging at least four goals per game, and what's shaping up to be a really good rookie class across the conferences.
What's caught your eye so far?
Jim: Certainly, a few teams you mention grab my eye.
I love the way that Northern Michigan is playing, and talking last week with their coach Grant Potulny, it sounds like there is a lot of confidence gained with every single game. Maine really jumps out to me after a season-opening 7-0 loss at Providence.
Since that time, Maine has been rock-solid and took three of four points at home from Boston University. Their battle this weekend with UMass Lowell – an early-season first-place/second-place battle in Hockey East — should make for some great hockey.
The team that has me the most curious is New Hampshire. The Wildcats were my preseason dark horse in Hockey East and, to this point, they've lived up to that moniker. It hasn't been perfection to this point, but a 1-0 overtime win against Boston College on Friday followed by a come-from-behind 5-4 overtime win versus Dartmouth on Saturday certainly built a lot of confidence. UNH has played five overtime games, with a 3-1-1 record in those contests.
Overtime is such a fickle fellow that getting three wins and a tie is very impressive.