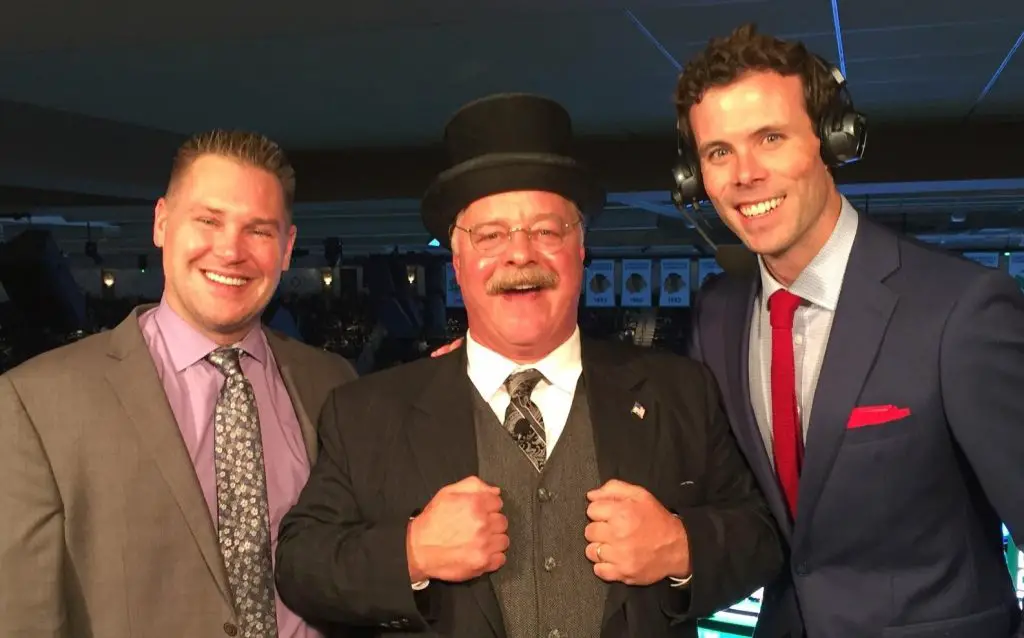 Most Midco Sports Network intermission segments during North Dakota home games follow a familiar pattern: highlights, player and coach interviews plus pre-recorded features.
During the second intermission of UND's 4-1 win Oct. 26 against Bemidji State, though, Midco play-by-play commentator Alex Heinert and viewers at home were treated to something very different.
Namely, the 26th president of the United States.
An actor and historian, Joe Wiegand is the world's foremost Theodore Roosevelt reprisor. He regularly performs in Medora, N.D., gateway to the Theodore Roosevelt National Park, and he recently traveled east to Grand Forks to promote the Medora area, a popular summer vacation spot with its Wild West-themed musical revue.
Before the second game of the Bemidji series, Wiegand performed for the Ralph Engelstad Arena crowd Roosevelt's famous "Citizenship in a Republic" speech from 1910 in Paris. Later, he had an on-air meeting with Heinert. Four days earlier, Midco producers and Heinert were approached by Medora representatives with the segment idea.
"I had looked up Medora and saw a clip on this guy, and I was a history major in college along with journalism and I thought, 'This will be great fun. Why not?'" Heinert said. "It's just an early-season game, non-conference and not as much maybe on the line necessarily as if it were against a big NCHC team, so I voted yes and then I kind of convinced the rest of the crew that it would be a good idea.
"I had seen a lot of social media stuff on Friday with Teddy around Grand Forks, and then it kind of started to dawn, 'Oh yeah, he's going to be 100 percent all-in on-character, and this is going to be a different interview than I'm used to,' and it was."
Wiegand was well into his groove by the time Midco got out of its intermission commercial break as he stood next to Heinert with the camera rolling.
"I hadn't met Joe before, and technically I probably still have not met Joe," Heinert said. "I've really only met Joe as Teddy because he was in character from the second that he got up to the press box.
"He introduced himself as Theodore Roosevelt. He was with a team of Medora people and asked who I was and he asked for (Midco color commentator) Jake Brandt's name, and we said, 'Hello, Mr. President,' and that was that.
"He was Theodore Roosevelt. From the moment that he got into the rink that night, I never saw anything different."
Roosevelt was also famous for his foreign policy of speaking softly and carrying a big stick. Wiegand only had a microphone, but just as Roosevelt would've, he carried himself impeccably.
"The biggest thing that affected how I spoke with him was the language and the way that he spoke," Heinert said. "Speaking with somebody that is playing someone who was alive in the early 20th century and from a different time, his mannerisms and the phrases that he used and the way that he talked, you had to listen very attentively.
"He didn't speak in the normal quips and phrases obviously that you're used to, and it was a little mesmerizing. It's like, 'Oh my gosh, you're sitting with Teddy Roosevelt right now.'"
Earlier in the week, Heinert did some digging but also leaned on his sister Erin, a researcher on Ken Burns' "The Roosevelts" miniseries that aired on PBS in 2014. Being prepared — or as much as he could be for being presented with such a blast from the past — helped make the segment a success.
"It was a Medora-based thing, and I wanted to make sure we hit that up and then we just had some fun and allowed him to share the unique person that Theodore Roosevelt was with our viewing audience," Alex Heinert said. "That was the goal, and hopefully that came across."
Western gets going
Western Michigan showed continued signs last week of shaking off the Broncos' 1-2-2 start to the season, earning a win and tie at Colorado College.
CC led 3-1 midway through the second period of the teams' series opener Friday in Colorado Springs, but Western scored five unanswered goals to win 6-3. Drew Worrad scored twice, and four third-period goals put the Broncos over the top.
The teams skated to a 4-4 tie Saturday, and Western needed an Ethen Frank goal with 24 seconds left in regulation just to get to overtime. WMU then won a shootout.
Western (3-3-2) returns to non-conference action this weekend in a home-and-home series with Ferris State.
DU's Corson stands out
Denver sophomore goaltender Michael Corson made only his second career appearance Saturday against Niagara, but he won the game and earned NCHC goalie of the week honors.
The Darien, Ill., native stopped all 16 shots he faced in a 4-0 Pioneers victory. Niagara finished 0 for 5 on the power play in Corson's first collegiate shutout, and his first four saves of the game were made while DU was shorthanded.
Corson still has a perfect 1.000 goals-against average in his time at Denver, making 26 saves in the process.