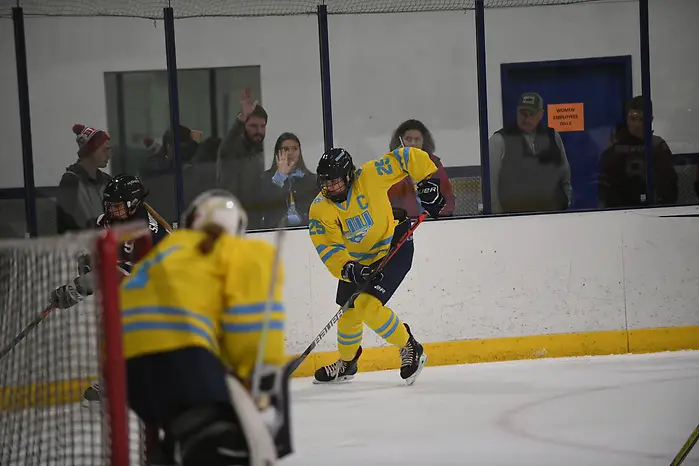 Despite the fact that the Long Island University Sharks just won their program's first game on Friday, coach Rob Morgan said it doesn't feel like this is a team that's just starting out. 
Sure, there are still things that show their inexperience – from how to load the bus to how to kill time both before a game and during the period breaks – but all things considered, Morgan said it's easy to forget this is a group made up of 21 freshmen, one sophomore and one junior that's known each other for about eight weeks 
"They're really tight and incredibly supportive of one another. It's just an inexperienced team. It's just that we need to learn and grow," he said. "They're really starting to mature as a program. It's tough to stay in that freshman mentality when you have to play every other shift." 
Morgan Schauer is the team's lone upperclassmen. She played her first two collegiate seasons at Robert Morris and has been able to provide some guidance for the team based on that experience. She has a confidence on the ice and leads by example, said Morgan. 
"She realizes that she can help the younger players learn by understanding that mistakes are part of the game – that's how you grow. Don't get caught up thinking about making an aggressive mistake when that's what, as a coach, we want our players to make. That's the way they're going to learn and grow," he said. 
But asking the team's only upperclassman to mentor the whole team would be a big ask. Without other players, to look to, the team has been finding the guidance they need from the team's assistant coaches. 
Assistant coaches Sam Faber and Nicole Renault bring different, valuable coaching and playing experience to the Sharks, said Morgan, and are a blessing for this young program. But in addition to their on-ice guidance, this year in particular, some of their biggest contributions will come off the ice. They are filling the knowledgeable, leadership role that a senior class would have at a more established program. 
Renault is just three years removed from her own playing career. When she joined the Syracuse Orange, the team has been playing Division I for just four seasons. She and Faber lead the team in one-ice skills drills at every practice, but they also give advice on how to be a successful student-athlete, how to set up a locker room and how the players handle themselves on the road.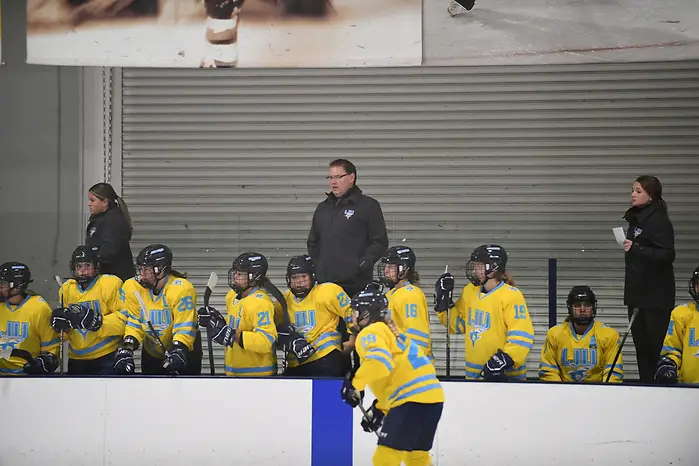 The team also benefits from having a number of older freshmen – some of whom are 20 years old – that have experience playing in international leagues and in international tournaments. 
"Having that a little bit of maturity is helping us build our foundation, our culture and helping us move in the right direction," said Morgan. "They've got goals that go beyond the NCAA. Their training and their level of focus, their desire to want to get better every day and push through adversity, that's definitely rubbing off."
Despite a 1-7 record through their first eight games and being out-scored 52-12, Morgan said he's been impressed with how his team has bounced back from losses and gets back to work. They are resilient, he said and have proven to be incredibly adaptable. 
"I've been really proud to see them grow and develop and help lay the foundation here to help build upon," he said. 
Building up the program means growing each week, as well as learning what it takes to compete – and win games – at the Division I level. 
The team got a huge lesson in what it takes to succeed when they hosted national champions Wisconsin two weekends ago. The match-up raised some eyebrows. It was a late schedule addition when the Badgers had an open weekend due to Princeton accidentally scheduling Wisconsin prior to the allowed opening of the Ivy League season. Though the scores were lopsided, Morgan said it was an invaluable experience for LIU's players to see how the Badgers prepare and carry themselves.

"That was huge for us. (Wisconsin is) disciplined, they execute very well, they play with a lot of energy, they make very, very few mistakes on the ice. For our players, for our young team to experience that and then learn from it – there's definitely a lot of benefits that came our way for playing against Wisconsin," said Morgan. "We realized we have a lot of work to do."
The second game of that series was played in the Nassau Coliseum, part-time home of the NHL Islanders. That's an occurrence Morgan would like to happen at least yearly, though he knows it will take some work. 
"It might take a long time to get there, but as long as we're working towards it each day, only good things can happen," he said. 
Morgan was talking about his desire to see his team schedule at least one game each season at the Coliseum, but the sentiment carries over to how he feels about his team's ability to improve and contend this season. 
"Collectively we each get better each day…Everybody makes the playoffs in our conference," he said. "By the time the playoff push rolls around, we hope that we'll be in a position where we can be great and play to our full potential."
"We don't have to be great right away. We have to be great at the right time."