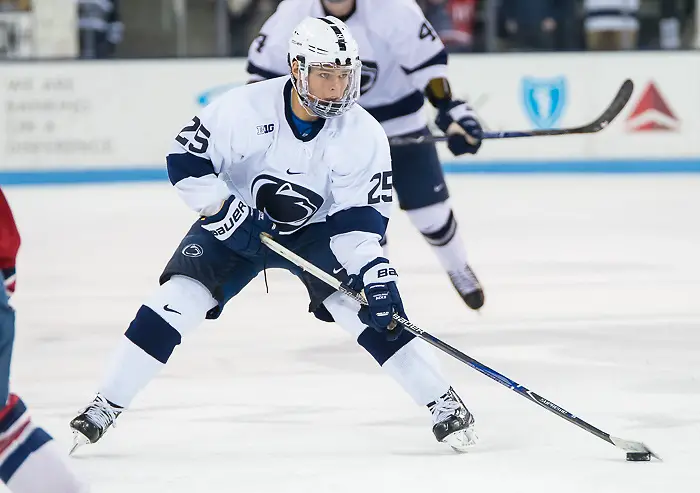 Scoring 10 goals in one weekend is nothing new for Penn State.
Giving up only three, as the Nittany Lions did against Wisconsin last weekend, is.
"To be better defensively is a goal of ours this year and to be able to give up just three goals against such a great offensive-talented team like Wisconsin obviously is a nice early sign for us," head coach Guy Gadowsky said.
The Badgers, who are still the 12th-highest scoring team in the nation after last weekend, had their opportunities against Penn State. Peyton Jones made 38 saves during Thursday's contest to help his team to a 6-1 blowout victory.
"One of the things that worked was we head great goaltending," Gadowsky said. "No matter how well you play defensively against a team like Wisconsin with such talent, you're going to need excellent goaltending to have a chance and we had exactly that."
Jones, a senior, has handled most of the starting goaltender duties since his freshman year. The Nittany Lions ranked 24th in goals allowed during his freshman year, 42nd his sophomore season and 56th last year, allowing an average of 3.16 goals per contest over the three seasons.
"Peyton is exactly the same in every situation, he seriously is," Gadowsky said. "You don't know if you're winning 10-0 or losing 10-0, you don't know if it's a preseason exhibition game in October or a Big Ten tournament playoff game in March."
This year, Penn State is allowing two goals per game, which is good enough to be tied for ninth in the nation. Jones currently has a 6-0-0 record with a 1.67 GAA and one shutout. Along with his goaltender, Gadowsky gave credit to his defensive-corps, saying they've improved from the second-half of last season into this season.
Even with the improved-defensive numbers, don't think that Penn State has abandoned its bread and butter.
"That's our goal, to improve defensively, but it's not just that," Gadowsky said. "It's to improve defensively without sacrificing any of the offense, which is something that is part of our identity and something we believe in.
"So, it's not just to improve one aspect of our game, it's to improve that aspect without taking away from the other. Look, it's really early. We've liked what we've seen so far but we still have a lot of work to do, that's for sure."
Penn State is averaging 4.57 goals per game, which puts them behind conference foe Notre Dame and two other schools that have played a combined three games.
Senior forwards Nate Sucese and Brandon Biro have got off the starting blocks well this season. Sucese has four goals and nine assists and Biro has five goals and seven helpers. Both are in the top-five nationally in terms of points scored.
"Part of it is the exact same for both of them is the fact that they work so hard, not only in the season but in the summer," Gadowsky said about the pair of seniors. "They both really take their preparation seriously, both in terms of conditioning in the weight room, their skills, they're two of the hardest working players that I've coached. It's nice to see guys like that get off to a good start."
Penn State continues its Big Ten schedule this weekend at home against Michigan State before leaving the friendly confines of Pegula Ice Arena for the first time this season to face Minnesota next weekend. Gadowsky said he noticed that the intensity an energy levels were higher for their first conference series and that he expects the same going forward.
"That was the quickest and highest-paced weekend that we've had, and I'm sure we can expect in conference play that's not going to change at all," he said.
Minnesota sees itself when looking at Michigan
Both Minnesota and Michigan roll into this weekend's series at Yost Ice Arena with 3-4-1 records, but, according to Minnesota head coach Bob Motzko, the similarities don't end there.
"When I looked at their stat page, when I looked at their team, I saw some real similarities," Motzko said. "They had a 2-0 lead, their freshman took a penalty, Ohio State scored to get back in the game, Ohio State wins 3-2. Sound familiar?
"Mel Pearson and I are singing the exact same tune the week after a series, where they were in control of a game and it didn't work out right."
The Gophers are coming off dropping four of six possible conference points to Notre Dame at home. Junior forward Brannon McManus sees this weekend as an opportunity to get back to winning ways.
"It's just getting confidence back, just getting back into the win column," he said. "It's a good weekend to do that. We've gotten better every week and we've made a lot of progress."
This weekend will also be a homecoming for freshman defenseman Matt Staudacher and junior goaltender Jack LaFontaine. Staudacher hails from Fenton, Mich., which is a 40-mile drive from Ann Arbor. LaFontaine played his freshman season at Michigan and is in his first season with the Gophers.
"I went to games there since I was young, so having the opportunity to play against them is going to be really special," Staudacher said. "I'm obviously happy the be (in Minnesota), so it's going to be super cool to play in that rink and hopefully get a win."
Michigan State seeks continued growth on PK
Michigan State gave up five power-play goals last weekend against Cornell. Against high-flying Penn State this weekend, head coach Danton Cole knows the penalty-kill unit needs to be better.
"We've been doing a lot of work and there have been some good signs," he said. "We need a few more timely saves from our goalies, if we go 1:50 and don't give up a shot and then they get one shot and score that's a tough penalty kill. It's demoralizing in a sense that, you've done a good job for that long and then you have a quick breakdown."
The Nittany Lions, on the other hand, are coming off a weekend where they scored five power-play goals of their own. Penn State's sixth-ranked unit is 11-of-35 this season.
"It'll be a big part of the game this weekend," Cole said. "The way they play, you're going to be shorthanded four, five or six times a game and we have to be better at that."
Ohio State and Notre Dame headline the weekend
With No. 9 at No. 5 with conference points on the line, it's not hard to sell the series between Ohio State and Notre Dame this weekend.
Still, Ohio State head coach Steve Rohlik knows it's important to not overthink the series.
"We've got to be structured in our system and not make the mistakes," he said. "I think that's the big key, not giving up the easy goals and the big breakdowns."
Rohlik also showed a lot of respect to the team that finished runner up to his squad in the Big Ten last season.
"They're a team that doesn't beat themselves," Rohlik said. "Usually they try to keep the score down and it's OK to win 2-1, 3-2 and a lot of times, games dictate that. It seems every time we play Notre Dame it's been that kind of game."