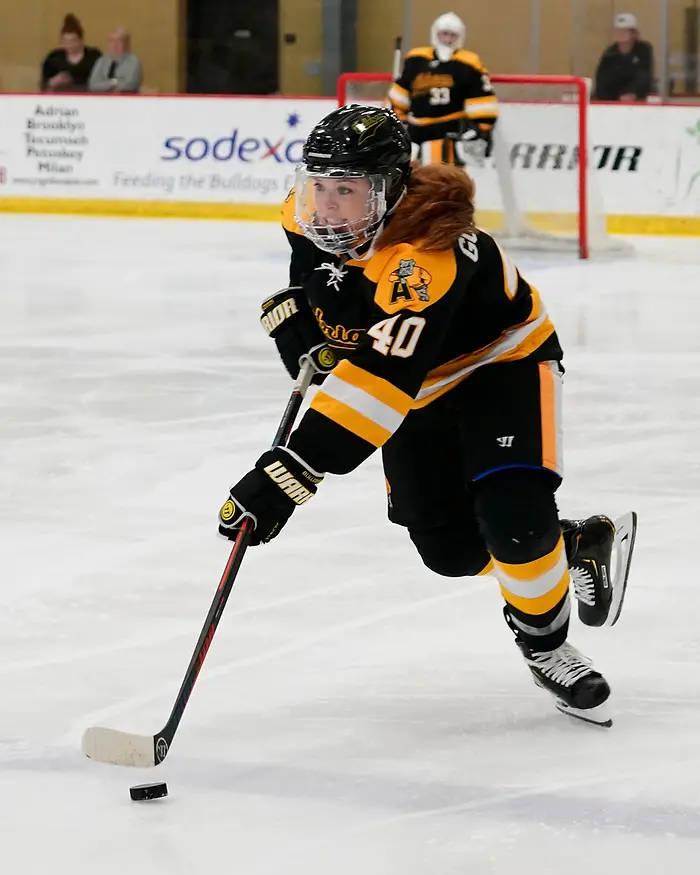 When setting their schedule in the off season, the Adrian Bulldogs, who lost in the Frozen Four last year to eventual champion Plattsburgh but won the third-place game over St. Thomas, decided to go big or go home for opening weekend. They already had a two-game set with Saint Mary's scheduled, but when last year's national runner-up, Hamline, came calling for a game, Saint Mary's was willing to move the Friday-Saturday series to Saturday-Sunday so that Adrian could open with Hamline.
The weekend couldn't have gone better, as the Bulldogs defeated Hamline, 4-1, and followed it up with a sweep of Saint Mary's.
"Pretty uncharacteristic for the start of the year to have a top-three match up," said Adrian coach Shawn Skelly. "I think that was something that we had circled on the schedule from the middle of summer when we were able to lock it in, and our girls were excited to get prepared for a huge, important nonconference game right off the bat."
One player who was a huge factor in the win over Hamline was senior Nicole Guagliardo, who made a statement in her first game for the Bulldogs. Guagliardo previously played two seasons for D-I Mercyhurst and had played her junior year at D-I Lindenwood, where she had 22 points in 32 games. She had two goals and an assist in the Hamline game and an assist in the first Saint Mary's game.
"We were super fortunate that Nicole came calling literally like a week before school started, maybe a couple weeks," said Skelly. "She officially got accepted into school and got a schedule less than a week before she had to report to classes. Our captain, Kelly O'Sullivan, they're best friends, so that was the connection to Adrian as she was looking to make a move. She was fantastic for us this weekend, led by example, and has an unbelievable amount of offensive ability. She was killing penalties for us, she was playing a 200-foot game, and her line was fantastic."
Entering the season, Adrian had eight seniors, many of whom were important point producers for the Bulldogs last year, such as Jacqueline White and Maggie Mitter, while O'Sullivan anchors the blue line. However, the opening weekend's top offensive force was junior Abbie Grias. She was a pleasant surprise in that regard, as in her sophomore season Grias only had one point while seeing limited playing time in 14 games.
"I think she was she was a little overshadowed, especially last year," explained Skelly. "We had some other players playing in some different roles. I think she was in and out of lineup and also didn't have any power-play time or any of those significant offensive minutes. This year kind of started her in a little bit different role, got her some power-play time. I think she's kind of embraced the role of taking the opportunity and running with it right now. Awesome contribution offensively. Maybe to some it could be uncharacteristic, but for somebody that sees her every day in practice and her transformation from last year to this year it's awesome to see, and that personal success is something that she deserves."
For the eight seniors playing their last season at Adrian, this year presents some unfinished business. In their freshman year, the Bulldogs lost the national championship game to Plattsburgh, giving up the tying goal with only 20 seconds left in the game and then falling in overtime. Last season proved another disappointment, as the Bulldogs lost to Plattsburgh 4-1 in the semis.
"Plattsburgh has had our number the last couple of years when it's really mattered," said Skelly. "We were 20 seconds away from winning the national championship in this class's freshman year, went to the quarterfinal two years ago, and then last year, obviously, the 4-1 loss in the semis. Definitely some unfinished business. Hopefully, we can get back to those important games this year, and if it comes to playing them, hopefully we can figure it out and show up for those big games when it really matters. It's a determined senior group for us. We have eight seniors and determined underclassmen as well. Having that experience getting there to the Frozen Four is invaluable experience, and when you come up short and you can taste it, the fire burns a little warmer during the summer. I know we made sure that they were going to do a little extra in the off season and come back ready to rock and roll."
Adrian is off this weekend, then starts NCHA play the following weekend with a series against Marian. Looming on the calendar is the Thanksgiving weekend Cardinal/Panther Classic, a tournament the Bulldogs won last year. Adrian will play Middlebury in the first game, with a potential rematch with Plattsburgh looming after that.
"Coming in as the defending champion of the Classic is something that we're proud of, and we don't want to just show up and flop, essentially," said Skelly. "The Middlebury game is huge for us, and then obviously figuring out who we play the next day, win or lose. Those are those are pivotal nonconference games for us just in case our conference doesn't go the way that we plan at the end of the year. Winning some of those games can help you get into the NCAA tournament if you don't get that automatic bid. So, absolutely an important weekend. Our Marian weekend is a good warm-up for us to get our game back in order and hopefully get the long trip out East and hopefully get some more success."