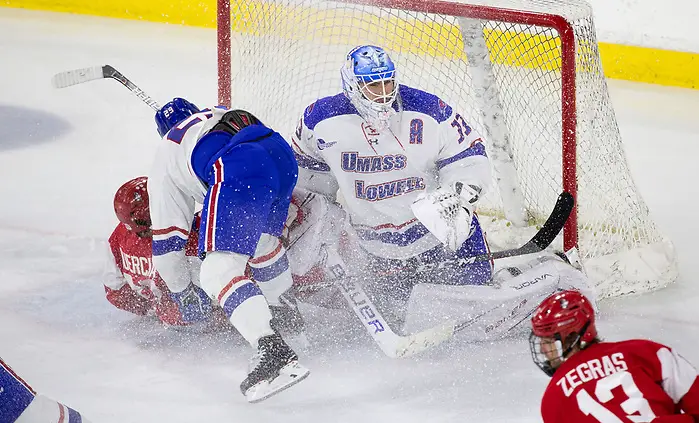 Prior to the Hockey East season beginning, there was a lot of talk of goaltenders.
You had Stefanos Lekkas at Vermont and Jeremy Swayman at Maine that drew a lot of headlines as two of the top leaders of their respective teams. Matt Murray and Filip Lindberg had split time at UMass, the tandem advancing the Minutemen to the 2019 national title game.
Then there were transfers.
Providence looked like goaltending would be an issue, but that was until Michael Lackey from Harvard transfers as a graduate student. The same went for Northeastern as Craig Pantano moved from Merrimack for a single season and at Boston University where Yale's Sam Tucker landed for his final season.
On the other end of the spectrum, Boston College began the season with easily the top goaltending recruit in the country, Spencer Knight.
But one month into the season, while many of these goaltenders have had great performances, the most talked about netminder is probably the least heralded entering the season: UMass Lowell's Tyler Wall.
As a freshman, Wall was a standout, setting multiple school records en route to a Hockey East championship and an appearance in the NCAA regional final. He was 26-10-1 as a rookie with a 2.06 goals against average and a .918 save percentage.
In his sophomore season, Wall's numbers weren't quite as elite. After a true sophomore slump, Wall did improve as a junior and posted a better (.921) save percentage than he did as a freshman. His 2.09 goals against average returned to freshman form, but his record of 11-7-3, splitting time with Chris Hernberg for much of the year, didn't gain much recognition.
Through just nine starts, though, as a senior, Wall is again turning heads. He is 6-1-2 with a 1.63 GAA and a .947 save percentage, numbers that shouldn't just receive notice, but also put him in early contention for the Mike Richter Award, given annually to college hockey's top goaltender.
"I think this is what happens when kids stay for their senior year," said Lowell coach Norm Bazin, referencing Wall's return for his senior season with the River Hawks.
In fact, when you exclude goaltenders who transferred into Hockey East schools this year, the only other senior goaltender in the league who has played this season is Lekkas.
"They know it's their last go round and they want to make the most of it," said Bazin. "[Tyler] came back and streamlined his body from where it was in the previous years. He's seeing the end come as far as his academic and athletic career at UMass Lowell, so I think he's pretty dialed in."
The fitness factor for Wall is something Bazin references often. Though he never identified him as out of shape, he feels that his offseason conditioning brought a player back to Lowell's campus who is in a game shape that can positively impact his performance.
"He's a big strong kid. When I say streamlined, he lost some weight and he came back as fit as I've seen him," Bazin said. "I think that's coming back to help him."
Wall's elite performance goes beyond the ice. In the classroom he excels as a mechanical engineering major, one of the more difficult majors offered on Lowell's campus. Bazin says that his off-ice intelligence also translates onto the ice. Even if sometimes his personality is a little more casual.
"[His intelligence] helps him anticipate. It helps him recover from tough performances. He's just a really grounded, smart kid," said Bazin. "He's a mechanical engineer. He's not only bright, but he's grounded.
"He's a very loose and carefree type of person. Sometimes as a coach, you wonder if some people are dialed in or intense enough, but that's just his personality. He's a very intelligent guy, but when he's not in school, he likes fooling around with his teammates and gets along very well with everybody.
"He's not the class clown, but he's certainly a guy you can laugh with. It's for a good reason that the guys play hard for him. He's definitely one of the guys. He's easy to like."
"Reckless" young players continue to learn as Merrimack earns first league win
It hasn't been easy for the Merrimack Warriors to this point in the season. The inexperienced team, which sports 16 freshman up and down the lineup, has felt some growing pains to this point.
And after last Friday's loss at home to Connecticut, dropping the team to 1-6-0 and 0-2-0 in Hockey East, those pains likely felt worse.
Sunday, though, Merrimack bounced back with a 3-2 road win over UConn in the back end of the home-and-home series.
There were certainly positives in the win, most notably just getting the needed confidence boost.
But head coach Scott Borek said after the game, the exuberance of youth needs to be bridled a bit for success to be sustained.
"We made a lot of mistakes in the second half of the second period; in the third period as well we were trying to make plays when we shouldn't be making plays," Borek said. "That's because we are young and kind of reckless.
"It's one thing to be aggressive but another thing to be intelligent in how you're reckless. I didn't think we were [intelligent]. We gave [UConn] a lot of their offense. But in the third period, when push came to shove, we buckled in and did a better job."
Merrimack needs to continue to be better as their next two series are doozies. They will play a home-and-home with 13th-ranked Northeastern this weekend. After a weekend off, they'll then take on powerful UMass in a two-game home-and-home series.
Not exactly the battle of No. 1 vs. No. 2 that many expected
Raise your hand if you looked at the schedule at the beginning of the season and though that this weekend's series between Maine and UMass Lowell would be a battle of the top two teams in Hockey East.
Certainly there are a lot of early games in hand for much of the competition, but that doesn't take away from the point that Maine has a 2-1-1 record in Hockey East and a 5-2-1 mark overall and that Lowell would be 3-0-1 in Hockey East and 6-2-2 overall. Not bad for teams that were picked eighth and sixth, respectively, in the preseason coaches' poll.
Maine coach Red Gendron talked a bit about the series on his weekly coach's radio show, saying that facing off against Lowell often feels like playing against a very similar team.
"At the end of the day, when we watch the players as a coaching staff, we see nearly a mirror image of ourselves," Gendron said of the River Hawks. "They're a very in-your-face hockey club and every inch of the ice is going to have to be earned over the weekend."