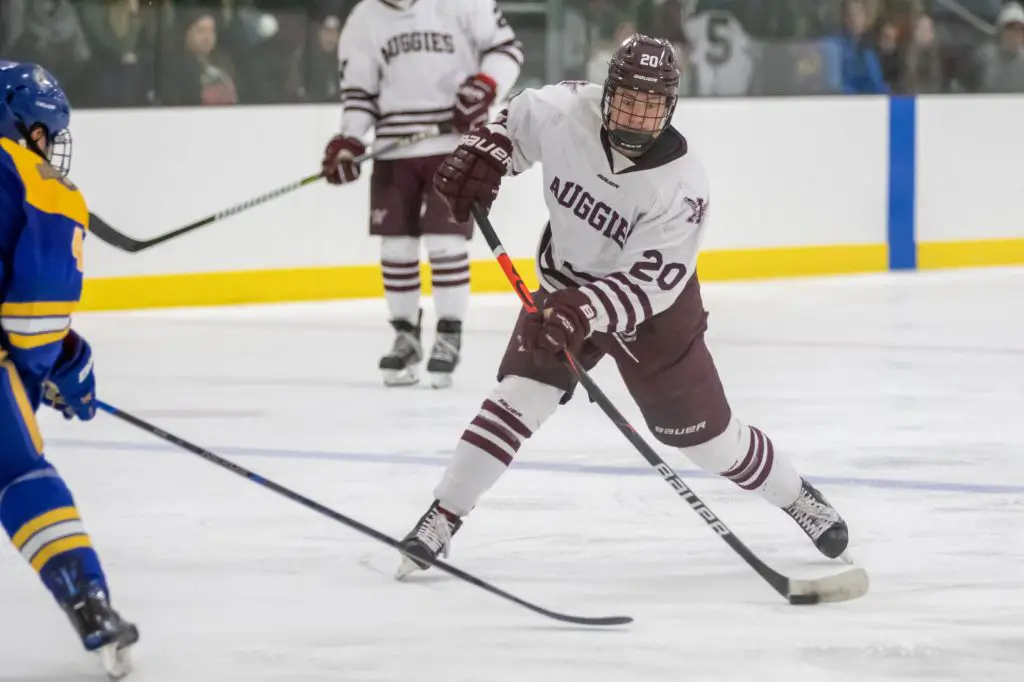 Austin Martinsen didn't need as much time to score his first goal of the season this year. 
In fact, he scored the first one of the season for the Auggies last Friday night against Saint Scholastica. He ended up with two on the weekend in the sweep of the Saints.
"Getting that monkey off the back early was nice," Martinsen said. "Last year, it took awhile for me to get one. It's a confidence booster. I'm one of those players when things go right, they go right for awhile. I hope to keep this going."
The junior is off to the fastest start in his college career. He scored two goals and dished out four assists as a freshman and came through with six goals and eight assists a season ago.
He notes that his biggest improvements have been his speed and his mindset on the ice.
"My speed has definitely improved and how I utilize it," Martinsen said. "I like to keep my feet moving and I'm using my shot more. Last year I gave up a lot of shots, but I have more of an attack mentality this year. I like to go to the net more."
Martinsen said the improved speed has helped him do just that.
"My speed has helped me create space for myself and others. It's something that has improved for me," Martinsen said. "My confidence has also gone up. I think that comes with being a junior and being in a bigger role on the team."
Like most players, Martinsen played junior hockey before coming to college, seeing time in both the USHL and NAHL. He said he couldn't have ever imagined not having that experience first.
"Hockey-wise, it helps a lot," Martinsen said. "It's hard work, but it gets you used to the pace of play and you learn more about the game. The development level is so high in juniors. I think it's great for players to go that route first. I improved a ton as a player and had a lot of fun."
He's also having fun with the Auggies and said he's taken on more of a leadership role.
"I want to be someone who is more vocal and someone guys look up to on and off the ice," Martinsen said. "I just want to step up and play a bigger role and help our team succeed."
Augsburg is coming off a seaason in which it won its fourth consecutive MIAC tournament championship and played in the NCAA tournament once again.
The Auggies have high expectations again despite losing several key players to graduation.
Of course, the players understand getting to where they want to be as a team will take time.
"It's different this year because we lost a lot of seniors, but we understand it's a process, and we just have to stay on pace and keep getting better every week," Martinsen said. "Things aren't going to go our way every night, but if we stick to your system and play our game, we'll be fine."
That means being a team that possesses the puck well and plays fast while also thriving in the defensive zone.
"Our priority is to get better in the D zone. That sets us up for success everywhere on the ice," Martinsen said.
Martinsen believes if the team can continue to play up to its expectations, the Auggies will be in the mix for the MIAC crown once again.
"We came into the season expecting to win it," Martinsen said. "If we stick to our game and we can stay healthy, we do believe we can win it again."
So far, things are going well with the Auggies 2-0 on the year.
"We had a good first weekend," Martinsen said. "We came in well prepared and we have some things we can build on from it, but overall it was a good start."
West Region Notes
Bethel won its first game of the year last Friday thanks to a game-winning goal by Jarrett Cammarata, who lifted the Royals to a 3-2 win over Wisconsin-Stout.
It was the first career goal and it came off the power play with 48 seconds remaining in the game. Fellow freshman Luke Posner also scored his first goal.
The win is an encouraging sign for the Royals, who didn't win their first game last season until Nov. 30, ending a winless streak of 10 games. Bethel has won three of its last four dating back to last season.
Dynamic Dyment: Wisconsin-Eau Claire goaltender Zach Dyment began his junior season with a solid performance, giving up just one goal in a 1-1 tie with Saint John's Saturday. Dyment stopped 17 shots. His career record with the Blugolds now stands at 27-11-4.
Dyment is coming off a sophomore year where he made 482 saves and went 19-6-2. He gave up just 49 goals last year.
Bringing the Thunder: Trine scored eight goals in its first two games of the season, including five in a 5-1 win over Hamline Saturday. 
Garrett Hallford has paved the way for the offense, scoring three goals and dishing out an assist. He is one of six players who has scored a goal already this season for the Thunder.
Trine won 10 games last season and is looking to build off that success. The Thunder scored a total of 64 goals.