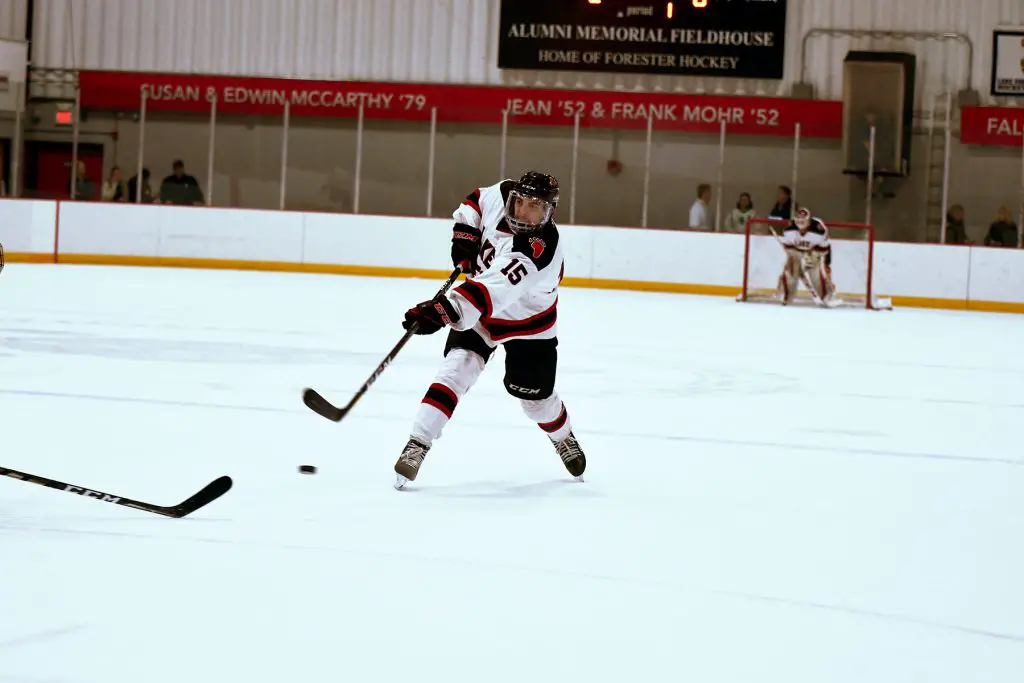 Zach Feldman is a senior defenseman at Lake Forest and with this being his final season in college, he's making the most of it, and maybe more importantly, he's having fun along the way.
"It's a lot of fun. Everyone is confident and making plays, and when everyone is playing well, it makes my job that much easier," Feldman said."We feed off each other."
Feldman has helped the Foresters jump out to a 3-1-1 start on the year. Two of those wins came against natinal power St. Norbert last weekend on the road. Feldman tallied a goal and an assist in the 4-3 win that capped  the series sweep.The Foresters won the opener 1-0.
"St. Norbert is historically a great program and we have a ton of respect for them," Feldman said. "We knew we had a good hockey team and that we've been putting in a lot of work. To see that pay off, it gives us a nice boost of confidence. We have to build off it and not be complacent."
Feldman certainly has no intentions of being complacent. He has come through with a goal and four assists this season and has 12 goals and 23 assists in his career.
He feels as confident as ever and has risen to the occasion as a leader as well.
"I'm just playing with more confidence and I'm doing my part to be a leader," Feldman said. "I'm making plays and making the right decisions at the right time. I've taken a step forward with that this season."
A natve of California, Feldman is a long way from home. He played three years of junior hockey before landing at Lake Forest, entering college as a 21-year-old freshman. The added experience and maturity helped him not only adapt to life as a college hockey player but it has made a difference for him academically as well. And that matters because Feldman is a pre-med student.
"I came in more mature and knew how to manage my time a little better," Feldman said. "I know there are going to be late nights in the library, but you have to be able to get your work done. We've done a good job as a team balancing our on and off-ice requirements. It makes it easier to get your work done when you have teammates in the library with you. It's nice to know we are working just as hard off the ice as we are on it."
Speaking of work, Feldman put in quite a bit of it during the offseason to prepare him for the season ahead with the Foresters.That work has allowed him to become a better player in the defensive zone.
"Iv'e definitely improved a lot in the defensive zone," Feldman said."Getting in the gym and getting stronger has been a huge help with battling in the corners or in front of the net."
Feldman has been a consistent contributor throughout his career at Lake Forest. Feldman has helped the Foresters win at least 16 games each of the last three years and reach the semifinals of the NCHA tournament the last two seasons.
"It's been a blast and I've seen a lot of progress," Feldman said. "Being a senior now and being a leader, it's humbling for sure. I've enjoyed every year here. Every year has been different and the vibe and camaraderie on this team has always been good. I've been fortunate to play hockey here the last four years."
Going forward, Feldman is striving to be more consistent for 60 minutes of hockey.
"You can't take a night off in this league. Every point matters and every team is going to give you a battle," Feldman said. "It's important to be ready to go the moment the puck drops."
Feldman is confident that if the Foresters can build off their early-season success that they have an opportunity to be one of the better teams in the NCHA again.
"We have shown that we can beat anyone in the country as long as we play well and play our game," Feldman said. "We want to be a force to be reckoned with and the key is to keep getting better every week. We are pretty excited about our potential."
Around the West
Brett Gravelle of Saint Thomas leads the MIAC in points with eight. Austin Martinsen is second in the league in points with six. Three others have at least five points.Gravelle and Martinsen are tied for the league-lead in goals, tallying four apiece.Gravelle is also tied for the MIAC lead in assists.
Daniil Gerasimov boasts the best goals against average in the MIAC, sporting a 0.50 GAA. He's allowed just one goal in two games and has made 47 saves.
Luke McElhenie of Wisconsin-Stevens Point and Ryan Cusin of Wisconsin-River Falls are tied for the WIAC lead in goals with five apiece. Cusin also leads the WIAC in points (8) and all five of his goals this season have come off the power play.
Jordan Martin of Wisconsin-Superior and Raphael Gosselin of Wisconsin-Stout are tied for the most assists in the WIAC this season, tallying four apiece,
Larry Jungwirth (Aurora), Dino Balsamo (Adrian) and Braydon Barker (Concordia) are tied atop the NCHA for points (8). Balsamo leads the way in goals with six on the year. Barker is tied with Adrian's Andrew Bellant for most assists (6).