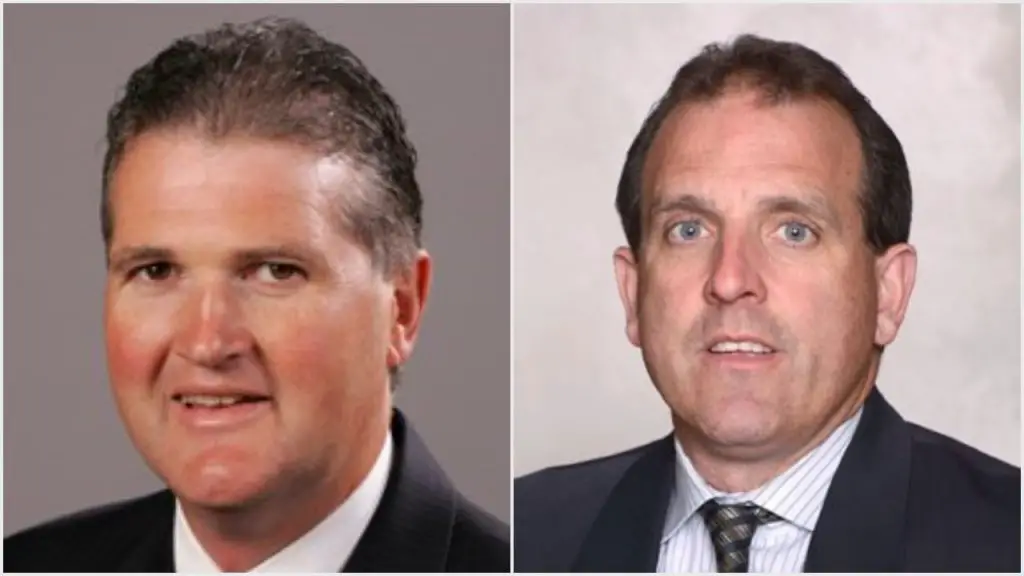 Describing Clarkson's Casey Jones and Cornell's Mike Schafer as friendly rivals and leaving it at that doesn't do justice to how deep their relationship runs.
They are friendly, for sure, and they most certainly are rivals as coaches of two of the top teams in the ECAC. But there is much more to the bond between the two of them.
"He's probably my closest friend in the business," Jones says of Schafer. "I bounce a ton off him and stay in close contact with him. He is a good person, lot of trust built up with him. It's a real good relationship and I certainly value that."
Both are former Cornell captains. Three decades ago, Jones was a player at Cornell and Schafer was a young assistant coach with the Big Red. They worked alongside each other from 2008 to 2011 when Jones was associate head coach under Schafer at Cornell.
Jones lets out a laugh and answers with a quick no when asked whether a life in coaching was on his radar back when the clock was running out on his final season as a player.
Schafer says he expected that whatever career Jones chose, he would be good at it.
"I didn't look at him back then and think that he's going to be a hockey coach, but his success as a recruiter or as a head coach doesn't surprise me, either," said Schafer, whose record at Cornell is a sparkling 462-259-95.
Fast forward to today and Jones and Schafer and their teams – both ranked in the top 10 in the national polls — will go toe to toe on Friday night when Cornell visits Clarkson.
Schafer's Big Red is 4-0 and have outscored opponents 19-7. Jones' Golden Knights are 7-2-1 with a 30-19 scoring advantage.
The last time the teams met was in the ECAC championship game in Lake Placid in March. It was a beauty, with the Golden Knights skating away with the title on a 3-2 win in overtime.
Despite that bit of recent history, Schafer insists the Big Red treat games against Clarkson no different than any other game.
"You don't want to get into that rollercoaster where one game is a rivalry game and another is just a regular-season game," Schafer said. "That's what we're trying to teach our guys, that they're all difficult."
Given Cornell's year-in-year-out success under Schafer, Jones has a different point of view.
"We all know that they're a team that you're going to have to go through if you have aspirations to win a championship in the league. It's definitely one of those games that you circle. It will be hopping in here this weekend," he said.
According to Schafer, at this early point in the season his team is focused on nailing down the details of its own game, not worrying about what opponents are going to do.
"If this was March it would be a lot different conversation, where we'd talk in detail about what they do and their tendencies, but right now it's a couple of adjustments and get ready to play hard because we know they will," said Schafer, whose teams have been known over the years for their defensive structure.
While Jones is certainly satisfied with his team's start – they carry a four-game winning streak into the weekend – there is work to be done.
"Our consistency of 120 minutes on a weekend isn't where we want it to be," he says.
"We really try to be a puck possession team. With that in mind, we want to have a purpose when we move pucks. We want to be responsible with it. We want to be difficult to play against when we don't have the puck. That's who we are."
The qualities that made Jones a good player have helped him as a coach. At Clarkson, he has led the Golden Knights to two straight 20-win seasons and NCAA tournament appearances.
"He was a very cerebral, very skilled player. Thought the game well, had a great hockey IQ. Some guys have a lot of hockey IQ and then they struggle to explain that to other players that might not have that," said Schafer, who is in 25th season as head coach of a program that is a perennial contender.
"But Casey's able to take his ability to think the game and get that knowledge across to his athletes. It makes him a good coach."
Jones admires Schafer's passion.
"'Schaf' loves the game. His teams play like that, too. He's a student of the game, but he also brings a ton of energy. He's got a great culture there and he holds guys accountable. It's a long season and he brings energy every day. There's no drop-off," he said.
Energy and passion won't be in short supply this weekend in the North Country, where the Mike Schafer coaching tree has taken root, with Jones at Clarkson and Brent Brekke, a longtime Cornell assistant, at St. Lawrence.
"It's going to be like old home week with the two of those guys," said Schafer. "It will be fun to catch up."