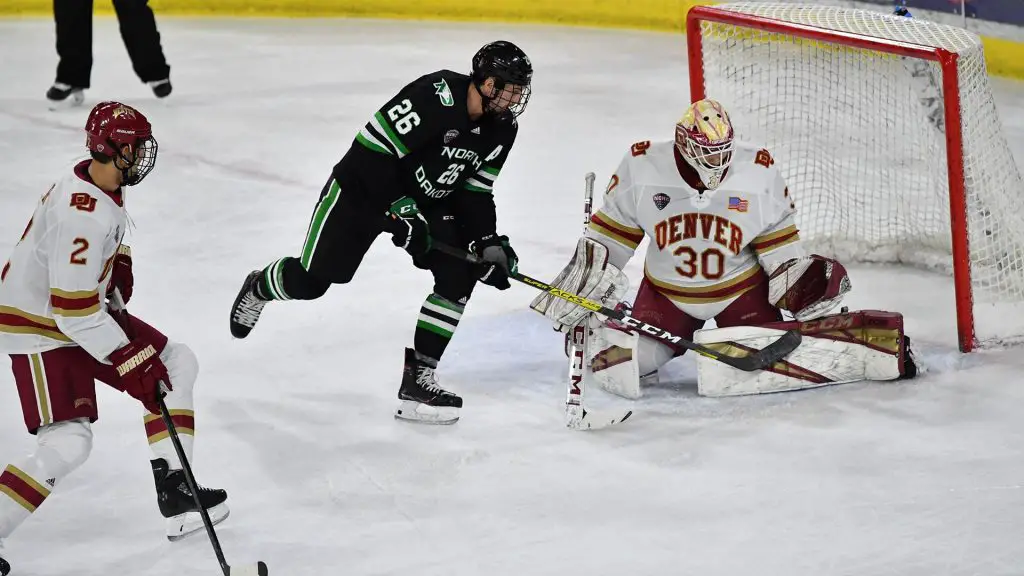 Ninth-ranked North Dakota added some color to the scoresheet in defeating No. 2 Denver 4-1 on the road Saturday night in front of a sellout crowd of 6,308 at Magness Arena.
The victory featured a first career goal (Josh Rieger), a power-play goal, a short-handed goal, an empty-net goal and North Dakota killing off two major penalties and all seven DU power-play chances in the win.
Cole Smith scored twice for the Fighting Hawks, to go along with a late empty-netter from Westin Michaud.
"It was a disappointing effort all around and unfortunately we weren't able to execute," Denver coach David Carle said. "Tip your hat to them, they came out and played better in all facets."
In the third, UND had to fight off two separate 5-on-3 opportunities after a five-minute major for checking from behind and game disqualification for Smith. The road team took care of business by killing off all of the penalties, however, DU spoiled the shutout 10 seconds after the major elapsed to make it 3-1 on a goal by Emilio Pettersen.
Adam Scheel made 27 saves for the win and also assisted on Rieger's goal, while Magnus Chrona stopped 18 shots for the Pioneers.
After tying 1-1 Friday night, the last time UND went unbeaten in a weekend series at Magness Arena was in the 2003-04 season.
Colorado College 5, St. Cloud State 2
Five Colorado College players scored and Ben Copeland collected a pair of assists to lead the Tigers to a 5-2 victory over St. Cloud State Saturday night at the National Hockey Center in St. Cloud, Minn.
With the victory, CC completed its first sweep of St. Cloud State since Dec. 10-11, 2010, and handed the Huskies their first back-to-back losses at home since Nov. 18-19, 2016 vs. North Dakota.
Hey @Buccigross, how about this Spin-O-Rama by @halloran4pucks for a @SportsCenter Top 10 play?#SCtop10 pic.twitter.com/NJDF8AYg9N

— CC Hockey (@CC_Hockey1) November 17, 2019
"We played extremely well for six periods," said CC coach Mike Haviland. "We worked hard all weekend. You go through some adversity, but the guys stepped up. It was really good to see us put back-to-back games together.
"We did all the little things that need to get done to win hockey games. You know you can do it, now we need to continue doing it."
Matt Vernon made 27 saves in the win, while Dávid Hrenák and Joey Lamoreaux combined on a 27-save effort for the Huskies.
Niagara 5, Canisius 3
Niagara defeated archrival Canisius 5-3 in the second and final game of the season between the two teams.
Ryan Naumovski figured in on each goal, posting five assists.
Highlights 🎥 | Niagara gets the 5-3 win to split the #BattleOfTheBridge.#Uncommon pic.twitter.com/2QxEC1AyPZ

— Niagara Hockey (@NiagaraMHKY) November 17, 2019
Niagara was able to cut into Canisius' lead in the Battle of the Bridge standings. Through the first eight events of the year, the Griffs hold a narrow 7-5 edge in the race for the Canal Cup.
Notre Dame 5, Wisconsin 4 (OT)
Alex Steeves netted the game winner 1:58 into overtime as No. 3 Notre Dame Irish posted a 5-4 overtime victory at No. 15 Wisconsin on Saturday night at the Kohl Center.
Heading home with a win thanks to this @steeves_alex game winner!#GoIrish☘️ pic.twitter.com/mEKGiCANIp

— Notre Dame Hockey (@NDHockey) November 17, 2019
Trevor Janicke, Cam Burke, Jesse Lansdell and Colin Theisen also scored for Notre Dame and defenseman Nate Clurman contributed a pair of assists.
Theisen's goal eliminated a 4-3 deficit late in the third period, setting the stage for Steeves' overtime heroics.
Cale Morris posted 31 saves for the Irish and Wisconsin's Daniel Lebedeff also made 31 stops.
Cornell 6, St. Lawrence 1
Six different players scored for Cornell and Matthew Galajda made 15 saves to run his record – and the team's – to 6-0-0 this season.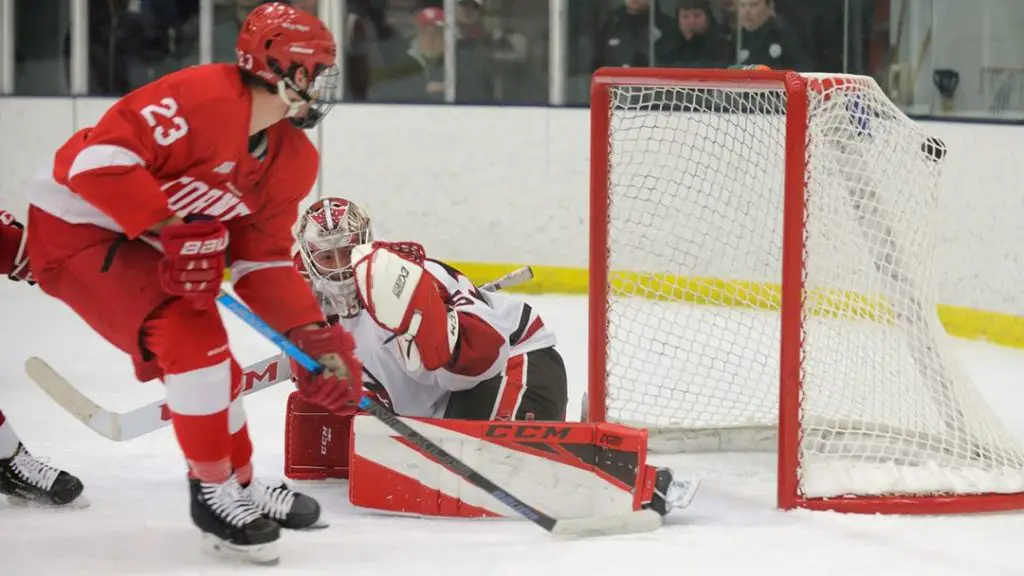 "We didn't even talk about adjustments between the first and second periods," said Cornell coach Mike Schafer. "We just talked about how we needed to get to work. We needed to play with some pace and get back to that intensity we had last night."
Cornell leads the nation with a 42.3 percent success rate on the power play and has scored at least one power-play goal in its first six games of a season for the first time since 2009-10.
The Big Red also remains one of the last two undefeated teams in the country alongside Harvard (5-0-0).
Connecticut 2, UMass Lowell 1
No. 12-ranked UMass Lowell fell to UConn 2-1 in the series finale at the Tsongas Center on Saturday night.
"Overall, it's a tough feeling," said River Hawks coach Norm Bazin. "We haven't had this for a while. It's been three and a half weeks without a loss. We lacked in our finishing and execution, and that lack of finishing came back to bite us. They played a good game. They were hungry this weekend and overall they deserved to win."
UConn GOAL!!! Huskies go up 2-0 thanks to Brian Rigali. Kuznetsov with the shot from the point and Rigali bangs in the rebound at 9:42. #IceBus pic.twitter.com/oOR1zrR8IX

— UConn Men's Hockey (@UConnMHOC) November 17, 2019
Wyatt Newpower opened the scoring for the Huskies at the 14:25 mark of the second period and Brian Rigali added another midway through the third period to give the Huskies a 2-0 advantage.
Bowling Green 3, Alaska Anchorage 0
Bowling Green completed a two-game sweep of Alaska Anchorage Seawolves on Saturday night with a 3-0 win.
Eric Dop earned his first shutout of the season, finishing with 29 saves.
Let's sing #AyZiggy!!!!! pic.twitter.com/ng9BeFFKqP

— Bowling Green Hockey (@BGFalconHockey) November 17, 2019
"Eric Dop was really good all weekend," said BGSU coach Ty Eigner. "In the first period, he didn't have a lot of work, and then in the second period when they had a push, he was really good. I'm really, really happy with how Eric played this weekend."
Massachusetts 4, Boston University 1
No. 5 Massachusetts scored three third-period goals to pull away from Boston University en route to a 4-1 win at the Mullins Center on Saturday night.
The victory preserves the Minutemen's perfect home record at 6-0-0.
A big-time goal by @mkessel72 to put us up 3-1 👊#NewMass | #Flagship 🚩 pic.twitter.com/nkveDwcYCz

— UMass Hockey (@UMassHockey) November 17, 2019
"I'm very happy with our team's performance this weekend," said UMass coach Greg Carvel. "I think as a team, we took a big step forward, playing a skilled BU team in two games and dominantly outshooting them. Tonight, for the first time, we were the team that got a lot more power plays than the other team, which is a good sign. In the third period, again, just like last night, we were really strong, had the puck in the offensive zone and created and prevented defensively pretty well.
"The only thing I think we really need to work on is getting the power play going, and think we'll have Marc Del Gaizo back next week so hopefully that will help that situation."