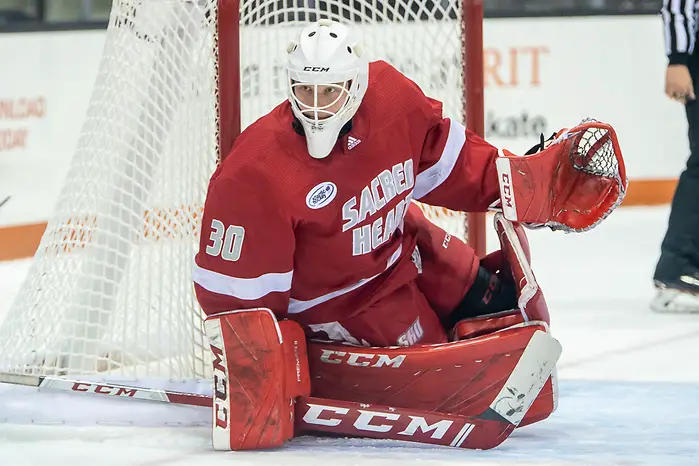 Each week during the season, we look at the big events and big games around Division I men's college hockey in Tuesday Morning Quarterback.
Jim: Paula, as we approach the end of November, there are a few things that stand out to me, but none more impressive than the starts for both Cornell and Harvard.
The Crimson played just a single game this past weekend, beating Rensselaer to improve to 6-0-0. Cornell, conversely, won twice against Quinnipiac and Princeton, improving their record to 8-0-0.
It's easy to talk about teams like Denver, North Dakota, Minnesota State and others that made a lot of noise early in the season, but now two of our late starters – Cornell and Harvard – bust out of the gates like gangbusters.
Looking at the ECAC standings, both are 6-0-0. Clarkson is a game back at 5-1-0. But every other team is already a minimum of five points behind the Big Red and Crimson. To me, at this point in the season, that's already seeming like a lot of ground to make up. If you're Quinnipiac at 2-3-1, for instance, you're three and a half games out of first place.
Maybe I'm overreacting, but this doesn't seem like a typical ECAC season where a few points will separate first from eighth, does it?
Paula: No, it does not seem like a typical ECAC season.
Looking at the ECAC, it's clear that the three teams you mention are poised to create a sort-of top tier in that conference. It's impressive that both Cornell and Harvard began conference play with such dominance, but equally impressive is Clarkson's steadiness after having started sooner. With just three losses in 14 games, Clarkson may be two points behind Cornell and Harvard in the ECAC standings, but the Golden Knights have had more time to work out some kinks and issues and will vie with the Big Red and the Crimson for the regular-season trophy as the season progresses.
Look at the game between Cornell and Clarkson Nov. 15. The Big Red won 4-2 with an empty-net goal, the first four goals came between 11:15 and 18:05 in the second period – resulting in a 2-2 tie after two – and each team had 31 shots on goal. That was Cornell's fifth game of the season and Clarkson's 11th, so both teams had been game-tested, at least a little.
The rest of the ECAC looks like it will be playing catch-up all season, but that's not the only conference where we're seeing that. Last year, Atlantic Hockey's season finish was madness, with AIC on top with 37 points and four points separating No. 2 from No. 5. This year, there is still competition at the top but both Robert Morris and Sacred Heart are already pulling away a little.
Then there's the NCHC. St. Cloud State ran away with that last season, finishing a full 19 points ahead of Minnesota Duluth, but six points separated the second-place team from the fifth-place team. This year, North Dakota may make the kind of breakaway that St. Cloud did last year, but Minnesota-Duluth and Western Michigan are up there in points and those behind them may form a distinctive second tier. It's wild.
Jim: I've always said I'd rather a fast start than a slow start, which sounds intuitive. But I've also met a number of coaches who said the most important thing is to be playing the best hockey come March.
We've seen that in many cases in recent years where teams limp towards March but then relish the postseason.
That said, we certainly have a few teams that many had high expectations for before the season began that need to get rolling soon. St. Cloud State is one, just one win in its last eight and still looking for its first NCHC victory. I mentioned in my open Quinnipiac, which began strong (4-1-0) but is 2-5-1 in its last eight and headed in the wrong direction. In Atlantic Hockey, AIC hasn't been nearly as dominant as a year ago, just 3-5-0 overall through eight. Wisconsin was one of the nation's darlings in late October but going 2-5-1 since that time hasn't helped.
And Boston University currently has more ties (5) than wins (4) as they've begun the year a bit sluggishly.
Certainly, none of the teams are going to hang it up or mail it in (for one, none of them are the Cincinnati Bengals). But it goes back to the old oxymoron that it's getting late early.
For most of these teams, December and early January will prove to be critical months. And though it varies from team-to-team, every club has to deal with at least a short break for the holidays and for some, that break is pretty long.
Paula: You bring this up and instantly I'm reminded that four Big Ten teams are playing in midseason tournaments – Michigan and Michigan State at the Great Lakes Invitational, Minnesota at the Mariucci Classic and Ohio State at the Fortress Invitational. A look at the schedule reminds me that there is a lot of other midseason play for B1G teams. The Buckeyes also have a home series against Colgate Dec. 27-28. Notre Dame has a home-and-home series against Western Michigan Jan. 3 and Jan. 5. Penn State hosts Niagara Jan. 3-4.
Wisconsin has the longest midseason break in B1G hockey. After playing Michigan State on the road Dec. 6-7, the Badgers don't play again until they meet the U.S. Under-18 Team Jan. 1, followed by a home series against Ohio State Jan. 10-11. That's a full month away from D-I play for Wisconsin, while it seems that every other team in the league is making an effort to play at least once during the holiday "break."
Jimmy, what do you think of each approach? Other questions come to mind, too, like whether a young team like Wisconsin – that fast-starting, young, talented, and now seemingly struggling team – benefits from the length of that break? And what of a team like Ohio State – or any other veteran team – that is playing twice during that span?
Jim: A lot of teams have taken different approaches this year, more so than I can ever remember in the past.
I will sound old, but I come from the day where teams never touched the ice with their coach until Oct. 1. A couple of weeks of practice, then an exhibition game and finally those teams were ready to go.
Now, players at many schools return to campus mid-summer and begin working out together. By September, coaches are allowed select time with the players and you some begin games the first day possible. Thus, exhibitions to open the season seem to be becoming a thing of the past. Many coaches now believe that it is more beneficial to play your exhibition game at the beginning of the second half instead of heading to a holiday tournament or playing non-league games days after players return from a break.
The reality is that most teams will take a break or two during the season, and that's healthy. If that break can align with, say mid-terms or finals, that team might benefit even more as one can't forget that academic pressures can lead to on-ice fatigue. But an academic curriculum varies from school to school.
If you want to see an unorthodox schedule, look no further than Arizona State. The Sun Devils had one weekend off between Oct. 5 and Nov. 9. But they're currently in a 20-day period without a game. When they return this Friday to host Vermont, that begins a string of 13 straight weekends where Arizona State will play two games, right up until the final day of their regular season.
Now all of this is likely predicated on when Arizona State, an independent, could fit on other teams' schedules. A unique challenge, but one that is creatively addressed.
I guess my long answer to your question is that there are so many schools of thought on how to make your schedule and it really comes down to each individual coach's approach.
Paula: You don't sound old, Jimmy. You sound like someone with what the corporate world likes to call institutional memory.
Like you, I remember the transitions you mention, like when college hockey went from having only a few players who returned during the summer or stayed all summer long to train, to the majority of players doing the same. As the NHL looks more and more to the college ranks for players, more and more student-athletes are making the most of their time in the NCAA, and that includes taking advantage of all the training they can.
It's a smart move. According to College Hockey, Inc., 21 percent of NHL players came from the college hockey ranks. In 2018-19, that number was up to 33 percent — 325 former collegians. There are nearly 200 current collegians who have been drafted by the NHL, and nine 2019 first-round draft picks opted for college.
All of this – from the way that student-athletes prepare themselves to the way in which programs prepare student-athletes for professional hockey – is reflected in the changes you mentioned.
That having been said, I am not ashamed to admit that I am a little nostalgic for the very clear delineation that the holiday tournaments signified, that line between the first and second halves of the season and the anticipation of who would be playing in which midseason tourney. The more hockey the merrier during that traditional break and the increased number of midseason games is definitely good for the sport, but I miss the hoopla a little bit.
Yeah, that definitely makes me feel old.