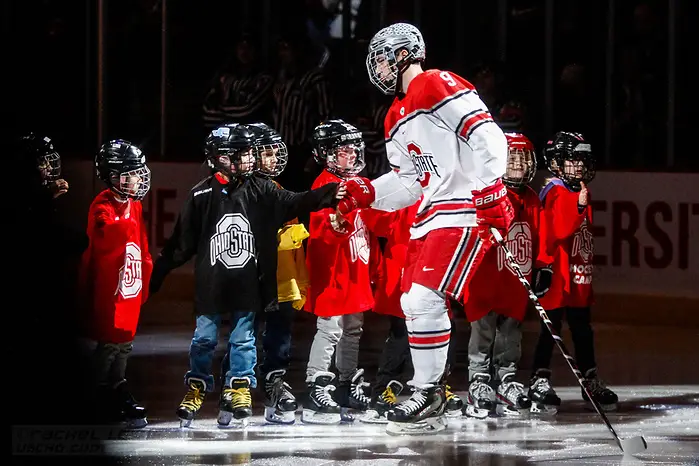 It is said you should leave a place better than you found it, Tanner Laczynski hopes to do just that with Ohio State's hockey program.
Laczynski, a senior forward, has four goals and nine assists for the 7-4-1 Buckeyes this season.
Ohio State, ranked No. 11 in the nation, hosts Michigan State this weekend.
It's not hard to argue that the Buckeyes have progressed as a team since Laczynski stepped on campus, winning the Big Ten championship last season and going to the Frozen Four the year before that. This year, OSU has an opportunity to make a fourth consecutive NCAA tournament appearance for the first time in program history.
"I think just for us as a senior class to do that, that would be very special," Laczynski said. "It's not only for us and our success, but the program moving forward and getting more guys and better recruits to the program.
"Putting Ohio State's stamp on the college hockey map the last couple years, that's been the biggest thing, to go along with the goals of our team the past couple years, going to the Frozen Four, winning some championships and winning a tournament this year. I think we've set it up pretty well for future players here."
The run of success hasn't come out of left field. In fact, it was the potential of it that drew the Shorewood, Ill., native to Columbus in the first place.
"It was the direction they were headed in," Laczynski said, adding that the addition of Steve Miller and JB Bitner to Steve Rohlik's staff have helped take the team to the next level. "Maybe they weren't as much of a talked about program as other so-called bigger schools, but it was where I thought I fit best at the time and where I'd develop best. I think we have a great coaching staff and this program is one of the best in the country."
Laczynski has put up points since stepping on campus, posting 32, 47 and 30 during his first three seasons. He has also scored double-digit goals each season, netting 10, 17 and 10. With Mason Jobst and Dakota Joshua, and their combined 58 points from last year's season, departing the team, he will be leaned on more this year.
"I feel like I've always kind of been leaned on here to do some different things," Laczynski said. "With those guys being gone, I definitely have to step up and do a little bit more. It goes the other way, too, some other guys on the team that maybe had lesser roles last year might have to step up a little bit more as well."
Even though he's consistently put up points, even during an injury-riddled season last year that limited him to 27 games, Laczynski said he has seen a lot of growth in his game during his time at OSU.
"I think that I've taken some big strides defensively," he said. "Coming in freshman year, I didn't prioritize that as much. It's been a big staple of my game the past couple years. I try not to be out there for goals against and I take pride in that."
That being said, he's looking to make the most of the couple months he has left at the college level.
"You can always improve on your game and I always try to do that either in practice or up in the weight room," Laczynski said. "Nobody's perfect and everyone needs to work on stuff, so I try to continue to do that every day, working hard and practice and try to emulate what it'll be like in a game."
Minnesota, North Dakota tussle on Turkey Day
The Gophers and Fighting Hawks will face off in a rare Thanksgiving Day contest in Minneapolis. The two teams will finish off the series on Friday.
UND rolls into town with a nine-game unbeaten streak, so Bob Motzko knows his team is in for a test.
"They're fundamentally so sound," he said, crediting UND's depth and goaltending. "They don't beat themselves. They play hard in all areas of their game."
Winning steak aside, Motzko, who had plenty of post-realignment looks at North Dakota when he was at St. Cloud State, said you know what you're going to get.
"It's the same team," Motzko said. "They play a heavy style, they've always got a guy planted in front of the net and they're very efficient on their power play.
"It's the same North Dakota, it's just different names on the back of their jerseys. I've said that for years."
Minnesota leads all-time series 148-132-16. That includes a 5-0-4 mark in last nine contests played in Minneapolis. North Dakota was victorious in the only game the two played last season, a 3-1 win in Las Vegas.
After taking four Big Ten points from Wisconsin last weekend, don't expect any special preparation for another cross-border rival this week.
"It's the fans that are going to be different, really," Motzko said. "If we try and do anything different out on the rink, we're going to get ourselves in trouble."
Michigan State hopes to continue strong defensive performances
Michigan State is 4-1-1 in Big Ten play and, with shutouts of Penn State and Michigan while holding Notre Dame to three goals last weekend, the team's defense has a lot to do with that.
"As a team, we're defending better, I think that's kept us in a lot of games," Spartans coach Danton Cole said. "Our D-corps, we've said since the beginning of the year, is probably going to be one of our strengths. That's a huge part of it, not just defense playing D, but all of the forwards as well."
Cole would love to see the trend continue this weekend, as the Spartans have another tough test at Ohio State.
"If you play well, one goal can win you a hockey game," he said.