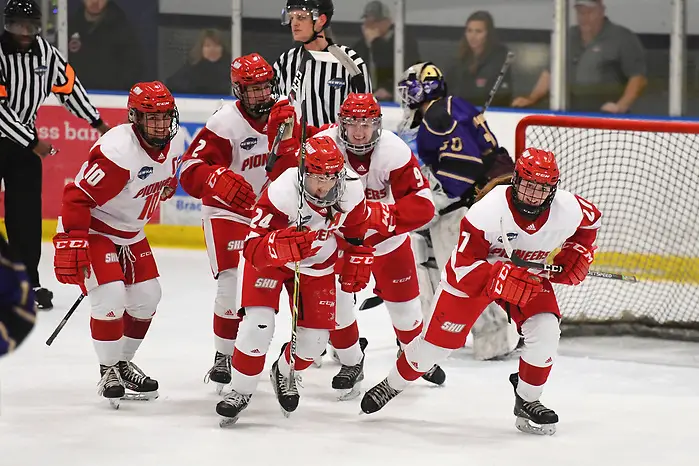 The advent of the New England Women's Hockey Association (NEWHA) three years ago brought about an important change for Sacred Heart women's hockey. The Pioneers had been operating as an Independent since the 2003-04 season. Prior to that, they'd been a part of the ECAC DIII conference. When the university moved it's programs from Division II to Division I, the women's hockey program found itself without a conference home and began to play as an Independant. 
The formation of NEWHA gave them a home and has helped O'Malley and the Pioneers in numerous ways. 
Being without a conference home is daunting in a number of ways, but the most immediate and obvious is with scheduling. Being a member of a conference ensures more than half your season schedule is already filled. But at Sacred Heart, coach Tom O'Malley had the daunting task of filling out more than 20 weeks of games. 
"Thankfully I knew enough coaches that were good enough to schedule games with us. Those coaches stepped up and helped us out. I was scheduling 34 games. My coaching colleagues really helped with that. That's why I try to help out new programs," he said. "Since we moved to NEWHA, the scheduling is a lot easier. It's all worked out and I'm really happy with where we are now."
Most of the rest of the Pioneer's schedule is filled in with Division I programs – so far this season Sacred Heart has played games against Quinnipiac, Mercyhurst, Maine and RIT. and O'Malley admitted that right now, those games account for nearly all of his team's 10 losses, but he knows that playing those opponents will only help his program get better. And he said his players get motivated by seeing them on the schedule. 
"When the kids see the schedule and it has (DI teams) on it, that totally gets them going. They say they'd rather play in those games any day," he said. 
Though the team didn't earn any points from those games this season, they gained confidence in seeing that they could play close with some of them. Being able to visit bigger programs and see their facilities inspires the Pioneers players to want to improve and grow their own program, he said. 
"We know we're going to take our lumps. But we're really happy and eager to play those teams. As we get better, hopefully we're going to be able to win some of those games," O'Malley said. "
Getting beat? We're not happy about it, but we're happy that we're able to play these types of teams and it's only going to make us better. Aside from the scores, overall it's a huge positive being able to have those teams on our schedule."
The Pioneers are a speedy team that rely on strong goaltending from sophomore Frankie Sanchez to not only anchor the defense, but give all the players the confidence and freedom to play creatively and loose in the offensive end. 
"We're a team that plays as one. It's not a bunch of individuals out there. We have a together team – that's what I call it, that we need to play a together game," said O'Malley. 
The current sophomore class has been particularly important for Sacred Heart since they arrived on campus last year. 
"Kelly Solak and Anna Klein were both named to NEWHA teams in their freshman year. As good as they were last year, they're even better this year," said O'Malley. "(The Sophomores) have been a force since they arrived. I just see them continually getting better every day. They're exciting to watch. They're part of our future (and can help us) continually move up the ladder. " 
O'Malley is focused on doing well in conference, where the Pioneers are currently 9-2, and using the experience of playing tough non-conference opponents to help his players and the program continue to grow. 
In his 17th season at the helm for Sacred Heart and his 35th season in women's hockey, O'Malley has seen a lot of change in the women's game. Some of it has happened quickly, but most of it has been a slow build as the game evolves. The Sacred Heart program is improving in much the same way. It won't happen overnight, but the building blocks are there and the team is taking all the right steps to achieve it. 
Much like the Sacred Heart campus continues to put up new buildings and draw in new prospective students, the women's hockey team is drawing new recruits that will be able to take the Pioneers to new heights. 
"We're getting better and better players every year. The recruiting is very competitive. For every spot we have, there's a few kids looking at them. We're fortunate to bring in the players we have and we're looking to build upon that," he said. "There's a lot here for our players to succeed. I want (our players) to have the greatest experience possible. We want to continually grow the program and win some more hockey games."