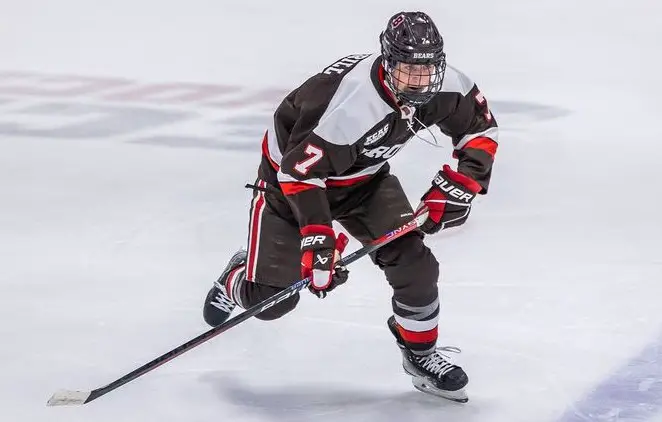 My brother Mike is a big reason why I'm involved with college hockey.
He's been at Brown University since his days as an undergraduate student in the late 1990s, and after a year working as a sports information intern with the athletics department, he started broadcasting for the Bears as part of what eventually became the Ivy League on ESPN package now available on ESPN+.
Seven years younger, I tagged along for several road trips when he was on terrestrial radio during the 2000s, and I eventually migrated into the broadcast booth with his gentle nudging and tutelage.
He's still at Brown, and though I'm more identifiable for my on-air work with Bentley these days, I occasionally make my way to Providence to ride side saddle for various broadcasts at a place that I've called home for the better part of three decades. When I'm not with him, we have a weekly tradition of texting each other updates from each other's games, and there's usually a phone conversation or two breaking down our car rides home. Advancements in technology rendered the updates less surprising – I can access scores on an iPhone and follow along in real time on Twitter – but we still catch each other off-guard.
Last week gave us one of those times. Bentley was on the road, and I had barely put my three-month-old to bed when my phone went off with a simple, "Hey go look at the Brown score." It was eight minutes into the first period, and the Bears were beating Union 2-0.
About 15 or 20 minutes later, he texted me the same thing. There had been another power-play goal to give Brown a 3-0 lead before intermission. A little while later, my phone popped a third time when the Bears scored in the first three minutes of the second period. By the end of the night, a 6-1 win over the Dutchmen gave Brown consecutive wins after the Bears walloped Merrimack in a non-conference game, and after a win over Rensselaer one night later, the surging sons of coach Brendan Whittet vaulted into eighth place with a six-point weekend.
"There was a quirk to the schedule that this was the first time we played Union and RPI," said Whittet, "and we'd played every team in the league with two games already against Yale, our travel partner, on opening weekend, and I have a ton of respect for [Union coach] Josh Hauge. They played the game very, very hard, but it was a situation where we got off to a good start and started getting downhill a little bit. We were very confident throughout that game, and systematically, we were very structured and played the right way.
"If you do the right things in terms of your responsibility, you can create your own breaks, and I thought we did a good job of doing that."
Whittet's teams are historically built around blue-collar hockey pillars like good goaltending and strong defense, but the winning streak seemed to emphasize exactly how Brown could pummel any opponent on any given night with a lethal combination of blue-collar hockey and explosive offense. The 6-2 win over Merrimack featured an early goal and a three-goal advantage over the game's first 23 minutes before goalie Mathieu Caron systematically dismantled a high-powered offense that's still averaging a half-goal more than allowed. The Union game followed that trend when Brown jumped out to a 4-0 lead before Caron again made 12 second-period saves, and 20 of his 24 saves stretched the game from after the first period ended.
The offense, meanwhile, started cooking and set a pace that Bruno's opponent couldn't match. The Bears went high-powered and kicked their Winnebago into a ludicrous speed by peppering the cage through the first two periods. Merrimack's Hugo Ollas didn't last past the halfway point of the second period, and Union's Connor Murphy was forced to endure a multi-pronged attack from emerging players like Lynden Grandberg, who had four points and a plus-4 rating against the Dutchmen, and Ryan Bottrill, who had two assists against Union after peppering five shots against the Merrimack net.
"It's nice to see [the fast play] play out a little bit," Whittet said. "I don't think that's ultimately what our team is built on because I think we're built on outstanding goaltending and going from our back end with a good, deep core and forwards that come along and understand what works at this level, but we've had some growth from some young guys. There have been some guys that specifically stepped up with the fact that we haven't had our first line left wing, Jordan Tonelli, for four games, but the guys that stepped up played important, important parts in each of these wins that we've had."
The overall performance turned the RPI game into a 3-0 footnote even as it included another shorthanded goal, and with the six points, a Brown team that started the weekend in 11th place in the ECAC standings rocketed into eighth place. The Bears had been near the bottom of the 62-team Pairwise Rankings but finished the weekend in 37th, ahead of Colgate and St. Lawrence and within shouting distance of Clarkson – the three teams all situated within one weekend's workload in the conference standings.
Caron improved to 7-9-2 on the season and broke into the top quarter of goalies with a 2.25 goals-against average, and his .927 save percentage ranked him inside the top-5 with the 11th most saves in the nation. He was quizzically left off the Richter Award's Watch List, though his numbers are offering the best season-long totals since Anthony Borelli won 14 games with a 1.84 goals-against average and a .942 save percentage 10 years ago and are numerically equal to the performances from Adam D'Alba in 2004-2005 – years that preceded the establishment of the trophy.
Both the power play and penalty kill are vastly improved, and the three shorthanded goals against Merrimack and RPI pushed the Bears into a tie for 10th in the nation. A defense that allowed five goals in an overtime loss to LIU and seven goals across two shutout losses to St. Lawrence and UMass gave up four goals over three games with its second shutout of the season, and a team that suffered just under 10 games ending in either a tie or a loss by one or two goals brutalized three teams by a combined plus-11 rating and now heads into its stretch run with its next four games at home before a crucial stretch that ends with a return trip against the Capital District teams, a road trip to Princeton and Quinnipiac, and a home series against Cornell and Colgate – all of which may require head-to-head wins for Brown to clinch home ice and possibly sneak into a conversation for the top four teams.
"You have to make sure that when you're at home, you're doing things correctly and playing the right way," Whittet said. "You have to bring energy, but I think that being at home after having some success on the road, we're not going to deviate from how we played on the road. We're going to be a gritty, grind-it-out type of time. Sleeping in your own bed and having the familiarity of the facility, having the home locker room, it's nice to be at home, but that said, you can't let opportunities pass you by.
"That's what we did last weekend, and that's what we're going to attempt to do this weekend by focusing on Dartmouth first before worrying about Harvard coming into [Meehan Auditorium] on Saturday."
Brown plays the Big Green on Friday night at 7 p.m. before turning around to play Harvard the next night at the same time…with the first text message exchange between brothers likely coming before then.