If, a fortnight ago, you had asked a hundred fans which four teams would meet this weekend at the FleetCenter for college hockey's glittering prize, about two might have gotten the list right — if even that many.
The Eagles of Boston College stormed through the Hockey East playoffs to earn a bye, then collectively decapitated the Colorado College Tigers on their way home for the Final Four. No real surprise there, but BC's three dance partners were less easy to predict.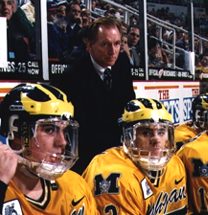 New Hampshire looked unstoppable for two-thirds of the season before going into a funk which culminated in a two-game sweep by Maine in round one of the Hockey East playoffs. But with many writing them off, the Wildcats showed their mettle by upending Wisconsin and then heavily-favored Boston University to reach the semis.
Michigan's been this road before, so perhaps it wasn't a surprise at all that the Wolverines are en route to Boston for a fourth consecutive appearance in college hockey's medal round. Michigan battled past a determined Princeton squad before startling defending NCAA champion North Dakota — with no small thanks due to the throng of screaming maize-n-blue fanatics who packed Yost Arena.
The biggest upset — and probably the story of this college hockey season — is the sudden rise of the Ohio State Buckeyes. Long dormant in the CCHA's second division, OSU suddenly finds itself among the game's elite after shutting out Yale and, in an overtime classic, avenging a loss in the CCHA tourney final against top-ranked Michigan State.
Thursday's pairings — BC versus OSU and Michigan against UNH — leave open the possibility of an all-Hockey East final, or an all-CCHA tilt for the title. And while the Eagles might be the favorite, with the way this season has gone up to now, you'd better not bet the farm on it.
Boston College (27-8-5) vs. Ohio State (27-12-2)
Thursday, 8 p.m. ET, FleetCenter, Boston, Mass.
One of the most intriguing games of the entire season features two teams that have been the sharpest in the land over the last couple of months. Both have little playoff experience — less still at this level — but both have shown their mettle down the stretch.
Boston College has a proud tradition and will almost certainly be the crowd favorite (BU fans in attendance notwithstanding); on the other hand, Ohio State is humming now, well past the opening-round jitters that characterized its early play against Yale.
Boston College
Boston College became the only bye team in the country to advance when it dominated Colorado College, 6-1. In the 10 years following the advent of a 12-team draw in 1988, only eight of the 80 non-bye teams advanced to the Final Four. In 1992, when Eastern teams were all inactive for one week before the regionals, three bye teams fell, but in no other year did more than one of the privileged teams get toppled.
Not so this time.
"It seemed like it was a problem this year for the bye teams, but in Albany it was very, very hot and Colorado College had a strong, physical game the night before against Clarkson," says coach Jerry York. "Our bye helped us."
As a result, the Eagles, who haven't lost since Feb. 2, will face another red-hot team in Ohio State, which went 18-2-1 down the stretch.
Hottest of the Eagles have been Marty Reasoner (31 points in his last 12 games) and linemate Brian Gionta (26 points in his last 13). Reasoner, who is not a Hobey Baker Award finalist, now stands at 29 goals and 37 assists for 66 points.
"The Hobey Baker Award voting was done in the middle of February and that's just when Marty shifted into a different gear," explains York. "Over the last month and a half of the season, he's been such a dominant, dominant player that that'll be reflected in the All-American voting that comes up at the end of the season.
"Marty is a great young guy. It doesn't seem to bother him. He said, 'Coach, it's a team sport and I'm involved in the team. I'm not going to let my ego get involved here.'
"He has played very, very well and he's a credit to college hockey. He's a unique individual."
Reasoner has been the linchpin to York's rebuilding of the once-proud BC program, which is now appearing in its 14th Final Four, but first since 1990.
"We used Michigan as a copy," says York. "We both have had great, great traditions in college hockey and have been playing almost since the turn of the century.
"When Red [Berenson] came, it took him a number of years to get his system in place and recruit his type of players. We used that with our players and told them that it would be a while here, but that we were going to recruit the type of player that we could win with at the national level. We wanted to get back to where BC should be.
"It's a tough process to go through, but both Red and I knew that the future of both programs would more resemble the past than the recent time that we were there. We've got some great, great players that have come in and we feel very confident about the direction that we're heading."
BC's current youth reflects that this is just the fourth year of York's rebuilding plan, but the three freshmen defensemen, freshman goaltender, and two prominent freshmen forwards haven't shown any of the playoff tentativeness that often accompanies youth.
"We play in such a tough league and have been in so many tight games all year, that once those guys they hit the mid-point of the season, they really weren't freshmen anymore," says Reasoner. "They've logged a lot of ice time and played in a lot of key situations.
"I don't think experience has really mattered that much. We've played in a lot of big games and they've come up big for us all year."
Generating a lot of attention will be the battle of the freshmen goaltenders, BC's Scott Clemmensen and OSU's Jeff Maund.
"Both goaltenders have had tremendous input into the way the teams have played," says York. "[Ohio State coach John Markell], as well as myself, feel very confident with the play of our goaltenders."
A return to the FleetCenter, where the Eagles won the Hockey East championship two weeks ago, is the latest highlight in BC's first winning season since 1990-91.
"It's something that's been a goal of ours since last spring," says Reasoner. "When we got knocked out last spring, we had to assess where we were going. We knew we were a good team. Everybody has had to work hard and make a definite commitment every day and now it's paying off for us.
"It's something we knew was going to happen eventually. I'm just glad I'm a part of it….I don't know if I'd have said back in October that we'd definitely make the Final Four, but as we've done better and the season has gone along, we've come together and started to believe in ourselves. Now we believe we can beat any team in the country."
A major part of that success has been the Eagles' special teams. Their power play ranks tops in the nation at 27.3 percent in NCAA play and the penalty kill has turned in a strong 84.4 success rate. In their win over Colorado College, the Eagles went 2-for-8 on the power play and held CC 1-for-10 on the man advantage while adding a Jeff Farkas shorthanded goal.
"Starting off the year, we sat down and did our season-long analysis," says York. "We were talking to our football coach, Tom O'Brien. They have a defensive coordinator and an offensive coordinator.
"So this year, we put Mike Cavanaugh, one of my assistant coaches, in charge of penalty killing. He really got involved in it and has done a tremendous job. [Another assistant coach,] Scott Paluch, is in charge of the power play. The older you get, the more you realize that when you can delegate more responsibilities to your assistants, they can really hone in on that one area.
"We've had great special teams this year. We've got some terrific players to put on those special teams. You put on the board a lot of Xs and Os, but if you can kill penalties with Blake Bellefeuille and Jeff Farkas, all of a sudden you become a lot more effective. You give Marty Reasoner the puck on the hash mark and he makes things happen.
"It's no secret that we've been really successful recruiting the last couple years. The big thing was could they fit in a team atmosphere and put their egos aside. They've done that.
"They look around the locker room and see great players in the stalls next to them. Our players get excited by that. Our goals have always been lofty. BC has had a great hockey tradition and we'd certainly like to add to that this year by winning the championship."
To carry the football analogy one step further, Boston College hopes to become the 49ers. That is, in 1949, exactly forty-nine years ago, BC won its last NCAA championship.
Potentially helping them achieve that will be the chance to play in its own back yard, in the FleetCenter, where the Eagles already have played four games this year. Even so, York downplays the advantage of knowing all the Fleet's nooks and crannies.
"We've played in the rink in the Beanpot and the Hockey East championships, but New Hampshire has been there a number of times, too," he says. "The Joe Louis Arena, the site of the CCHA championships, is pretty similar as far as the size and the crowds.
"But certainly it's an advantage not to travel. We're three miles from the FleetCenter so we elected to bypass going into the downtown hotels. We'll just stay on campus and commute into the games."
It remains to be seen how much the crowd tilts in BC's favor. Boston University fans, who bought tickets expecting an eighth Terrier appearance in nine years, will still be at the FleetCenter. They traded chants with their BC counterparts at Albany while waving a Colorado College flag. In a game between BC and Iraq, BU partisans might wonder if that Saddam Hussein guy isn't so bad after all.
In any case, the sold out arena is sure to generate more noise than the 7,000 or 8,000 that partially filled the old Boston Garden in the last Boston-based Final Fours in the early seventies.
"We're getting more like basketball where it's going to be almost like a lottery to get a ticket to come to these events," says York. "It's come full circle since the 1973-74 season.
"I remember playing in the '65 tournament at Brown University and we had our Final Four before 2500 people on campus. It's taken great, great strides. It's exciting and it's going to be a tremendous boost for college hockey."
Ohio State
Do you believe? The Ohio State hockey team believes.
After beating Yale 4-0, rookie goaltender Jeff Maund and senior forward Todd Compeau sat stonefaced in the post-game press conference. There was no celebration, no hand-slapping, no self-congratulations. They didn't even smile.
These boys believed they still had a job to do. They had to beat Michigan State the following night.
"It was hard not to look by Yale," said Maund. "But after that loss last weekend [in the CCHA title game], that's personally what I want back. The first two goals — I'll take the blame for that. Those were my fault.
"Hopefully tomorrow I'll be able to stop those, and we'll be able to put a couple of lucky goals in for the win."
Compeau added, "They're an excellent hockey club. We're going to have to be patient with them all the way through the game.
"I'm sure it's going to end up a one-goal game."
And so it did.
The most amazing thing about the Buckeyes' 4-3 overtime win over the Spartans wasn't Jeff Maund. OK, Maund was pretty incredible, and his spike-save on Mike York in overtime touched off the play that won the game.
But no, the most amazing thing about the OSU win over the Spartans may have gone unnoticed by many people. In every game that Ohio State and Michigan State played this season — and every game was a one-goal game or a goal and an empty-netter — the second line of Compeau, Chris Richards and Dan Cousineau was the only line to do real damage to the Spartans. In fact, Compeau scored the game-winner in Columbus in February, and he scored the only two Buckeye goals against the Spartans in the CCHA Championship game.
He also scored the first two goals in the Ohio State win over Yale.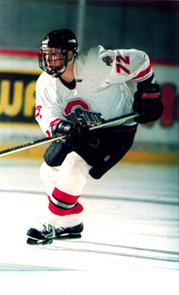 In the win over Michigan State in the NCAA quarterfinals, the goal-scorers were Andre Signoretti, Eric Meloche and Neal Rech — a defenseman, a winger from the first line, and a winger from the third line.
After the Michigan State game, Maund, Signoretti and head coach John Markell were smiling — just a little. "We just knew that if we kept going and kept picking away," said Markell, "eventually we'd get a break."
Said Maund, "Day by day, it's just getting a lot better. Our team is playing better and better."
The Buckeyes are finding new ways to win, just as they're heading into the Frozen Four. And they're loaded with confidence.
Going into last weekend, Maund's goals-against average in his previous seven games was 1.35; last weekend, he gave up three goals in two games, posting his fourth shutout of the season against Yale.
In front of Maund, the Ohio State defense has been stellar in the playoffs, led by senior Ryan Root and rookie Andre Signoretti. These two dangerous players provide excellent D — and they can score, as Signoretti proved against the Spartans. Root's wrist shot is one of the most feared in the league.
And Ryan Skaleski is one of the best defensive defensemen in the CCHA.
Then there's the Ohio State offense. Not only is le trio Quebecois led by CCHA league scoring title holder Hugo Boisvert, but Meloche is a real sniper, able to fly in on the right wing and score nearly at will.
The second line, the all-Ontario Block O, is accountable for much of the Buckeye scoring in the second half of the season. Richards alone has 52 points (22-30) in overall play.
The third and fourth lines are capable of more than just maintaining — they can score. Sophomore Louie Colsant had the game-winner against Michigan in the CCHA semifinals, and Neal Rech is a threat both at full strength and when the Bucks are down a man.
"I think we've set ourselves up by competing well here at the CCHA level," says Markell, "and hopefully we can do it on the national level."
In order to do that, Ohio State is going to have to learn to adjust to non-league opponents early in the game. The Bulldogs were the only non-CCHA team that Ohio State has faced in post-season play, and the Buckeyes struggled to find their feet for the first half of the game against a faster Yale team.
"I think we lost a little bit of respect for Yale, and we were kind of looking through them [toward playing Michigan State]," says Markell. "But they put it to us for thirty minutes and gave us a big wake-up call. We were very fortunate to live through those thirty minutes and finally settle into our game."
Markell says that his team was nervous playing its first NCAA postseason tournament game, and that now that the Buckeyes have been through it, Ohio State should be game-ready against Boston College.
"Everybody was telling us that we were going to win that game against Yale, but we forgot we had to play the game. I don't think we came out there as a focused group as we had all season.
"I think playing in Boston — playing against Boston College with possibly 16,000 fans cheering against us — will wake us up pretty quickly.
"The crowd at Yost was probably impartial…but Boston College is going to scare us into playing well in the first period, which is good for us.
"It's a whole new situation to us each and every weekend — making the playoffs at Joe Louis, and then the regionals, and now the Final Four. We have to accept the fact that it's all new to us and not to get caught up in the hoopla."
Not getting caught up in their own hoopla has kept this balanced Buckeye team focused for the second half of the season, for their incredible 18-2-1 run since Jan. 9. From the start of the season through the second week in January, Ohio State was 8-10-1.
"Surprise, surprise," says Markell. "Here we are."
Michigan (31-11-1) vs. New Hampshire (25-11-1)
Thursday, 2 p.m. ET, FleetCenter, Boston, Mass.
Both of these squads knocked off bye teams to get here — in fact, Michigan and New Hampshire took down last season's national finalists, North Dakota and Boston University, respectively. Both teams can score, but the Wildcats' lightning offense has been considerably the better of the two, averaging 4.4 goals per game over the course of the season to the Wolverines' 3.6.
On defense, though, Michigan features well-tested Marty Turco, who's been in this situation more than once before. What does happen when an irresistible force meets an immovable object? Stay tuned…
Michigan
Do you believe? The Wolverine faithful believe, and that faith alone may have given Michigan a 4-3 win over defending national champions North Dakota.
"The crowd," said Michigan head coach Red Berenson after the win, "was awesome."
So was Matt Herr.
The senior captain had a hand in each of Michigan's four goals in the game against the Sioux — he scored the shorthanded breakaway goal that opened the Michigan scoring in the second period when the Wolverines were down 2-0, and he provided the crucial feed to Bobby Hayes for the game-winner with less than three minutes to go in regulation play.
Berenson said that maybe it wasn't fair for the game to have been played at Yost. "It was fair," answered Herr, smiling the smile of the victor.
"Home ice may have been a factor," Berenson says days after the game. "We survived it, and we're lucky to be at the Final Four."
To get to that game against the Fighting Sioux (in which the Wolverines led for only the last minutes of play) Michigan had to struggle through a hard-fought game against the Princeton Tigers.
"We played a tough, tough Princeton team on Friday night," says Berenson. "We felt fortunate to win the game. We won the game on a real fluke goal."
He's not kidding. Rookie Mark Kosick threw a blind centering pass out from the corner, where he had fought for the puck. The pass hit Jeff Halpern's skate and bounced into the Princeton net.
"It was a break," said Berenson after the game, "and maybe we haven't had a break around the net in some time. It's the kind [of goal] that's been happening against us."
Michigan made its own breaks for most of the season, struggling early on with a young team that needed to adjust to the CCHA, and struggling toward the end of the season, losing three of its last six regular-season games before being taken to three games in a home playoff series against Notre Dame.
"Michigan has had more of a rebuilding year this year," says Berenson, "having lost nine seniors and coming off maybe the best team we've ever had at Michigan.
"Last season, there were a lot of question marks about this year's team. We found a way to survive. We're not the offensive team we were last year. We're not a lot better or a lot worse than any of our opponents, and I think that speaks well for the parity in college hockey, in particularly the CCHA."
After the Wolverines lost the fabled Michigan Nine — the class that included last year's Hobey Baker winner, Brendan Morrison — few people expected the Wolverines to be as competitive as they proved to be.
Michigan flirted with the CCHA regular-season title for most of the year before losing out to the Spartans in head-to-head play toward the end of the season.
For the first half of the season, until the young Wolverines found their feet, seniors Marty Turco and Bill Muckalt carried the team while Herr was out with an injury. Turco was often the difference in one-goal games, and there were contests in which Muckalt seemed to be the only Wolverine able to turn up the offensive heat.
But when the rest of the team caught up to Turco and Muckalt, the Wolverines found some balance, and even Berenson was a little surprised by what emerged.
"Our junior class stepped up big-time," says Berenson, "and I think this is the difference in our team. The players who have really stepped up have been Dale Rominski, Bobby Hayes, Justin Clark, and Bubba Berenzweig. Those guys have really made a difference.
"Bobby Hayes has gone from being a third- or fourth-line center to being our leading center.
"Dale Rominski is one of our blood-and-guts kids. He's taken over the Jason Botterill role.
"Justin Clark has played much, much better than he did last year. He's helped us a lot on special teams.
"And Bubba Berenzweig is maybe our best defenseman, and he was a real question mark coming off last season.
"This was an untested class that has really proven itself this season."
Hayes, who had just 17 points last season, was third on the team in scoring this year, with 21 goals and 22 assists. And Rominski has become one of the better defensive forwards in the league. He "bumps and grinds," as Berenson puts it, while contributing 10 goals and 13 assists.
The Wolverines also have a trio of standout freshmen, including defenseman Mike Van Ryn (4-14–18) and forwards Mark Kosick (12-32–44) and Josh Langfeld (18-16–34).
Add to the mix Muckalt's 65 overall points and Turco's overall GAA of 2.06 and save percentage of .908, and you have a youngish team with great senior leadership, and a team good enough — obviously — to make its fourth consecutive Frozen Four appearance.
Berenson says that his team is ready for Boston because "it's kind of been playoff hockey for us all year."
Sixteen of the Wolverines' 32 wins were one-goal games. "When we're in a close game, it's not like we haven't been there before."
Berenson sounds as much relieved as he does happy that his team got through two one-goal games last weekend. "That's what we've faced all season long. The close games have been good preparation for playoff hockey."
The Wolverines — and the Wolverine faithful — couldn't be more prepared heading into Boston.
New Hampshire
New Hampshire took the initial step toward advancing to its first Final Four in 16 years with a come-from-behind 7-4 win over Wisconsin. When UNH rallied from a 3-1 second period deficit, It marked the first time since the inception of regional sites in 1992 that a team in the East overcame anything more than a one-goal margin. The Wildcats' 4-3 overtime thriller against Boston University then propelled them into their fourth championship round in history and resulted in a euphoric UNH locker room where, as one Wildcat put it, "we were like a bunch of 12-year-old girls screaming."
Although their previous appearances in 1977, 1979 and 1982 all resulted in losses, the two wins in Albany may have amounted to a watershed weekend for the Wildcats.
UNH pessimists point to disappointments as the number-three seed in 1992 (a 4-2 loss to Wisconsin), 1994 (a 7-1 loss to Harvard following a first round win over RPI) and 1995 (a 9-2 humiliation at the hands of Denver), as well as last year's 3-2 loss to Colorado College. However, those may have been part of the growing pains of a program breaking onto the national scene.
Take, for example, Maine in the late eighties and early nineties. From 1987 through 1992, as the top Eastern seed four times and the third seed twice, the Black Bears failed to advance in a single series outside of the four held in the comfortable confines of Alfond Arena in Orono.
But in 1993, they won the national championship.
Or take this week's opponent, Michigan. From 1991 through 1995, the Wolverines were the number-one Western seed three times and the number-two and three seeds once each. In that time, they lost in the first round twice and the other three years won once in the West Regional and then dropped games in the semifinals. During much of that time, Lake Superior bedeviled Michigan much as Boston University did in past years to New Hampshire.
But in 1996, the Wolverines won the national championship.
Now, in 1998, it could be UNH's turn.
"We want to get to the next level," says coach Dick Umile. "We couldn't get out of the regionals before, but this is the year we finally got to the Final Four. It's the next step. Our program wants to compete at the national level, but it's not easy."
Mark Mowers played a major role in ending the Wildcat NCAA hex, both on the ice and in the locker room as the team captain, Even though, in Mowers's words, "I don't think there were too many people who thought we were going to win the game," the talk among the players in the intermission before the overtime against BU was all positive. "Who's going to be the hero?" were the words on the players' lips. As it turned out, Mowers was the hero in OT, with his second shorthanded goal of the night.
"It couldn't happen to a better kid," says Umile. "He typifies our program. He works hard off the ice. He's our leader. He's a special person. He's comparable to Chris Drury as far as I'm concerned.
"He's paid the price. He and the seniors, especially Tommy Nolan, have gone through a lot of disappointments. I'm just so happy for them that they finally are going to the Final Four."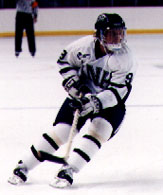 Mowers (25-31–56) and Nolan (18-41–59) are half of the UNH Fearsome Foursome, which also includes Jason Krog (33-33–66) and Derek Bekar (32-27–59). However, Bekar, who some consider the best of the lot, is a question mark for the game. He injured a hip flexor late in the second period against BU when he got tangled up in front of the net and missed the third period and overtime. Although he expressed confidence after the game that he would play on Thursday, the hip flexor is critical to skating and remains a major concern. He is considered day-to-day.
In Bekar's absence, Umile considered reuniting the Krog, Mowers and Nolan trio that had dominated as a single line before he split them into two still-dominant units. Instead, he moved Mike Souza (13-12–25) into Bekar's spot and the sophomore set up Mowers for the game winner.
"Souza has played there before," says Umile. "He's been a goal scorer all his life. I thought he might pop one with his shot, but he made a great pass."
If Bekar can't go, count on Souza to stay on that line.
Another major contributor was goaltender Sean Matile, who made the stop of his life on a Mike Sylvia breakaway in the final seconds of regulation against BU.
"For a kid who is 6-3, he's very quick," says Umile. "He takes away a lot of the net. He's had a real good season and is one of the main reasons why our team defense has been so solid."
In facing Michigan in the semifinal game, UNH will be taking on the only team remaining with players who have any Final Four experience at all. In fact, Wolverine seniors have been there the past three years.
On the other hand, UNH's upperclassmen have played numerous games at the FleetCenter and now have regional success under their belts.
"The experience we got this weekend was huge for us," says Umile. "That step that we had to take to get out of the regional to get to the Final Four is going to be a big factor.
"And one of the major goals the guys achieved as a team was their defensive play. I think that's going to help us out. We proved this weekend that we can play solid programs defensively as well as put the puck in the net."
Michigan coach Red Berenson, whose offensive powerhouse last year had some parallels to this year's UNH squad, also downplayed the advantage of Final Four-specific experience.
"I don't think there's much difference between the Final Four and playing in your own league playoff tournaments," he says. "Leagues are playing their tournaments now in big arenas with more media attention. It's very comparable to the Final Four, so I don't think it makes that much difference."
Michigan led the CCHA in allowing only one shorthanded goal in league competition all year and three overall. As such, the Wolverine power play (18.4 percent in league play, 20.2 percent overall) will provide a key matchup against UNH's Hockey East-leading shorthanded unit. The Wildcat penalty-killers not only posted an 88.7 percent kill rate, allowing just 19 power-play goals in 168 chances, but also scored 15 while shorthanded, including two in the win over BU.
"It's hard to coach your power play not to give up shorthanded goals," says Berenson. "We're trying to score goals, not [worry about] giving up goals. That just happens in a game.
"Even when you're penalty-killing, you don't really coach to score goals. Some players just have that innate ability to read and react to opportunities and they take advantage of them.
"We were one of those teams last year. Johnny Madden alone had 10 shorthanded goals himself, so I can appreciate how that can help a team and certainly it was a factor in the game for New Hampshire against BU. But we can't worry about that on our power play."
UNH won't have to adjust from the Olympic sheet at its Whittemore Center to the NHL-regulation ice surface at the FleetCenter. Having just come off games and practices at the Pepsi Arena in Albany, the Wildcats are off on Monday, will bus to nearby Rochester on Tuesday because the Whitt is already committed, and then travel down to the FleetCenter on Wednesday.
NCAA Division I Championship
Boston College/Ohio State vs. Michigan/New Hampshire
Saturday, 7:30 p.m. ET, FleetCenter, Boston, Mass.
The final game of the year will propel one of four teams into posterity. Which one? We'll all find out Saturday night.